In terms of activity, this past week has been no different than any other in the realm of cryptocurrency. With recent SEC and CFTC statements on cryptocurrency, Ripple's multi-million dollar research fund, and EOS mainnet launch all taking place this week, the beginning of June has certainly been eventful. However, this has not translated into fluctuations in market valuations, as Bitcoin and altcoins as a whole have seen surprisingly little volatility.
In a market defined by massive price volatility, these past few days have been somewhat out of character. Out of the top one cryptocurrencies on Coinmarketcap, only one has seen a price movement, green or red, of double digits within the past 24 hours (Bibox Token (BIX) +12%). With the exception of a short stint on Monday, Bitcoin has stayed between US$7,500 and $7,700, where it has primarily moved sideways with scared Bart and inverted Bart movements. This represents a range of just 2.5% between floor and ceiling. As days continue, the price of BTC seems to further solidify itself around the US$7,600 mark.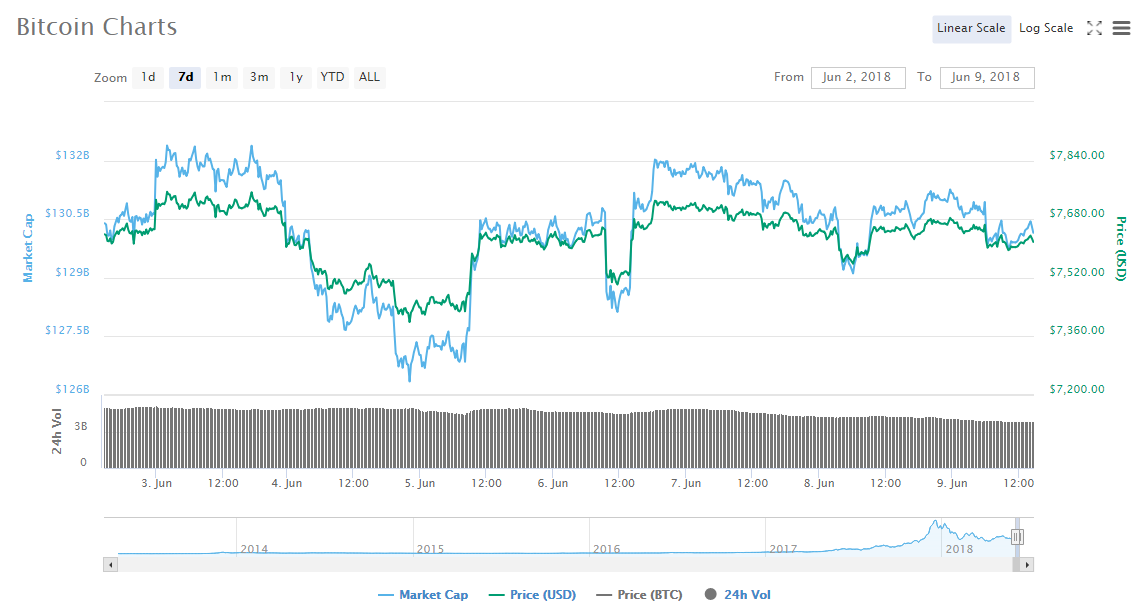 Beyond Bitcoin, the global altcoin market has seen similarly sideways movements in the past week. Excluding Bitcoin, global altcoin market cap has primarily sat between US$210 and $215 billion. Currently just above $210 billion, this is slightly below where it entered the week at $212 billion. Regardless, the range between $210 and $215 billion represents just a 2.3% variance, even thinner than what has been seen by Bitcoin.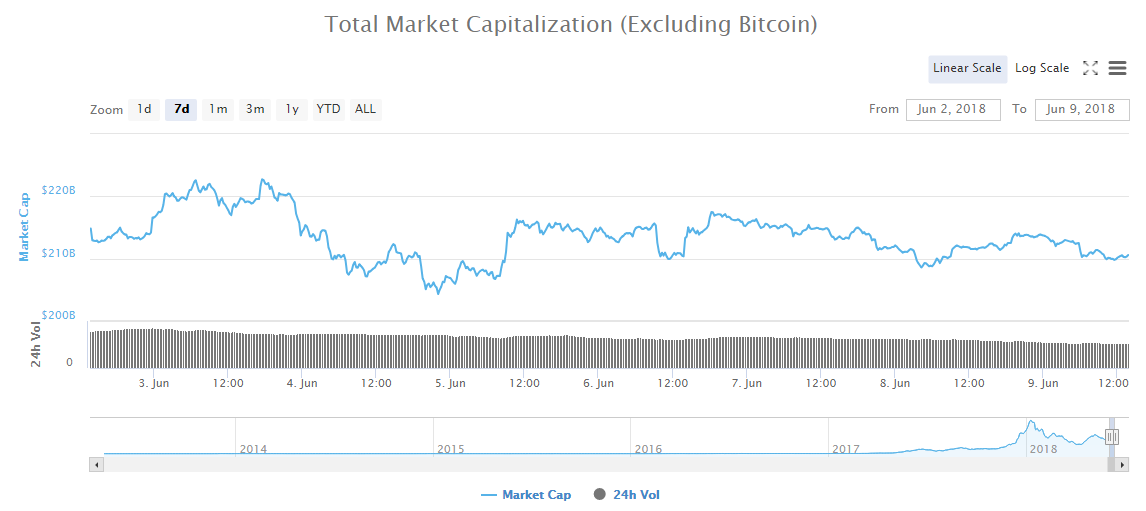 Typically, extended sideways movement is followed by an inevitable explosion- either upwards or downwards. Increasingly positive sentiments regarding cryptocurrency among individuals and governments worldwide suggest that recent stagnation will surely precede a massive bull run. However, the drop in volume, about 30% among all cryptocurrency markets, is alarming and an indication that the road ahead may be shakier than what is currently anticipated.
Optimists, however, suggest that a decrease in volume is nothing to be alarmed of. The first week of December 2017 saw a 50% decrease in volume. Of course, early December was a direct predecessor to the explosion of Bitcoin to almost US$20,000 and the subsequent explosion of altcoins across the board in January. Dwindling activity on social media and google searches can also be seen as a good sign. The cryptocurrency seasons of June and December last year invited "get rich quick" individuals to fight for a share of the profit. The diminishing activity suggests that everyone- newbies and veterans alike- who got burnt out looking to make a quick buck and ride on board to realize financial fortunate have been shaken out.
Despite a loss in market cap globally of more than 50% from December's all-time highs, the technology behind the industry continues to progress and grow each and every day. Those who have stuck around recognize the value and potential in this disruptive technology. The next time a massive fluctuation takes place- regardless of the direction, the current holders and enthusiasts should not be shaken up so easily by any bumps in the road, as their less involved counterparts certainly will be.
Image(s): Shutterstock.com