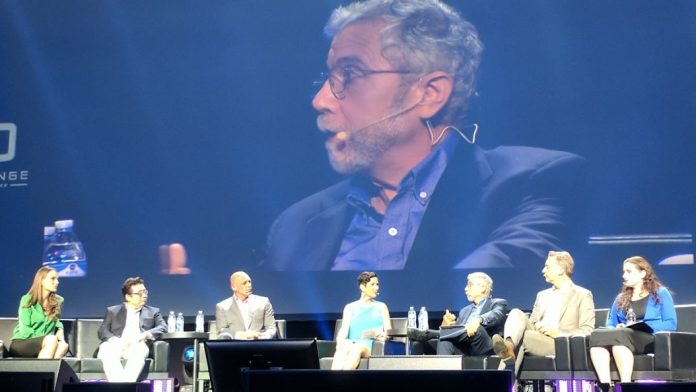 The second day of Las Vegas Blockchain Week and the ChainXchange blockchain convention has concluded. Today's activities included discussions and lectures carried out by prominent cryptocurrency supporters and skeptics, including representatives from Ripple and NEM, as  well as Nobel Prize winning economist and perpetual crypto bear Paul Krugman.
In the afternoon, research analyst heavyweight Thomas Lee, Paragon CEO Jessica VerSteeg, and celebrated economist Paul Krugman gave speeches on cryptocurrency before joining Ripple Chief Market Strategist Cory Johnson and Department of Justice pioneer of the first Cyber Investigative Task Force Lilia Infante.
Thomas Lee, who has been recognized as a top three research analyst every year since 1998, gave a bit of background on the strategies he's used to successfully predict major market movements from the dotcom to real estate eras. Lee looks at concrete data and statistical trends, rather than market sentiment, to make his analyses. When applied to blockchain, Lee sees a very strong future for cryptocurrency alongside an inevitable increase in bargaining power of millennials. Lee often appears on CNBC to share his bullish sentiments, and has recently been quoted calling for a US$22,500 BTC price at end of year.
VerSteeg gave a quick presentation about product traceability, which is the core focus of her company, Paragon (PRG). Paragon's focus is authentication of medical marijuana products for consumers, to ensure they are getting the exact composition or strain that is advertised from products.
Krugman followed with a speech about the history of money, why it plays a role in society and how each generation of money expands societal possibilities and functions, from pebbles, to gold, to paper money, and so on. Being the skeptic he is, Krugman then referenced the energy consumption of Bitcoin to compare it to mining physical gold, and that Bitcoin essentially takes money backwards several hundred years. (He did, however, preface his criticisms with the statement that he "only halfway understands" Bitcoin).
After Krugman, the five engaged in discussion about the future of Bitcoin, blockchain technology, and cryptocurrency as a whole. Lee and VerSteeg shared quite optimistic views about the future of all three, while Krugman and Infante were far more pessimistic, asserting their beliefs that Bitcoin really doesn't have much use for the average person. Ripple marketing strategist Cory Johnson surprisingly shared similar views with the first two, essentially enforcing his belief that Bitcoin sucks but Ripple is great. Outside of Bitcoin, the skeptics indicated that they do see an impactful future for blockchain technology (with the exception of Paul Krugman, who maintained his position as "blockchain agnostic").
The highlight of the discussion undoubtedly came from Jessica VerSteeg, who passionately and adamantly countered the critiques of the skeptics in the room. When Krugman asserted that Bitcoin has no value, VerSteeg cut him off, insisting that, for her, and many others, Bitcoin is used every day, and for them, certainly has value. VerSteeg, also known for her appearance in The Amazing Race, cited frequent issues with her credit card company abroad and difficulty in paying her overseas workers as examples in which Bitcoin certainly makes sense to use. She went on to add, "I book flights. I book hotels. I pay workers [with Bitcoin]… It has value to me, because I like it."
Thomas Lee also made strong comments in favor of cryptocurrency, particularly in regards to current market climate. "It's a mistake to be bearish when you're already down," Lee stated.
This discussion was preceded by a number of presentations and classes, ranging from talks about smart contracts by NEM representatives, to the current regulatory state of cryptocurrency. Tone Vays hosted a talk show. In the evening, Gary Vaynerchuk, Common, and Neil Sahota were joined by moderator Phu Styles to tackle the topics of machine learning, diversity, and opportunity in the imminent, techno-centric future of business and society.
Image(s): Shutterstock.com