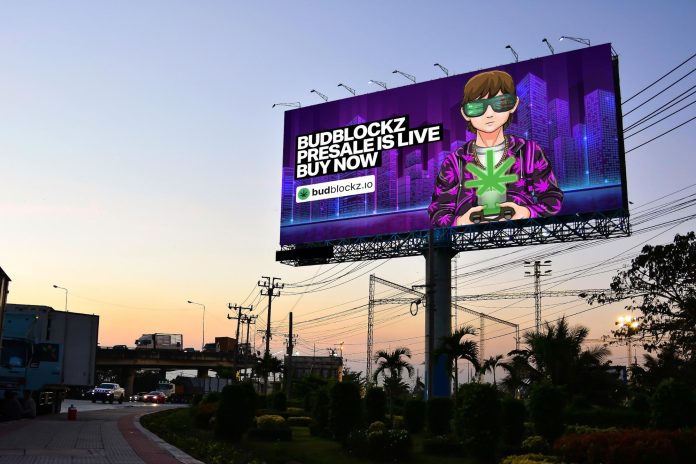 Cryptocurrencies serve different purposes in the crypto market, one of which is being used for utilities. Many coins do not have this feature, which sets them behind their peers. Although BudBlockz (BLUNT) is new, this crypto has proven far more productive than many other existing coins.
Even during the crypto winter, meme coins like Dogecoin have managed to do well, thanks in part to whales and influencers. BudBlockz, however, is gaining the interest of many investors and cryptocurrency enthusiasts by ensuring that they are part of a community that sees to their well-being. The BudBlockz ecosystem offers its users an avenue to interact with other community members.
BudBlockz and its native token BLUNT is a promising cryptocurrency with better utility than many other existing cryptocurrencies in the market. The token allows cannabis users to buy and trade on the platform, and is working on extending its utility outside of the ecosystem. Let us see how this coin aims to offer better utility than Dogecoin.
Dogecoin (DOGE) has maintained market dominance for a long time.
Although Dogecoin (DOGE) is the pioneer of the meme coin market, the developers have worked hard to make the coin a market success. Within the last few weeks, Dogecoin has witnessed an upward surge. The Dogecoin blockchain is a credible platform that supports in-app purchases.
The Twitter CEO, Elon Musk, influences the success of Dogecoin (DOGE). The social media network has been hinting at using Dogecoin and other coins for in-app purchases. Dogecoin has yielded huge returns for its owners, although meme tokens are often associated with high levels of volatility. Dogecoin has also contributed to the success of the NFT market.
Dogecoin's value surged by 15% after Elon Musk declared that his company, Tesla, would accept DOGE as a legal currency for purchasing items. Since Elon Musk is now the CEO of Twitter, cryptocurrency analysts expect even higher prices for DOGE if Musk announces it as a means of payment on the Twitter platform. However, that is not guaranteed.
BudBlockz (BLUNT) offers better utility than most existing coins on the market.
BudBlockz (BLUNT) is a decentralized finance (DeFi) project that wants to bridge the gap between cryptocurrency and cannabis users. The blockchain offers great utility for users thanks to its e-commerce option. Users who want to purchase on the platform can use the BLUNT token.
BudBlockz wants to change how the world sees cannabis. BudBlockz and its token will keep innovating to enhance the acceptance and adoption of cannabis and cannabis-related products. It will help identify market trends and strategies to improve the marijuana sector.
In addition, BudBlockz gives its community a voice in the cannabis market by utilizing its blockchain and cryptocurrency ecosystem. Users can access Ganja Guruz, its NFT collection, and other innovative features of the platform. BLUNT can also be used to purchase these NFTs.
According to crypto experts, the future is expected to bring exponential growth for BudBlockz (BLUNT). As a result, the platform has the potential to outperform many new and existing cryptocurrencies in terms of utility and usage. Investors' and traders' cryptocurrency portfolios are already growing after their participation in the private sale and presale events. And thanks to blockchain technology, all transactions maintain their confidentiality, safety, and security.
Learn more about BudBlockz (BLUNT) at the links below:
Official Website: https://budblockz.io/ 
Presale Registration:: https://app.budblockz.io/sign-up 
BudBlockz Community Links: https://linktr.ee/budblockz
All other major cryptos mentioned in this article are available to purchase from  leading exchange eToro
Disclosure: This is a sponsored press release. Please do your research before buying any cryptocurrency or investing in any projects. Read the full disclosure here.