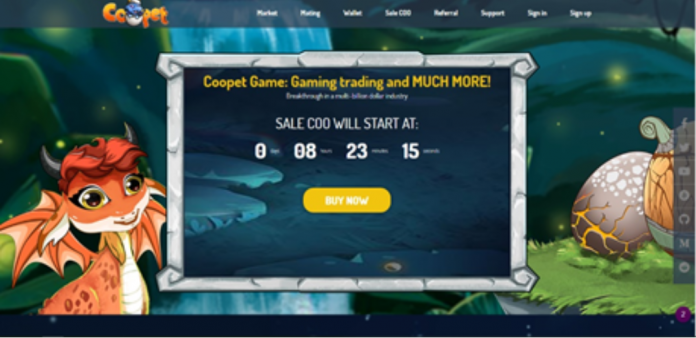 Coopet, a new game where players raise virtual dragons, has announced a token sale for the launch of their platform.
Disclosure: This is a Sponsored Article
Gaming Industry Ripe For Improvement From Blockchain Technology
Gaming is a leading industry in terms of how blockchain technology can improve the situation, with many blockchain gaming projects already in the works. Globally, gaming has continued to grow, with capitalization recently passing $100 billion.
The blockchain is an excellent complement to gaming, as it lowers the accessibility of the game, among other things. Players can truly own their virtual assets, the game has higher reliability and uptime, and things such as DLCs and expansion packs can be more easily distributed.
Newzoo's forecast predicts the gaming market by continuing at an above average pace, reaching $118.6 billion in 2019 and $128.5 billion by 2020.
Version 1.0 of the project, as well as the airdrop programs, started August 15th, with a start sale and the market opening for mating 5 days later. The crowdsale for the platform begins on September 20th, where COO tokens will be sold.
Token and Game Details
The native token is based on the Ethereum ERC20 standard, and 120 million of them will be circulated for both the pre-sale and ICO sale. After this period, any excess tokens not purchased will be burned.
The token will be used extensively in the ecosystem as the main trading currency, as well as the main platform used in the field of Online Game. The token will also be used on a broader scale, allowing the entire gaming market to take advantage of the liquidity offered from a global value transfer unit.
The product Coopet will introduce to the market is the virtual dragon's players will be able to take care of, breed, and fight. Dragons come from 5 different origins: Wood, Earth, Water, Fire, and Metal.
Users can also earn rewards through breeding and mating. Gamers with male dragons can earn money by mating them in the market. If they carry rare genes, you can ask for a higher price in the market.
Genes dictating different body parts of the dragon, and users can visibly tell the rarity of a dragon based on the different shapes of their body. Each body part will be compounded for a total rarity value of a dragon.
On the other side, female dragons can also be an income opportunity. If your female dragon can give birth to baby dragons carrying rare genes, money can also be earned this way.
Eggs created during mating, known as golden eggs, can also be sold directly or you can wait until dragons are hatched before selling them. Eggs have a 100% chance of hatching into dragons.
Each origin gives dragons certain characteristic through their powers and genes. When the solo area opens on September 20th, users will be able to pit opposing dragons and fight for COO or ETH rewards.
Not only is the game free, but users can earn money from playing Coopet.
For more information about Coopet, visit their website. For social media updates, make sure to check out their Twitter and Facebook accounts. To pre-register for the token sale, click here for more information.
Image(s): Shutterstock.com