The cryptocurrency market has experienced an upbeat week with notable gains seen across various digital assets. Bitcoin Cash (BCH), Chainlink (LINK), Maker (MKR), and THORChain (RUNE) stood out as top performers, each posting impressive double-digit increases in their market capitalization. This surge in momentum is accompanied by signs of accumulation from major Bitcoin (BTC) and Tether (USDT) wallets, fueling speculation about the possibility of an "Uptober."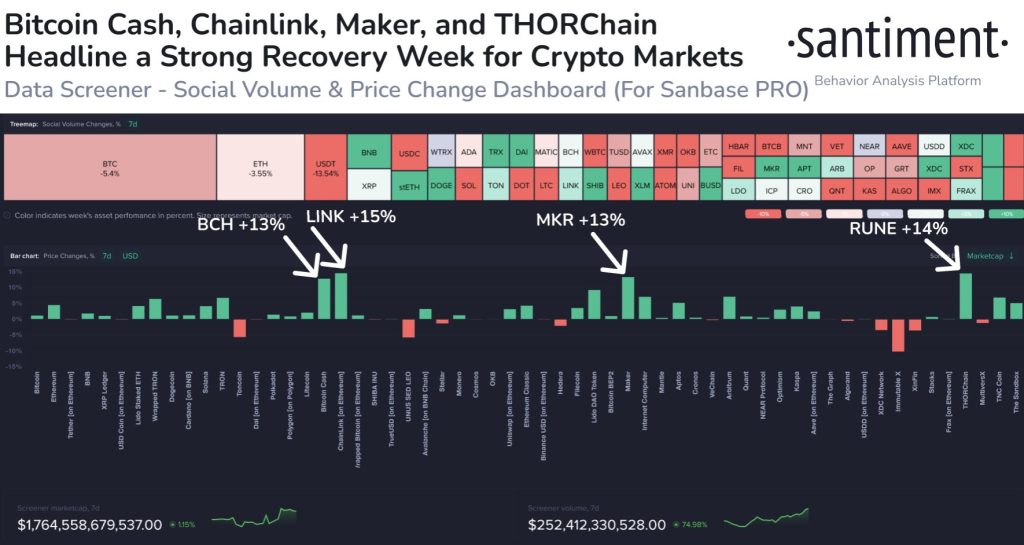 Bitcoin Cash With Others Shine In Dull General Crypto Market
Bitcoin Cash, often considered a peer-to-peer electronic cash system, demonstrated a remarkable 13% increase in its market capitalization during the week. Chainlink, known for its decentralized oracle network, saw an impressive 15% rise, while Maker, a key player in the decentralized finance (DeFi) space, registered a solid 13% gain. THORChain, a protocol for cross-chain liquidity, joined the party with a notable 14% increase in market cap.
Bitcoin And USDT Whale Accumulation
What's particularly intriguing about this rally is the accumulation observed among major BTC and USDT wallets. Accumulation by large investors often signifies confidence in the market's future, and in this case, it's potentially signaling a sustained uptrend into October. These prominent wallets are acquiring cryptocurrencies, further driving up demand.
Are We Going To See An Uptober?
As we look ahead, the term "Uptober" is gaining traction in the crypto community, suggesting that October could potentially bring continued bullish momentum. However, it's crucial to remain cautious in this volatile market. While signs are positive, cryptocurrency markets can be unpredictable, influenced by various factors including market sentiment, regulatory developments, and global economic conditions.
Final Thoughts
In conclusion, the recent surge in market capitalization for cryptocurrencies like Bitcoin Cash, Chainlink, Maker, and THORChain is a promising sign for the broader crypto market. Accumulation by large wallets adds to the optimism, and the concept of "Uptober" hints at the possibility of continued gains in the coming month. Yet, investors should always exercise prudence, conduct thorough research, and be prepared for market fluctuations, as the cryptocurrency landscape remains dynamic and ever-evolving.
Disclosure: This is not trading or investment advice. Always do your research before buying any cryptocurrency or investing in any services.
Follow us on Twitter @nulltxnews to stay updated with the latest Crypto, NFT, AI, Cybersecurity, Distributed Computing, and Metaverse news!
Image Source: sinenkiy/123RF // Image Effects by Colorcinch