Bitcoin, the digital gold standard, has shown remarkable resilience, maintaining a steady price level at around $27,400. While the broader crypto space exhibited some volatility, a couple of altcoins have stood out during this period, notably Monero (XMR) and Render Token (RNDR), both showing positive gains.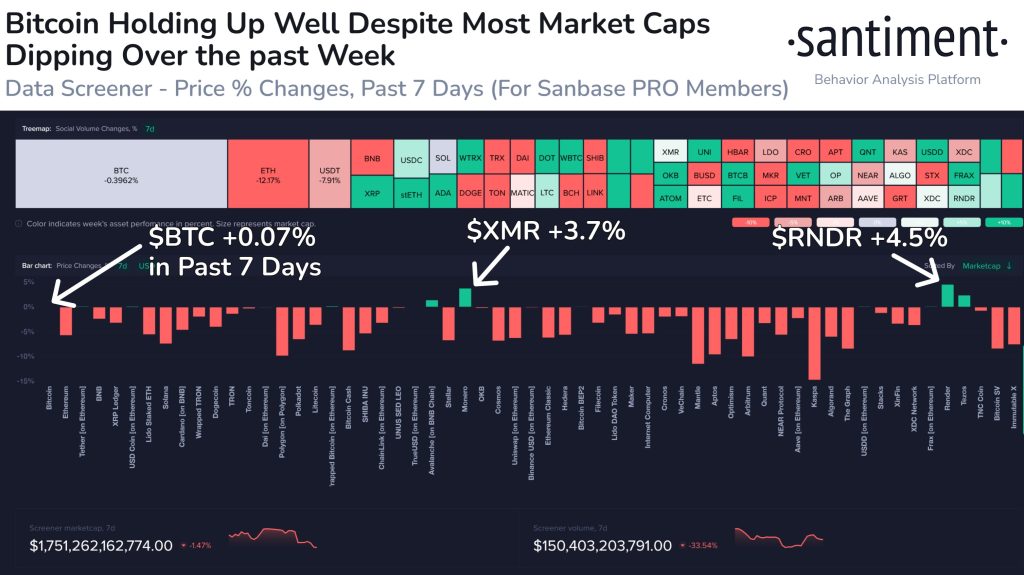 Steadfast Bitcoin
In a market characterized by frequent price swings, Bitcoin's ability to remain relatively flat around the $27,400 level is worth noting. While this stability might seem uneventful to some, it's a testament to Bitcoin's position as the most established and recognized cryptocurrency. For many BTC maximalists, these conditions are comfortable, as Bitcoin historically thrives in such scenarios.
Altcoins Facing Corrections
On the other hand, many alternative cryptocurrencies (altcoins) experienced corrections during the week. These fluctuations are a common sight in the crypto market, as altcoins tend to be more volatile compared to Bitcoin. The crypto space is known for its rapid price changes, and these corrections are part and parcel of the market's dynamics.
Standout Performers
Amid the corrections, Monero (XMR) and Render Token (RNDR) were two assets that stood out. Monero, known for its privacy-focused features, saw a 3.7% increase, demonstrating its resilience in a market characterized by regulatory discussions. Render Token (RNDR), which operates in the field of decentralized rendering for graphics and animation projects, managed a 4.5% increase.
These assets' ability to perform positively under these conditions highlights the diversity and innovation within the cryptocurrency space. Investors and traders often seek opportunities in altcoins due to their potential for significant gains, but they should also be prepared for heightened volatility.
Final Thoughts
As the cryptocurrency market continues to evolve, Bitcoin's stability in the face of corrections and the standout performances of certain altcoins showcase the nuances of this dynamic financial landscape. It's essential for market participants to stay informed and adapt to the ever-changing crypto environment.
Disclosure: This is not trading or investment advice. Always do your research before buying any cryptocurrency or investing in any services.
Follow us on Twitter @nulltxnews to stay updated with the latest Crypto, NFT, AI, Cybersecurity, Distributed Computing, and Metaverse news!
Image Source: luzazure/123RF // Image Effects by Colorcinch