Ethereum (ETH), one of the leading cryptocurrencies, has seen ongoing trends in wealth accumulation among its top holders, both on and off exchanges. This is occurring as ETH's market value remains relatively stable at just above $1,570.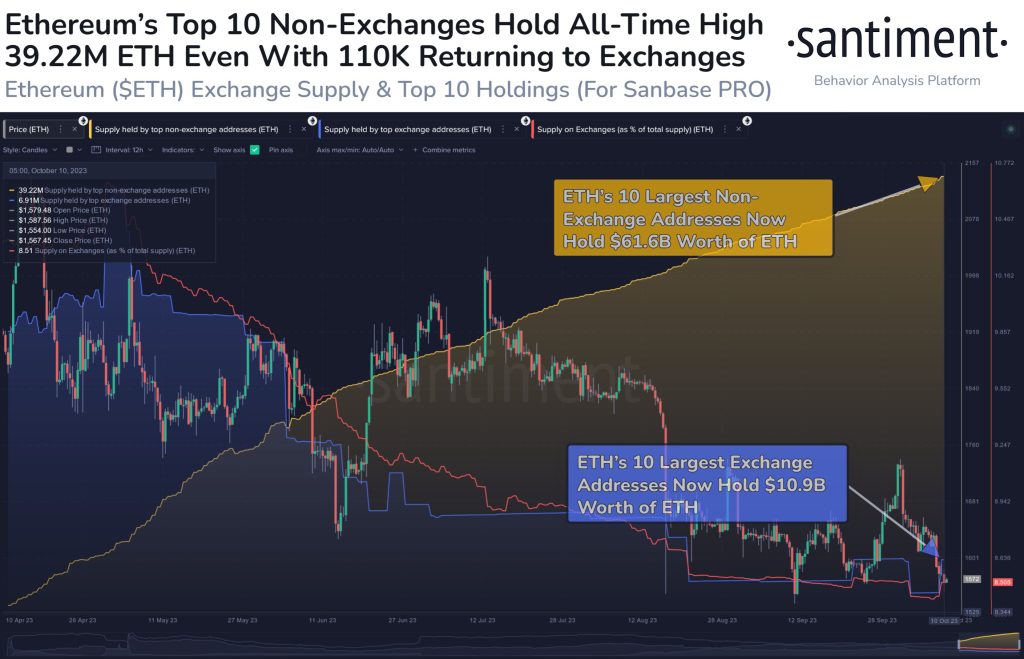 Exchange and Non-Exchange Wealth Distribution
As of the latest data, approximately 8.51% of all ETH is currently held on cryptocurrency exchanges. This reflects the portion of ETH available for trading on the open market. The remaining 91.49% represents the share of ETH held in non-exchange wallets.
ETH's Wealthiest Non-Exchange Addresses
Ethereum's largest non-exchange addresses continue to amass significant wealth. The top 10 non-exchange wallets now collectively hold an impressive $61.6 billion worth of ETH. These addresses belong to a mix of early adopters, large-scale investors, and, possibly, institutional entities. Their considerable holdings underscore their confidence in Ethereum's long-term potential.
ETH on Cryptocurrency Exchanges
On the other side of the spectrum, the 10 largest exchange addresses for ETH are currently holding approximately $10.9 billion worth of the cryptocurrency. These wallets are likely operated by cryptocurrency exchanges and represent the liquidity required to facilitate trading activities.
Implications for ETH's Market Dynamics
The disparity in wealth distribution between exchange and non-exchange addresses has several implications for ETH's market dynamics. The accumulation of ETH by the wealthiest non-exchange addresses suggests a strong belief in the cryptocurrency's future. Long-term investors may be looking to capitalize on Ethereum's utility and value as the network evolves.
Conclusion
Conversely, the large volume of ETH on exchanges highlights ongoing trading activity, liquidity for market participants, and the potential for price volatility. Cryptocurrency exchanges play a vital role in price discovery and trading, catering to various strategies such as day trading, swing trading, and arbitrage.
As Ethereum's market value fluctuates around $1,570, the wealth distribution dynamics underscore the diverse interests and strategies within the Ethereum ecosystem. These factors, combined with developments in the network, its adoption, and the broader cryptocurrency market, will continue to shape ETH's future trajectory.
Disclosure: This is not trading or investment advice. Always do your research before buying any cryptocurrency or investing in any services.
Follow us on Twitter @nulltxnews to stay updated with the latest Crypto, NFT, AI, Cybersecurity, Distributed Computing, and Metaverse news!
Image Source: oreora/123RF // Image Effects by Colorcinch