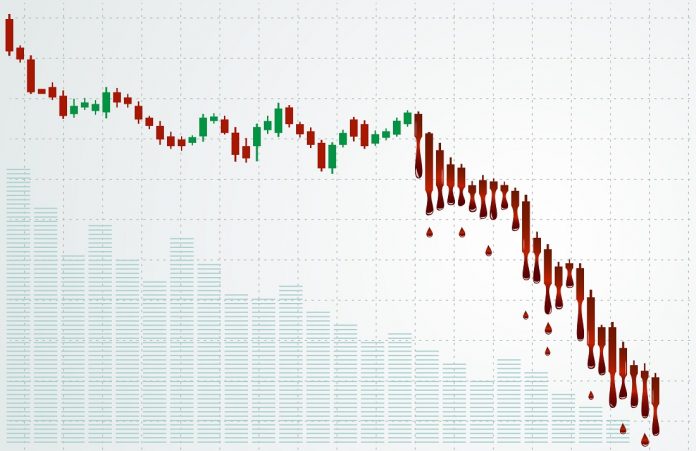 The grinch is in town. What started off as a bullish Christmas eve has turned into quite a bearish Christmas day. What we just experienced is a textbook bull trap. Let's talk about it.
They say a picture is worth a thousand words, that's why one look at Bitgur's cryptocurrency heat map is all you need to see exactly what's going on: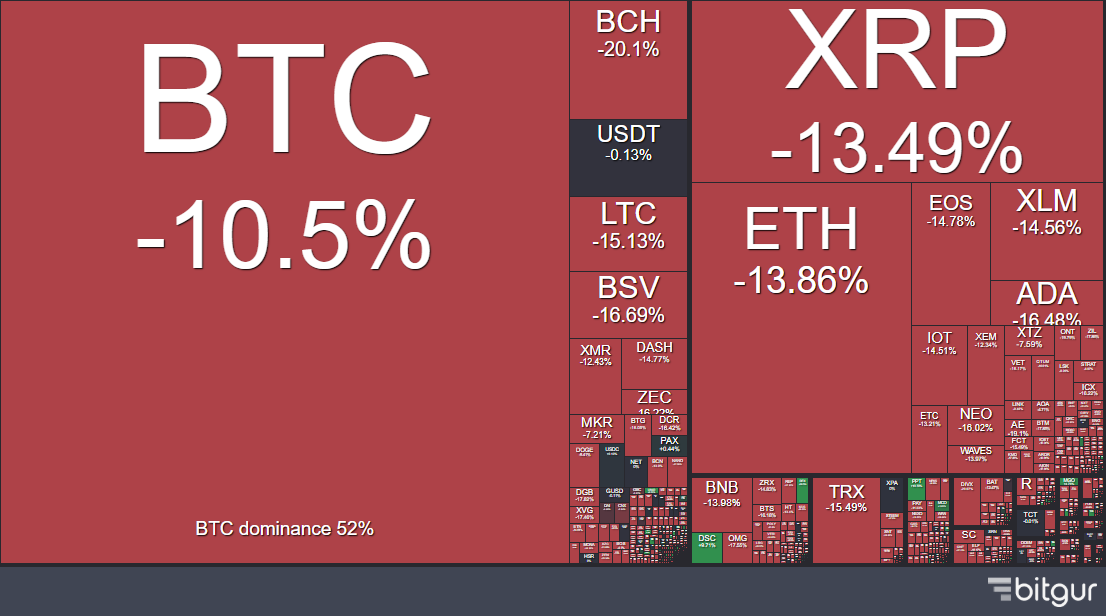 As you can see, double digit losses across the board. BTC is down 10%, XRP down 13%, ETH down 13%, EOS down 14%. Quite a depressing sight but not one that should be taken to heart. While these losses seem bad, they simply erase Monday's gains.
The good news is, it looks like the bleeding has stopped and the crypto market is stabilizing at the current levels. The global cryptocurrency market cap at the time of writing is at a relatively healthy $128 billion. Unfortunately, it did drop quite significantly in the past 24 hours – erasing over $18 billion. Because of how volatile the markets are, if any family members ask you at the dinner table what you think Bitcoin will do in 2019, explain it like this:
Easy reply when relatives ask what you think #cryptocurrency is going to do in 2019 pic.twitter.com/avwfLxwYKM

— Emptybeerbottle (@Fullbeerbottle) December 24, 2018
If the bulls are gone for Christmas, there is still hope for another push around New Year. Looking at past market actions, cryptocurrency usually experienced some sort of positive momentum around the New Year. History doesn't repeat itself but it often rhymes.
Top Recent Crypto News
Let's take a look at the top relevant cryptocurrency news – in tweets.
Ethereum Co-Founder Joseph Lubin Called the bottom of 2018 on December 21st.
I am calling the cryptobottom of 2018. This bottom is marked by an epic amount of fear, uncertainty, and doubt from our friends in the 4th and crypto-5th estates.

— Joseph Lubin (@ethereumJoseph) December 21, 2018
Ethereum to start competing with XRP with the launch of Raiden Network's "Red Eyes."
We are excited to announce that the alpha testing release "Red Eyes" of the Raiden Network is now live on the Ethereum mainnet! https://t.co/iJnAMn68Hp

— Raiden Network (@raiden_network) December 21, 2018
Western Union partners with Ripple Labs.
#WesternUnion partners with #Ripple to test blockchain payments and see whether they check out as faster and less expensive. WU has tried using Ripple's ledger before and didn't seem too impressed. Here's hoping that this time it'll be different. https://t.co/UyxYwS1FQg

— Weiss Ratings (@WeissRatings) December 25, 2018
Binance lists XRP as a base currency.
We will be adding a couple trading pairs with XRP as the quote currency shortly.

And rename ETH markets to ALTS market. Running out of space on the UI.

Merry Xmas!

— CZ Binance (@cz_binance) December 24, 2018
Tron reached 1 Million users.
The best Christmas gift for me and the #TRON community is 1 million users. When can we reach to this milestone? Plz RT and Make a guess! I will randomly take 3 lucky ones for 10,000 #TRX each! $TRX pic.twitter.com/O5YvU0kUzq

— Justin Sun (@justinsuntron) December 22, 2018
Bitcoin.com announces a BCH prediction market called Oracle.
https://t.co/lsBnewuXpM's Oracle Aims to Bolster BCH-Powered Smart Contracts: https://t.co/lsBnewuXpM is pleased to unveil plans to offer one of the world's first oracles for smart contracts on the Bitcoin Cash (BCH) blockchain. The autonomous feature… https://t.co/7G0QT2BmiY pic.twitter.com/6FVI2nKD7d

— What's Crypto (@WhatsCrypto) December 19, 2018
Christmas isn't over quite yet and the holiday spirit might come back. As the market is at a standstill anything is possible moving forward. Do not dismiss another bull run as we get closer to the New Year. Keep a close eye on the overall marketcap as that is a great indicator of what's to come ahead.

---
Disclaimer: This is not trading or investment advice. The above article is for entertainment and education purposes only. Please do your own research before purchasing or investing into any cryptocurrency.
Image(s): Shutterstock.com