Early Monday started off with a "Merry Christmas" and ended with a "Bah Humbug". After sustaining significant bullish momentum earlier in the day and rising over 20% in price, the cryptocurrency market decided to pull back come Christmas. Most cryptocurrencies are seeing red, in fact, every single cryptocurrency in the top 25 is seeing pretty significant losses.
At the time of writing, XRP is down over 13% currently trading at $0.37. What is also interesting to look it is XRP only dropped 2% in relation to its BTC ratio. What that means is that XRP's bearish momentum is a result of the overall sentiment on the cryptocurrency market – which lost almost $20 billion from its market cap in the past 24 hours.
It was only 14 hours ago that XRP was up 20% and the market had plenty of momentum to keep up its rally. With Ripple Labs securing key partnerships and onboarding clients for their xRapid and xCurrent financial solutions, all eyes are on XRP. Many do in fact believe that the digital asset can overcome BTC and become the number one cryptocurrency. However, looking at the numbers XRP still has a long way to go as Bitcoin's market cap is almost 5 times that of XRP.
Going for that number one spot SOON #xrpcommmunity #XRP pic.twitter.com/Yg6Y15kRzK

— Voice Of Truth (@JEYREEZY) December 21, 2018
Part of the reason XRP is doing relatively well in this market correction compared to other cryptocurrencies, is because of the Binance announcement yesterday. The number one crypto exchange announced that it will be adding XRP as a base currency to their platform. After the CEO confirmed the rumors on twitter, XRP's price surged over 20%.
After seeing the impact that a partnership with Binance can bring, Steven Diep created a poll proposing Binance become an xRapid partner. An interesting suggestion, but one that might be unfeasible as the two potential partners are headquartered in different countries.
Hi @cz_binance, have you ever considered collaborating with Ripple to become an xRapid partner to bring financial institutions and retail investors together for XRP liquidity?

Binance to become the next xRapid partner?

— Bull Diep (@DiepSanh) December 24, 2018
In other news, Ripple got a mention in CNBC's "most important tech stories of 2018." Included in the month of January when the cryptocurrency hype was at its peak, the article quotes:
"It was less than 12 months ago when start-up Ripple was sitting on close to $80 billion of XRP, a cryptocurrency that trades publicly like bitcoin. [] Since then, the total market capitalization of all cryptocurrencies has fallen by about 80 percent."
The piece mentions other news stories such as Microsoft acquiring Github, Elon Musk calling a diver a "pedo", and IBM's acquisition of Red Hat for over $30 billion. It is great to see a cryptocurrency make it into the top most important stories for 2018, but that doesn't come as a surprise given the insane bubble back in January.
XRP Price Analysis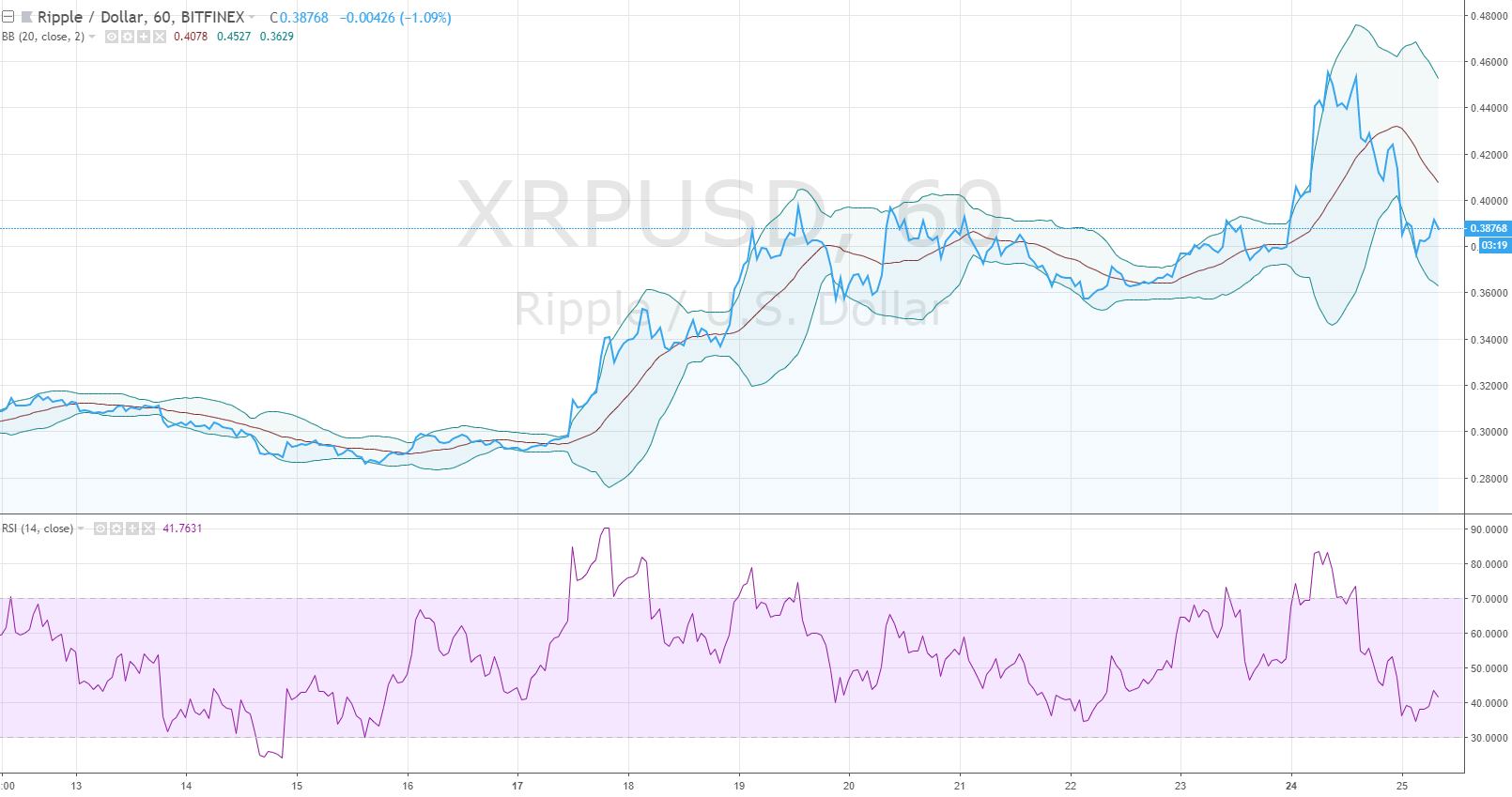 Relative Strength Index: The current RSI is at a healthy 40 points. After almost dipping to the overbought territory, the current level is suggesting the volatility will take a break in the short term. The market needs time to find new support and establish new momentum to move in either direction.
Bollinger Bands: The price has bounced off the lower band which is another signal that the market is testing support. If the current level holds, one should expect a convergence of the two bands.
The price has bounced off the bottom bollinger bands and the RSI is recovering which is suggesting a bounce off the support line. Because XRP is in a good place, it is important to take a look at the overall market sentiment.
At this point, most cryptocurrencies, including XRP, are still following Bitcoin's price movement. We can prove that by looking at the XRP / BTC price change which is significantly smaller compared to the XRP / USD price change (3% compared to 13%). That means that the value of XRP in terms of BTC doesn't change much while its value compared to fiat fluctuates quite a bit.
In short, keep a close eye on BTC because XRP will follow its path.
---
Disclaimer: This is not trading or investment advice. The above article is for entertainment and education purposes only. Please do your own research before purchasing or investing into any cryptocurrency.
Image(s): Shutterstock.com