In a pivotal move, the Federal Reserve, during its recent FOMC meeting, chose to maintain interest rates at their current levels. However, the central bank left the door ajar for potential future rate hikes, sparking significant market speculation. This decision comes at a time when the global financial landscape is witnessing increased turbulence, as exemplified by the S&P 500 plummeting to four-week lows.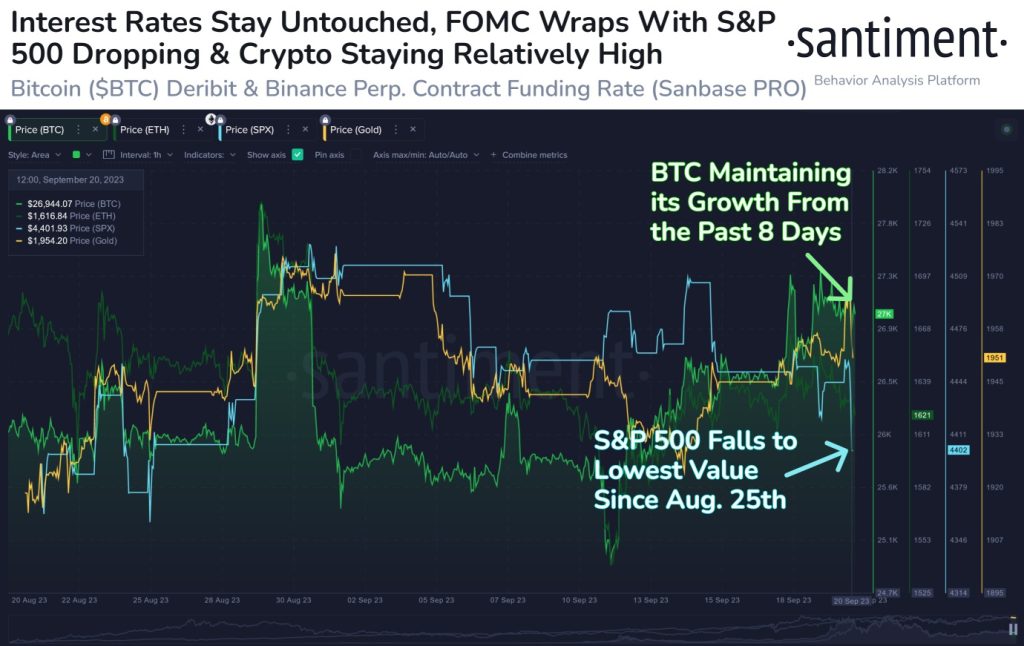 Crypto Exhibits Notable Resilience Despite Traditional Market Volatility
Despite this volatility in traditional markets, the cryptocurrency sector has exhibited remarkable resilience. Notably, market capitalizations for digital assets have largely weathered the storm. This contrast between traditional stocks and cryptocurrencies represents a noteworthy deviation from historical norms.
Correlation Breakout
One key takeaway from this scenario is the emergence of a promising correlation break. Historically, cryptocurrencies have often been viewed as high-risk assets that tend to mirror the movements of traditional financial markets. However, recent events suggest that this relationship may be evolving.
Bitcoin Maintains Growth Trend
Bitcoin, the flagship cryptocurrency, is a prime example of this newfound independence. It has sustained a growth trend for 8 consecutive days, defying the broader market downtrend. This prolonged rally suggests that Bitcoin is increasingly being perceived as a store of value and a hedge against economic uncertainties, akin to gold.
Crypto Still Best Option As Hedge Against Inflation
The divergence between cryptocurrency and traditional markets could signify a paradigm shift in the global financial landscape. As investors seek alternative assets to hedge against inflation and economic instability, cryptocurrencies may continue to gain traction. However, it's important to note that the crypto market remains highly volatile, and investors should exercise caution.
Conclusion
Finally, the Federal Reserve's recent decision to leave interest rates unchanged, coupled with the cryptocurrency market's resilience in the face of stock market fluctuations, underscores the evolving dynamics of the financial world. As cryptocurrencies continue to mature, they may play an increasingly significant role in diversified investment portfolios. Nonetheless, prudent risk management remains paramount in this evolving landscape.
Disclosure: This is not trading or investment advice. Always do your research before buying any cryptocurrency or investing in any services.
Follow us on Twitter @nulltxnews to stay updated with the latest Crypto, NFT, AI, Cybersecurity, Distributed Computing, and Metaverse news!