Bitcoin, the world's leading cryptocurrency, is experiencing a resurgence in onchain activity that hasn't been seen since April. This surge in utility and engagement within the network is sparking excitement and speculation within the crypto community.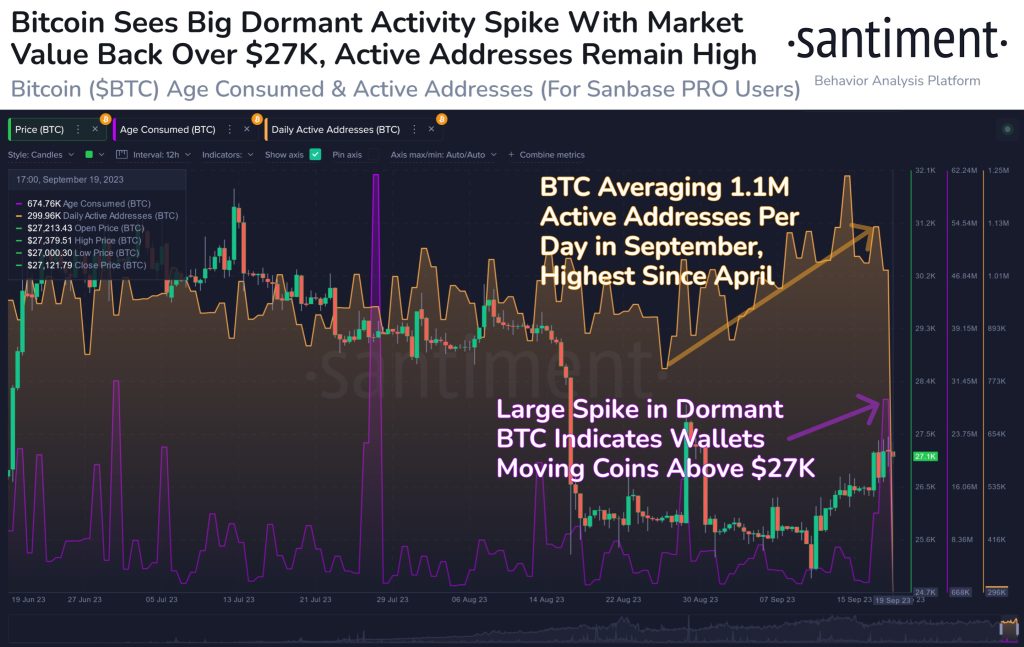 Active 1.1M Addresses In September
One of the standout metrics is the remarkable increase in the number of active addresses on the Bitcoin network in September. With an average of 1.1 million active addresses this month, Bitcoin has achieved its highest level of user engagement since April. This surge in active addresses suggests a renewed interest in Bitcoin, as more users participate in transactions and interact with the network.
Dormant Bitcoin Accumulation
Another notable development is the increase in dormant Bitcoin, with the third-largest accumulation of dormant BTC in the past three months occurring recently. This implies that some Bitcoin holders are choosing to HODL (hold) their assets, potentially anticipating future price increases or greater utility.
However, it's the $27,000 price level that has become a focal point of discussion. This price point seems to be polarizing the Bitcoin community, with some seeing it as an attractive entry point, while others remain cautious. The volatility at this level could indicate that market participants are uncertain about the immediate future of Bitcoin's price.
Conclusion
Overall, the resurgence in onchain activity, higher utility, and increased dormant Bitcoin holdings suggest that Bitcoin is reasserting its position as a significant player in the cryptocurrency market. It reflects growing interest and engagement from both retail and institutional investors. As Bitcoin continues to evolve and adapt, its performance in the coming months will be closely watched by the crypto community and beyond. Whether it maintains its momentum and surpasses the April levels remains to be seen, but the current trends indicate a positive outlook for the world's most famous cryptocurrency.
Disclosure: This is not trading or investment advice. Always do your research before buying any cryptocurrency or investing in any services.
Follow us on Twitter @nulltxnews to stay updated with the latest Crypto, NFT, AI, Cybersecurity, Distributed Computing, and Metaverse news!