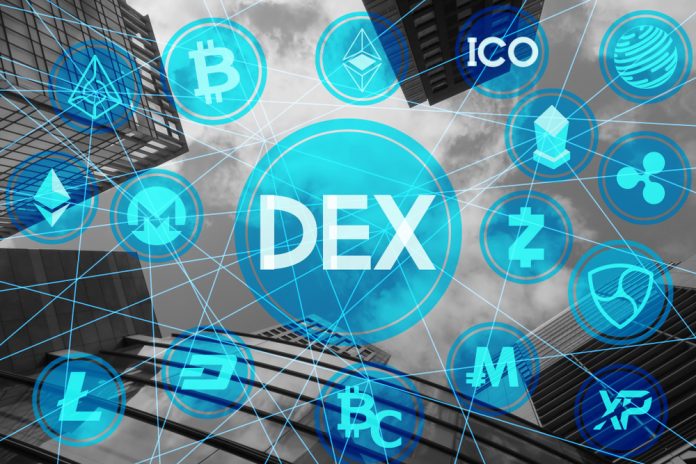 Despite skepticism from cryptocurrency traders and Ethereum users, decentralized digital asset exchanges are experiencing a rapid growth rate in terms of volume, led by IDEX, the most widely utilized decentralized application (DApp) on the Ethereum protocol.
IDEX Overtakes CryptoKitties
Throughout the past eight months, CryptoKitties, the Ethereum-based digital collectibles platform that enables users to purchase, sell, and trade digital collectibles in a peer-to-peer manner, was the most dominant DApp. At its peak, CryptoKitties accounted for 15 percent of the Ethereum network's capacity and daily transaction volume.
As of June 2018, the daily volume of CryptoKitties remains at 24 Ether, worth around $12,000. While it is still the most popular game on the blockchain, decentralized exchange applications have started to take over the Ethereum ecosystem.
Currently, IDEX, a popular Ethereum-based decentralized cryptocurrency exchange, processes more than 6,480 Ether on a daily basis, worth around $3.24 million, with a volume that is 270x larger than the volume of the most widely utilized Ethereum game on the market.
Initially, investors and major venture capital firms including prominent VC Andreessen Horowitz, which led a $12 million investment round for CryptoKitties, saw massive potential in the ability of Ethereum-based games to process the settlement of digital assets and collectibles.
Some experts including Fred Wilson of USV stated that CryptoKitties' potential should not be underestimated, because the digital collectibles traded on the CryptoKitties platform can be exchanged for stocks or currencies, given the decentralized marketplace-like structure of the application.
Wilson also emphasized that digital collectibles could become the first major consumer use case of blockchain technology, which can be difficult for beginners to understand and embrace.
"We think digital collectibles [are] one of many amazing things that blockchains enable that literally could not be done before this technology emerged. We also think digital collectibles and all of the games they enable will be one of the first, if not the first, big consumer use cases for blockchain technologies," Wilson explained.
Most of the hype surrounding digital collectible platforms was generated under the assumption that more complex and sophisticated applications like decentralized exchanges will be more difficult to materialize and see adoption by casual users.
In recent months, decentralized cryptocurrency exchanges have proven that with intuitive user interfaces and efficient data settlement through the utilization of off-chain solutions like 0x, they can process cryptocurrency trades efficiently and quickly.
As shown by the below data from DappRadar.com, IDEX's daily volume surpasses the volumes of all other DApps in the ecosystem combined. More importantly, platforms like EtherDelta, which saw success in late 2017, have struggled to sustain their momentum due to their poor user interfaces and inability to simplify the front ends of their platforms.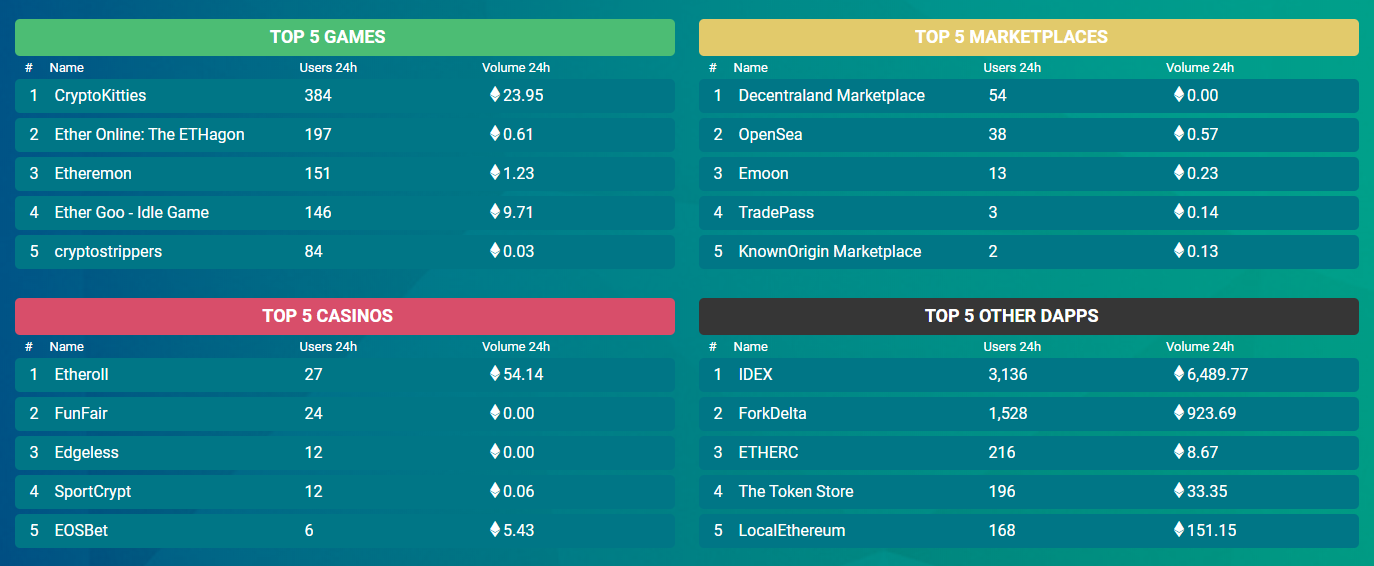 User Interface is Crucial
In an interview with former Goldman Sachs executive and Coinfi founder Timothy Tam, Kyber Network founder Loi Luu explained that user interface should be the focus of most decentralized exchanges and their development teams, because right now the priority for decentralized platforms is bringing more users into the ecosystem.
"I think it's because the UI isn't good enough. The users aren't familiar with the decentralized exchanges; they're more familiar with Binance or Bittrex. So that's why we wanted to make it really easy for the user to use. So we don't focus on the decentralized aspect of it. We focus more on the usability aspect of it. That's why we bring all the market makers on our platform. So these market makers are the people who are going to trade directly with the users," Luu said.
With the support of Ethereum creator Vitalik Buterin, Kyber Network, along with other platforms such as Coinbase-owned Paradex, AirSwap, and RadarRelay, has been seeing real progress in competing against centralized trading platforms.
Image(s): Shutterstock.com