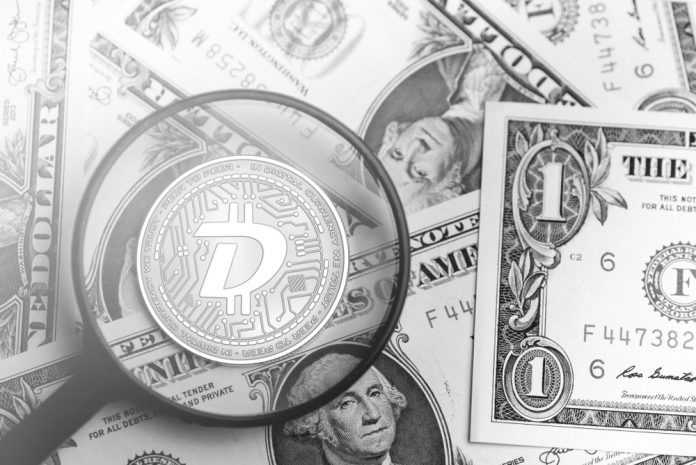 Sundays are usually very interesting days for cryptocurrency trading. Not because the biggest gains usually materialize, but primarily because there can be some interesting changes few people expect. Digibyte, a currency rather often overlooked, is making some positive strides. DGB has also reclaimed its spot in the market cap top 30 over the past few hours.
Digibyte Price is Tearing it up
Not too much is happening in the cryptocurrency top 20 right now. That is not unusual, as most of the attention is on Bitcoin's and Ethereum's uneasy momentum. This usually drags all cryptocurrencies  down with it, though Digibyte is an interesting exception at this time.
Over the past 24 hours, the DGB price has noted a strong 10.5% increase over USD, combined with a near 10% gain over Bitcoin, this altcoin is suddenly hitting its stride during these rather odd times for the crypto market. Any positive momentum in the altcoin department shows investors are in fact keeping tabs on the various cryptocurrencies.
There is some excitement surrounding Digibyte as of right now. The first-ever Digibyte London Meetup is getting a lot of attention, which shows the strength of the DGB community. The event will take place in November, although it remains to be seen what one can expect from it exactly. It is good to see different currencies have their own meetups these days, as cryptocurrency isn't just about Bitcoin and Ethereum.
But you can't pay for a ticket or a drink with #DGB ??? Ridiculousness

— Jay C (@pastienot) October 14, 2018
On the price front, a lot of people are talking about Digibyte right now. With the altcoin entering the crypto market cap top 30 again, a very interesting situation is created. Irfan Hasnani is confident the altcoin will rise to spot #27 before the day is over, although it seems rather unlikely something like that will happen anytime soon. At the same time, the coins in front of DGB are not showing much momentum at this time.
#DGB pic.twitter.com/EKTYnLObEF

— Irfan Hasnani (@Irfan_Hasnani) October 14, 2018
There is also the firm belief Digibyte will effectively change the payments landscape for small businesses moving forward. While it is certainly interesting to see how altcoins can make micropayments happen well before Bitcoin can do so, none of the altcoins have the same market traction or "brand power" that Bitcoin has either.
Eventually every small business in the world will accept #DGB for micro payments, now that my friend is bigger news than signing 1 big payment partnership. Power to the people.

— DigiByte Awareness Team (@DGBAT_Official) October 14, 2018
Based on the current circumstances, it is safe to say things look pretty good for Digibyte. As is usually the case in cryptocurrency, problems arise when it comes to sustaining any sort of upward momentum for several hours, or even days.
---
Disclaimer: This is not trading or investment advice. This article is for educational and entertainment purposes only. Please do your own research before purchasing any cryptocurrency.
Image(s): Shutterstock.com