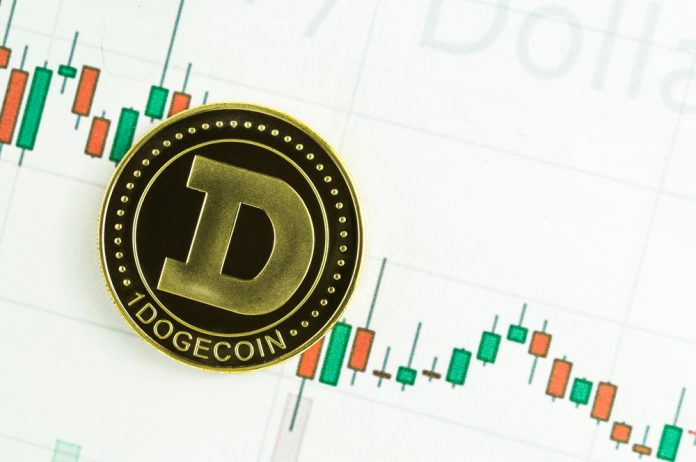 All cryptocurrency markets remain subdued on this Saturday morning. Although that is not necessarily all that surprising given the current circumstances, some people expected some big reversals. Dogecoin shows some potential promise in this regard, as its push to $0.004 is still in play despite the recent dip.
Dogecoin Price Momentum Has Potential
It has become apparent a lot of people have high hopes for Bitcoin and other cryptocurrencies moving forward. In the case of Dogecoin, there is still some positive momentum left in the tank, despite the market not showing it at present. The altcoin is successfully recouping some of the losses sustained earlier this week, which seemingly pave the way for a push to $0.004.
Over the past 24 hours, Dogecoin has regained some of the lost momentum. That doesn't mean all net losses are wiped out automatically. There's still a 27% deficit in USD value and a  2.55% loss over Bitcoin. Those deficits can be overcome with relative ease in the coming days and weeks. The trading volume of DOGE is still somewhat promising, considering how it is a weekend.
Speculators and traders also monitor the Dogecoin price situation closely. That is only normal, as this market has shown nearly the most upward potential throughout the second half of 2018. While there have also been numerous deficits ever since, it is still an intriguing altcoin for many different reasons.
#Blockchain #Crypto $DOGE: Painted a better bullish hammer on daily, RSI oversold, double bottom established, & MACD about to cross. Now we just need volume.

If #dogecoin does not break EMA resistance at 0.0040, then the next stop is 0.0032.#bitcoin #ethereum $BTC $ETH # pic.twitter.com/gxkf4YbDoQ

— Annelin Ytrade (@AnnelinYtrade) November 10, 2018
Holders and enthusiasts who favor Dogecoin acknowledge this current momentum seems somewhat promising. Although Dogecoin has not been revitalized by any means, it would appear most markets are preparing for some upward momentum in the near future. On more than one occasion, Dogecoin has led the charge in this regard, and this time around may not necessarily be different.
Doge wake up #DogeCoin

— bredo (@SlickProgress) November 9, 2018
There are those who still hope more wallets will enable Dogecoin support in the future. Exodus is currently working on implementing DOGE support, although the feature is still in beta testing at this time. There is no official timeline for a finalized implementation, but Jason Nelson points out some helpful alternatives in this regard. Having multiple options is never a bad thing.
Hi Luca, until @exodus_io puts #dogecoin in the main wallet (blue) I'd recommend using Jaxx Wallet for your Doge. Coinpot is a micro wallet true but it's a website where @exodus_io and Jaxx are downloaded to your computer, much more secure.

— Jason Nelson (@dragonwolftech) November 9, 2018
For the time being, cryptocurrency enthusiasts will need to bide their time when it comes to market uptrends. There have been promising signs in the past two weeks, albeit nothing has been turned into permanent changes just yet. Dogecoin's price, while still down a bit, is looking prime for a new uptrend. Reaching $0.004 would certainly breathe some new life into all altcoin markets.
---
Disclaimer: This is not trading or investment advice. The above article is for entertainment and education purposes only. Please do your own research before purchasing or investing into any cryptocurrency.
Image(s): Shutterstock.com