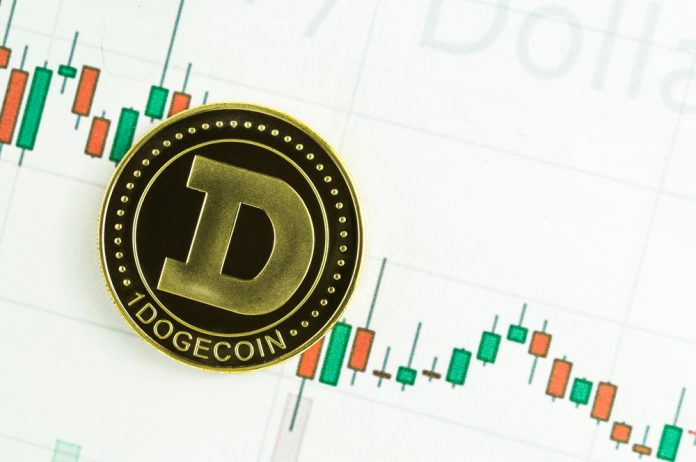 The public's opinion on Dogecoin is all over the place. Some appreciate the project, whereas others think it shouldn't even exist in the first place. Regardless of how one feels about it, the Dogecoin price is usually a viable indicator to gauge future cryptocurrency market momentum. Based on the recent price movement, there isn't too much to get excited about just yet.
Dogecoin Price Momentum Continues Going Sideways
It is never positive to see a particular cryptocurrency remain stuck in sideways momentum for more than a few hours. Although this can happen to the best of them, it is not something to look forward to. In the case of Dogecoin, there has been a lot of sideways trading momentum as of late.  Even today, it seems the price isn't budging too much in either direction.
To put this in perspective, the current Dogecoin price sits at $0.001892. Its Bitcoin value is still near the same level it has been at for several days. The 55 Satoshi level seems to act as quite stable support for this popular altcoin, albeit one has to wonder how long this situation will remain in place. Today's drops are minor across the board, but it still highlights how unrelenting the bearish pressure really is.
The most positive development of the day is how Bitcoin Dood on Twitter is turning into a Dogecoin maximalist. More specifically, he confirms Dogecoin is now the 'standard' for all cryptocurrencies. While this is clearly a jest first and foremost, one has to acknowledge Dogecoin has successfully conquered its place within the industry as a whole. Even so, it is still being made fun of on a more than regular basis.
I think I'll become a #Dogecoin maximalist. That's right, from this day forward, if it's not Dogecoin it's shitcoin!

— Bitcoin Dood (@BitcoinDood) February 5, 2019
The DogePal service is still going strong as well. That comes as a bit of a surprise, considering how the past 10 months have been very bearish for all cryptocurrencies. For those looking to advertise their project or site, DogePal has one covered in exchange for a Dogecoin payment. The service is cracking down on mining programs or potential scams, though, which is a welcome sight.
Your message on DogePal, 100 doge for 30 days. no mining or scams. cheap via /r/dogecoin https://t.co/8vk3mz3y9S hot 🔥 in #reddit #dogecoin #doge #crypto much wow!

— Domain Address Info (@DomainAddress4u) February 5, 2019
Even though the current market momentum doesn't warrant much excitement, it appears Endoryan still has high expectations. More specifically, this user expects to see DOGE back at 50 Satoshi in the near future. That would effectively result in a further downtrend over the coming days and another net 10% loss. However, 50 Satoshi has proven to be very stable in terms of support, which is all one can ask for right now.
$DOGE #doge to 50sats 🐶 pic.twitter.com/S1J7ZoYwPm

— Endoryan (@The_Endoryan) February 5, 2019
With the overall crypto trading volume still on wobbly legs, it seems the overall interest in Dogecoin has begun dropping off pretty quickly. More specifically, DOGE just generates $13.13m in volume, which is pretty low for this popular project. For the time being, the uneasy momentum will remain in place and wreak havoc on the Dogecoin value accordingly.
---
Disclaimer: This is not trading or investment advice. The above article is for entertainment and education purposes only. Please do your own research before purchasing or investing into any cryptocurrency.
Image(s): Shutterstock.com