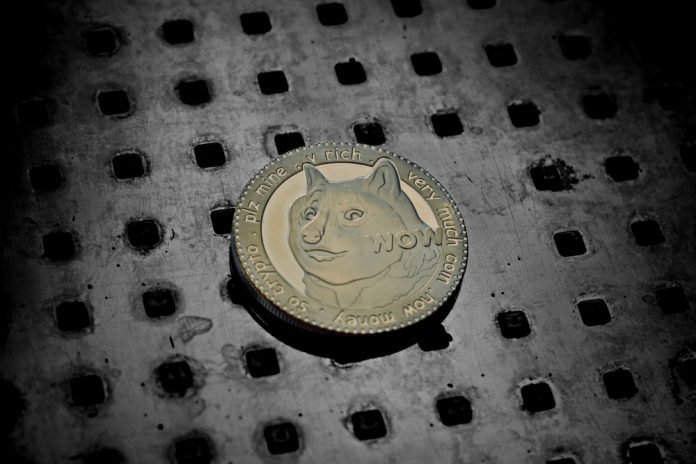 Even though there is seemingly a lot of positive momentum in the cryptocurrency industry, most markets remain somewhat fragile right now. That is not abnormal during the weekend, yet it is evident sustaining any uptrend will pose its own challenges. In the case of Dogecoin, things are not looking all that bad right now, as the stability remains in place for the time being.
Dogecoin Price Does its own Thing
As is usually the case when the weekend comes around, things remain a bit uneasy across the cryptocurrency and digital asset markets A slightly lower trading volume and a massive battering over the past few weeks have made a lot of people crypto averse first and foremost. Even so, it seems the Bitcoin Dominance Index is decreasing again after hitting over 55% yesterday.
In the case of Dogecoin, the price momentum looks somewhat promising right now. Although it hasn't looked bad by any mean these past few weeks Dogecoin still notes a small uptrend in both USD and BTC value. Nothing to get extremely excited about by any means, but it helps keep the value above $0.002 at this time.
When looking across social media, there is plenty of reason to be cautiously optimistic. Dogecoin continues to transact a lot of value on its network, and remains second to only Bitcoin on most days. Yesterday's statistics confirm more value was transferred via Bitcoin Cash as well, although that is a rather rare occurrence. Even so, Dogecoin is a transactional currency first and foremost.
#Dogecoin "sent" 291M USD last 24hrs, 3rd behind only Bitcoin and BitcoinCash. All this despite being snubbed by exchanges worldwide, some seem to be afraid of the competition from Dogecoin's popularity. https://t.co/924UU0KSIt

— mj (@silkmarketindex) December 8, 2018
A new use case for Dogecoin has been identified courtesy of Abaco Hosting. Although this hosting and domain service provider is relatively unknown, they now accept Dogecoin as a payment method. That is another nod of approval toward this particular altcoin, and it also shows why service providers need to look beyond Bitcoin when it comes to accepting payments for goods and services.
We are accepting #Dogecoin #DOGE for all #Domain Registrations & Web #Hosting Packages! https://t.co/fJ6h4Sudj6

— Abaco Hosting (@abacohosting) December 8, 2018
There are also more and more people who will work for Dogecoin. Especially in the freelance industry, Dogecoin is quickly becoming a very common form of exchanging value. That is only normal, as Dogecoin is more than capable of maintaining a table value compared to other currencies and assets. As such, it is only normal more people explore options where this altcoin is concerned.
Have been working freelance real world for the past few weeks, I hate working for fiat. Will do SEO for crypto. Anybody need done stuff done? Pay me in Doge? #dogecoin #SEO #Cryptocurrency

— Crypto Strange (@cryptostrange) December 8, 2018
When looking at the bigger picture, Dogecoin is performing as one would expect. Its value remains stable and even notes small increments every now and then. There is still a genuine chance the Dogecoin price will drop below $0.002 at some point, but for now, it seems to hold its own quite well.
---
Disclaimer: This is not trading or investment advice. The above article is for entertainment and education purposes only. Please do your own research before purchasing or investing into any cryptocurrency.
Image(s): Shutterstock.com