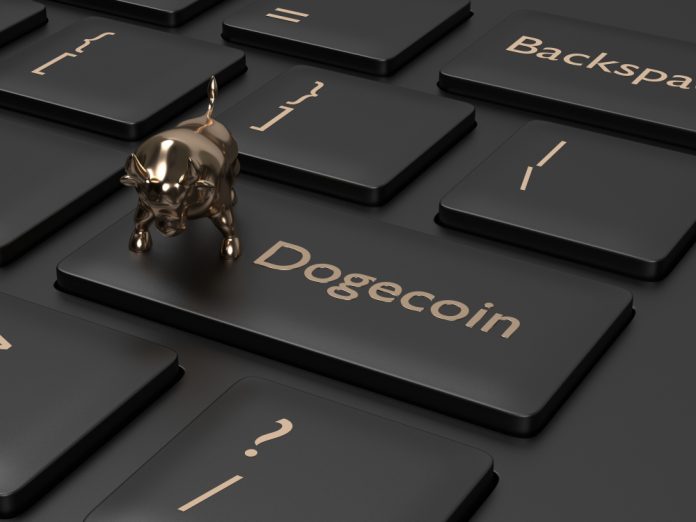 Even though the current price momentum might not show it, there are plenty of interesting things happening for Dogecoin. Especially in the indie gaming department, Dogecoin is getting a fair bit of attention right now. All of these developments will ensure the legacy of the meme coin carries on, regardless of short-term DOGE price changes.
Dogecoin Price Woes Continue
This past week has not been overly pleasant for DOGE holders by any means. Even though things were still looking rather promising at the beginning of the week, the Dogecoin price has decreased significantly ever since. An ongoing downtrend has begun taking shape, and it seems there is no reversal in sight as of yet.
Over the past 24 hours, the Dogecoin price has lost another 3% in both USD and BTC value. It is the first time in a while one DOGE is valued at $0.0038, but that level may not act as a new support level just yet. Instead, a dip to $0.0035 seems to be shaping up, despite some very interesting developments behind the scenes. More DOGE exposure can lift the altcoin back in the green with relative ease.
Two interesting video game-related developments are taking place right now. First of all, the developers of Doge Racer have shown a few new screenshots about their upcoming indie game. It is a racing game which features Dogecoin, which can bring a lot more exposure to this altcoin in its own right. Although there's still plenty of work to be done, the project appears to be advancing rather nicely.
Much Fast! So Multiplayer!#madewithunity #dogecoin #DogeRacer pic.twitter.com/h9hWeEnrmc

— Doge Racer (@RacerDoge) October 25, 2018
In more video gaming news, it seems the Dogecoin Doge will be making its way to Kawaii Crypto Kingdom. This up-and-coming mobile game is currently in development and features many characters tied to cryptocurrency. VeChain, Monero, Bitcoin, and others are also represented. The Dogecoin Doge is a welcome addition to this list, and it is another example of how Dogecoin will not drop off the radar anytime soon.
"Here's Kawaii Crypto #Dogecoin Doge! https://t.co/xCup7WY7DI #kawaiicrypto #crypto @dogecoin @brucefenton @MSingularity. Will be putting him into the game and working on his section next week!" – Kawaii Crypto on … – https://t.co/MAKy33NkvS #Reddit

— Crypto News (@MuchCryptoNews) October 25, 2018
Last but not least, community members actively explain why Dogecoin is such a successful project right now. Its quick transaction time and high amount of value transacted over the network on a near daily basis make it the second-most valuable network to date. That is something a lot of onlookers tend to ignore, albeit Dogecoin is only second to Bitcoin in this department.
1. Fiat is ponzi
2. If you don't HOLD it you don't OWN it
3. buzz buzz smart contract blockchain
4. #dogecoin does it 3 times faster on a bad day

Buy #BTC Store #BTC https://t.co/URvkufSqcc

— TakijA (@VodeniZeko) October 25, 2018
With all of these changes taking place in the Dogecoin ecosystem, it appears to be a matter of time until DOGE's value goes through an uptrend again. In terms of marketing and exposure, Dogecoin is setting the tone for all other cryptocurrencies to follow. Now that more indie game developers are incorporating this project in their own way, the future looks rather bright for this alternative cryptocurrency.
Image(s): Shutterstock.com