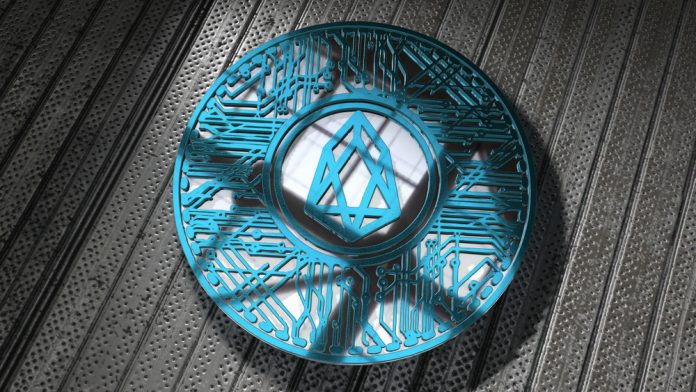 All cryptocurrency markets are still suffering from sideways and bearish trading momentum. This situation will remain in place until Bitcoin gets its act together once again. For the EOS price, this waiting game has resulted in a pretty steep decline over the past 24 hours. Its value is now heading to $7.5 and potentially lower.
EOS Price Continues to Decline
Whenever the Bitcoin price goes through a rough patch, all altcoins and digital assets are bound to follow suit. In the case of the EOS price, it is evident things are not heading in the right direction as of right now. There has been an ongoing decline for a few days now, and the bearish pressure only intensifies as more time progresses. Not a positive sign for this altcoin, and the worst is yet to come.
Over the past 24 hours, the EOS price has declined by another 7.25%. This is a relatively big setback for any digital currency or asset, especially in the world of cryptocurrency. It is also a surprisingly big setback, mainly because of how the Bitcoin price hasn't declined by much over the past few days. Altcoins usually suffer from far worse momentum, mainly because people are looking for ways to minimize their losses at all times.
As one would come to expect, this EOS price decline is only fueled by an ongoing decline in the EOS/BTC ratio. The altcoin has lost 6.89% over Bitcoin in the past few years, and it seems things will not necessarily improve anytime soon. If these trends keep up, there is a very real chance the EOS price will drop below $7.5 in the coming hours. That will undoubtedly spook investors even more.
Even though the overall cryptocurrency trading volume has been on the rise over the past few hours, it is not helping EOS all that much. The altcoin notes a volume of $823.439m over the past 24 hours, although it is evident this is mainly made up of people looking to sell the altcoin rather than buy it. More bearish pressure appears to be forming in very quick succession, although it remains to be seen how this will impact the market over the next few hours.
OKEx leads the charge in terms of EOS trading volume with its USDT pair. Huobi and Binance offer identical markets, and they are all in relatively close proximity to one another in terms of trading volume. Bitfinex offers the first and only fiat currency pair in the top eight, followed by OKEx's BTC pair. Not too much fresh capital is entering the EOS market as of right now, although there is still a good chance the situation turns around when people least expect it.
Cryptocurrency markets are notoriously volatile. This is especially true when things get tough for Bitcoin, as has been the situation for several days in a row now. After being rejected at $8,300 multiple times, the negative pressure is now affecting altcoins as well. For the EOS price, a dip to $7.5 or lower is definitely in the cards, albeit anything is possible in this complex industry.
Image(s): Shutterstock.com