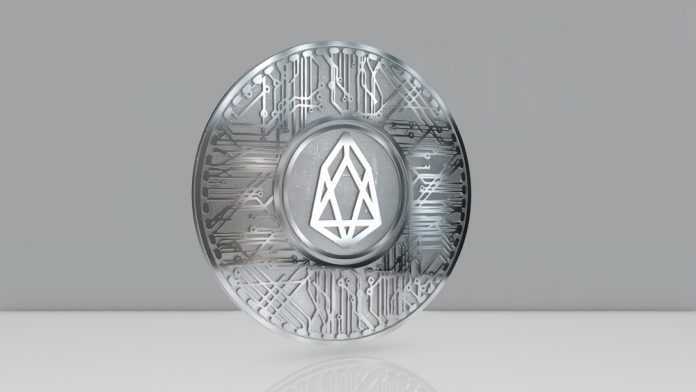 As there is a lot of bullish momentum forming across the cryptocurrency markets, it is only normal some currencies rise much stronger than others. Today, it would appear to be a good day to buy, sell and trade EOS for profit. The current EOS/USD and EOS/BTC gains are pretty interesting to keep an eye on moving forward. Now that one EOS is valued at $2.15 and more, the coming days will prove crucial to find support.
EOS Price Surge is Surprising
In a way, it is quite interesting to see altcoins get a second lease on life now that Bitcoin is finally crawling out of its hole. While these gains are by no means locked in place for the foreseeable future, this brief uptrend is more than needed at this time. As such, there is a good chance the EOS price will remain in the green for most of the day, barring any mishaps affecting the Bitcoin price later today.  it also reaffirms how EOS needs Bitcoin momentum to note some gains these days.
Over the past 24 hours, there have been solid EOS gains in both USD and BTC value alike. That in itself is noteworthy, primarily because such an uptrend has not been present for most of 2018. Things can always turn around, though, but for now, the 11% gain in USD value is sufficient to keep the value above $2.15. The added 5.4% gain in BTC value is a nice bonus, which may keep this USD trend alive for a little while longer.
If there is one particular life lesson a lot of cryptocurrency enthusiasts are finding out the hard way, it is to never trust signal groups or individual traders sharing insights. This information should never be taken at face value. The Tweet below only confirms how dire things can get, even though these issues are not just native to the individuals involved in this conversation. Always do one's own research prior to investing.
@TheCryptomist Wth again? 5th time in a row 😶🥵 Help or apologise? Lost my money again! #btc #cryptotwitter #eos pic.twitter.com/7psNvME32V

— 🃏Ace💫 (@Crypt0Ace) December 17, 2018
When looking at the current EOS price chart, it is safe to say the altcoin successfully broke out of the wedge which had been forming for several days.  If the chart by CryptoJ@m is any indication, the uptrend is only just beginning. That is a very bullish outlook which may prove difficult to sustain over the coming days and weeks. Even so, the actual price levels to be hit seem to make some sense.
EOSZ18 CHART#EOS#EOSNEWS#EOSUSD pic.twitter.com/oyNd5ysoNr

— CryptoJ@M (@CryptoJM2) December 17, 2018
As is always the case when cryptocurrencies rise in value out of the blue, arbitrage opportunities will become a lot more visible. In the case of EOS, there are a few different options to flip funds between exchanges and make a good profit by doing so. Exploring these options always needs to be done at one's own leisure, but there is some solid money to be made through arbitrage in this industry.
#EOS
Buy at #Paribu and sell at #Bitfinex. Ratio: 2.25%
Buy at #Paribu and sell at #HitBTC. Ratio: 2.41%
Buy at #Binance and sell at #HitBTC. Ratio: 2.49%
Buy at #KuCoin and sell at #HitBTC. Ratio: 2.64%#bitcoin #arbitrage #arbitraj #arbingtool https://t.co/xiFUPzcOcC

— Arbing Tool (@ArbingTool) December 17, 2018
For the time being, it is important for traders to not start chasing the top where EOS is concerned. Doing so will undoubtedly lead to financial losses, regardless of how healthy the market may look at this time. With a hefty trading volume in place, a bit more market volatility will present itself over the coming hours and days. As such, the $2.15 level may not necessarily remain in play for that long.
---
Disclaimer: This is not trading or investment advice. The above article is for entertainment and education purposes only. Please do your own research before purchasing or investing into any cryptocurrency.
Image(s): Shutterstock.com