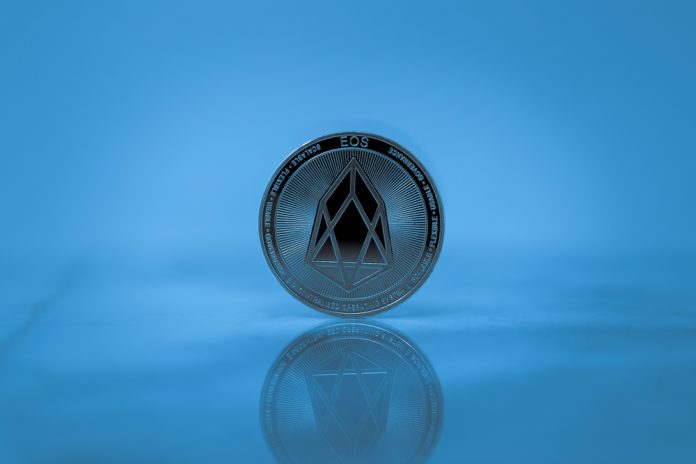 Today is not necessarily the best of days for most cryptocurrencies. While most of the markets do not suffer from too negative pressure right now, it seems that situation may come to change in the very near future. The EOS price is still going strong, which may come as somewhat of a surprise to the masses.
EOS Price Momentum Remains Intact
When it comes to the cryptocurrency industry, the mid-week is usually a time where things either take shape or fall apart completely. For most markets, the bearish pressure is kicking in pretty quickly, whereas EOS is still going strong. Albeit its gains are rather minimal, it shows the ongoing uptrend still remains in place at this time.
Over the past 24 hours, the EOS price gained 2.1% in both USD and BTC value alike. This brings the current price to $5.6, or 0.00107 Bitcoin. Both levels are pretty interesting to keep an eye on, primarily because they have been in play for quite some time now. If this trend continues, EOS may end up as one of the bigger "winners" of the day compared to other top markets.
While some people would have expected the overall crypto trading volume to return to the $25bn level, it seems that will not happen just yet. Over $52bn worth of crypto has changed hands today, and $3.265bn of that volume belongs to EOS. This market keeps trading over half of its market cap in daily volume for some time now, which might help keep the uptrend going for another day.
It would also appear the EOS trading pair is now active on the Coinbase Pro platform. There are still a lot of traders unaware of this situation, thus it seems unlikely this platform's volume will become significant right away. Even so, it seems the sell walls are incredibly thin right now, which is rather unusual for any currency getting listed on a new exchange.
Under an hour ago #EOS trading pair became active on @CoinbasePro. While volumes are low you can cause a spike to $7 for the ultra low price of $100k. Anyone feeling generous? #thinkaboutit #cryptocurrency #exchange pic.twitter.com/5RwyTeIJIR

— Zach Alam (@propelzach) April 9, 2019
For those who keep a close eye on the price chart, it would appear EOS/USDT will become a pretty intriguing market. If another minor gain is noted, a breakout seems very likely toward the $6 level. Sustaining that jump will be incredibly difficult, even under the best of circumstances. Even so, a lot of holders and traders are quite excited about this prospect, for obvious reasons.
@PeterLBrandt what you think ? #eos #bitcoin pic.twitter.com/vuKB75tF94

— Crypto Mind (@CashFlo12944378) April 9, 2019
The big question is whether or not EOS can successfully buck the bearish trend which seems to affect so many different markets right now. So far, so good, but there is always a chance this minute gain is wiped out in very quick succession. As long as Bitcoin remains in the green, EOS will see similar momentum. Having to rely on that market is not necessarily the most appealing ordeal right now.
---
Disclaimer: This is not trading or investment advice. The above article is for entertainment and education purposes only. Please do your own research before purchasing or investing into any cryptocurrency.
Image(s): Shutterstock.com