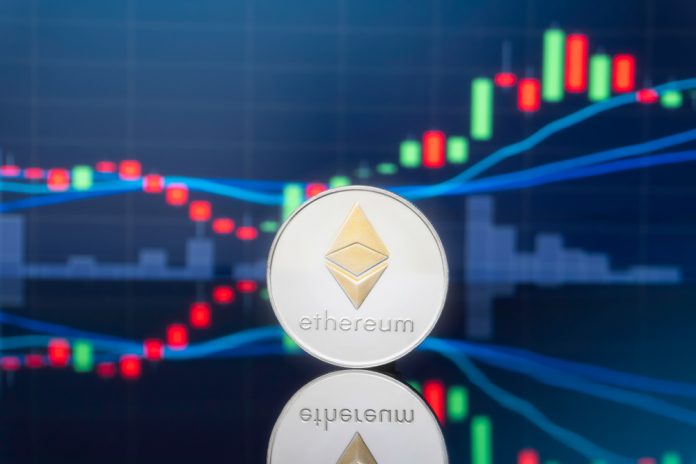 When all cryptocurrencies go in the green on a Sunday morning, it almost seems as if something is amiss. Such a sight is very unusual in this industry, regardless of what the overall momentum has shown throughout the week. For Ethereum, it seems the push to overtake XRP in market cap is in full effect once again.
Ethereum Price Uptrend is Spectacular
While it is only normal there would be a sort of revival after yesterday's brief dip, few people expected things to grow this spectacular in quick succession. All top currencies are surging once again, albeit some in more spectacular fashion than others. Ethereum, for example, is going on a genuine tear right now, as it surpassed the $130 value level in the past few hours.
To put this in perspective, there has been a strong USD gain for Ethereum in the form of a 16% increase. There is also a very strong ETH/BTC push, as this ratio improved by 12% in favor of Ethereum. A very solid performance across the board, although it is not necessarily something anyone saw coming. It seems unlikely this can be sustained at this level for long, although one never knows what the future will hold exactly.
On social media, there is a lot of sentiment toward Ethereum first and foremost. Karim confirms the year 2018 is almost over, which can only be considered to be a good thing. Considering how there is no genuine excitement throughout most of 2018, things can only improve later this year comes to a close. There is a genuine chance things will look up again after December of this year, although it is still too early to draw any conclusions.
If you're reading this then you've survived 2018 #crypto. 2019/2020 you will be rewarded for your hard work, #hodling and hopefully starting to accumulate at these levels. #btc #eth #alts. This has been an amazing learning Experience. Love this space.

— Karim (@KHamouda74) December 23, 2018
Andrew Davis, who likes to take a more balanced and technical analysis-based approach to the current Ethereum momentum, is confident things will get very interesting moving forward. After a significant push this morning, it seems there may be a second leg to this uptrend after a brief breather. Assuming that vision comes true, there may be a push to $150 before the weekend is over.
$ETH/USD – updated (potential) E-Wave count.

I'm very interested in seeing what $BTC does over the next hours/day. #BTC's movement should add some clarity to #ETH's development.#Ethereum, #Crypto pic.twitter.com/E4A5gB97Rr

— Andrew Davis [🎯𝟗𝟗% 𝑾𝒊𝒏𝒔📈] (@AndrewEDavis) December 23, 2018
As is always the case when it comes to cryptocurrencies, there will be some arbitrage options to take advantage of. In the case of Ethereum, there is some good money to be made when using BTCBit. While that is a new and relatively unknown exchange, the potential profits are pretty significant. Always conduct one's own research prior to making any market movements, though.
#ETH
Buy at #Poloniex and sell at #BTCBIT. Ratio: 9.96%
Buy at #Gate.io and sell at #BTCBIT. Ratio: 10.03%
Buy at #LiveCoin and sell at #BTCBIT. Ratio: 10.23%
Buy at #EXMO and sell at #BTCBIT. Ratio: 9.21%#bitcoin #arbitrage #arbitraj #arbingtool https://t.co/xiFUPzcOcC

— Arbing Tool (@ArbingTool) December 23, 2018
For the time being, it would appear the Ethereum price is checking a lot of the right boxes for the right people. After going through a very tough year in 2018, this late surge comes at the most opportune time. Whether or not it is a flash in the pan or a genuine sign of what 2019 will offer, remains to be determined at this point. Either vision can come true, as this week has been very spectacular first and foremost. That usually means a correction will kick in at some point.
---
Disclaimer: This is not trading or investment advice. The above article is for entertainment and education purposes only. Please do your own research before purchasing or investing into any cryptocurrency.
Image(s): Shutterstock.com