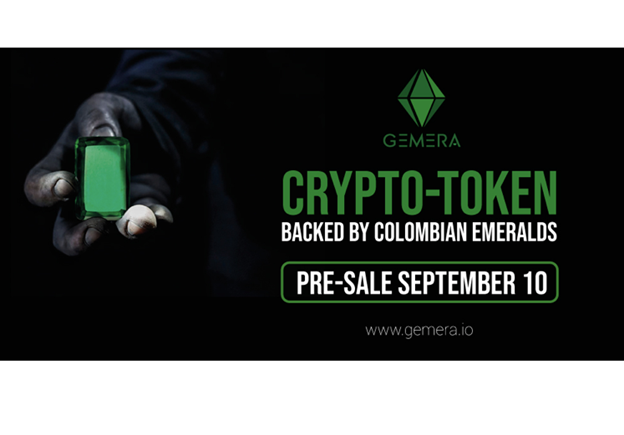 Gemera has announced the presale for the blockchain based platform, connecting Emerald producers and investors.
Disclosure: This is a sponsored article
The presale will begin September 10th, and last until October 24th. Tokens will be sold at a rate of $1 USD, with participants being able to receive up to a 20% bonus on top of the base rate.
The second opportunity for early investors to acquire tokens is in the public sale, from October 25th to December 12th, where users are able to receive a 10% bonus.
Tokens are backed by the emeralds, giving them intrinsic value to help stabilize value in volatile times.
Fund Allocation Details
The majority of the funds (50%) will be allocated towards developing emerald producers, 12% towards founders and angel investors, 12% towards marketing, and 15% towards working capital. A smaller allocation of 5% will go to advisors, and 3% to both bounty and environmental and social projects is also allocated.
The project has already partnered with a major Colombian emerald producer, which has supplied emeralds that are certified and stored in Malca-Amit facilities in Hong Kong.
Colombia is the leading provider of emeralds in the world, becoming a reference for gemstone investors. More than 70% of the entire world's emerald supply is provided by this single country.
Colombian carts are also the most expensive per carat, with prices increasing 135% since 2013. This trend has been going on for five centuries, making Gemera a potentially lucrative opportunity.
Emeralds To Become More Popular Investment Decision
Emeralds are currently being purchased primarily for jewelry, while 10% of purchases are for investment. In the next 10 years, this figure is projected to change to 50%, showing the changing sentiment for the precious stone.
Gemera Platform To Make Supply Chain More Transparent
Emeralds are 20x rarer than diamonds, making them extremely valuable.
Gemera's platform connecting buyers and sellers will allow for more transparency and making the emerald industry a more democratic and accessible one.
Many jewelry supply chains include numerous middlemen, all of them being unnecessary. Each additional markup rises the final price clients have to purchase. By replacing them with a single platform, not only will trades be more efficient, but savings can be passed onto the consumer.
For more information about Gemera, check out their website here. To read the whitepaper, check out this link. For those looking for a brief overview of the project, check out the one pager here. For social media updates, check out their Facebook and Twitter accounts. For business updates, make sure to check out their LinkedIn page for business updates. Blog posts will be made on their Medium, and users can chat with the team members and community on the Telegram channel.
Image(s): Shutterstock.com