The Virie Project is launching the Virie Market, the long-awaited and first ever user-friendly, decentralized free market in its purest form. The Virie Project aims to give the power to transact to anyone with an internet connection since neither bank accounts nor crypto exchanges are required to use the market.
The Virie Project was begun by a group of visionaries who value freedom and are looking for ways to put the latest technology at our disposal to its best possible uses for the greater good. 
Some unique features of the Virie Market:
Use any currency

– Trade with fiat, cryptocurrencies, or goods and services. 

No barrier to entry

– There are no discriminatory rules for specific users.

True Privacy

– No ID is required to create an unlimited number of password-protected accounts.

Uncensored

– Virie is entirely decentralized (unlike exchanges), so it is impossible to get banned by governments. Therefore, transactions can't be rejected.

Built-in Escrow System

– The two parties deposit a pledge and only get it back after the transaction is complete.

Transparency-

The Virie Blockexplorer allows you to view all Market entries, as well as blocks and transactions on the Virie blockchain.
The intuitive interface and full-proof payment system that offers users the ability to use any currency known to man sets Virie apart from other more complicated, limited, and riskier methods of transacting anonymously. Account management and sending or receiving payments doesn't get any easier than this.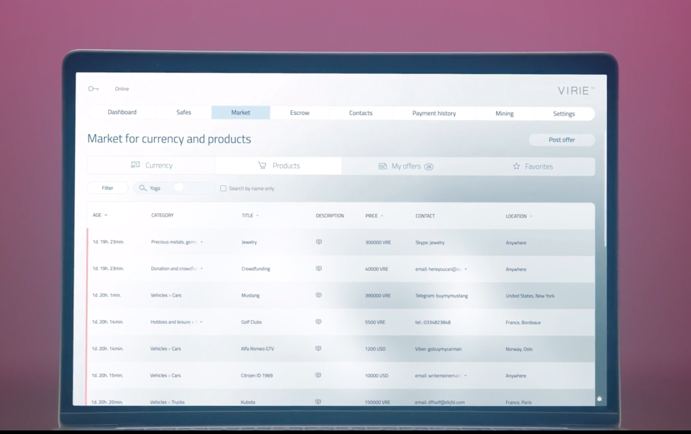 The Virie Market has already been created and its initial development was privately funded by the members of the Virie Project. It will be available to download and use after the crowdfunding (which will be used to promote the Market all over the world). Periodic updates are also planned, including various coin integrations and even VR integrations further down the road.
To stay up to date with the Virie Project make sure to follow them on twitter, facebook and instagram.
Using the Virie Market is a way to support the free digital exchange of goods and help facilitate all of the economic benefits that accompany a free market.