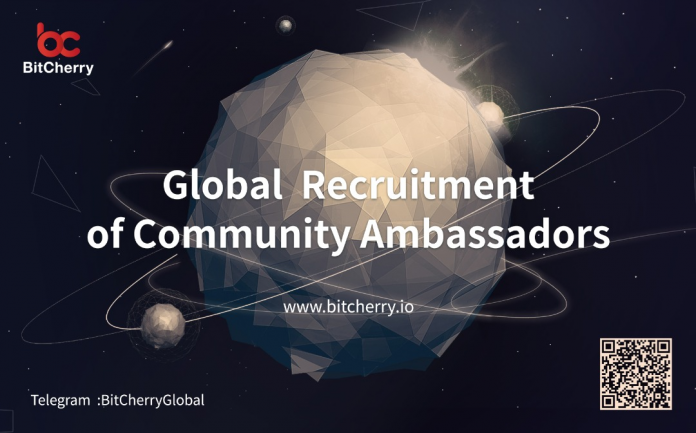 Dear Members of BitCherry Communities:
The BitCherry project could not have been developed so far without the strong support and encouragement of community members. We believe that an outstanding community is one of the most important assisting factors in project development. BitCherry has started a strategic layout in the United States, Russia, South Korea, Vietnam, Singapore, the Philippines, Turkey and many other countries. In order to enable more community users with our consensus can participate in BitCherry's path to constructing together and share the value of development, we are now recruiting community ambassadors in communities around the world.
The BitCherry project, known as BITCHERRY FOUNDATION LTD., was founded in Singapore. It is a high-performance underlying network architecture based on distributed ledger technology, fitting the future commercial society. BitCherry is committed to creating a commercial link between BlockChain technology and the real world, creating a decentralized network that meets business needs by registering assets in chains and making them efficiently circulated. And integrating deeply with the thousand-billion-scale consumption scenarios, the network's token-economic advantages can be used to link the global e-commerce operators and consumers, and then together create a free, safe, mutually-administrated, mutually-trusted, fair, and borderless e-commerce ecology, in which all values are freely circulated and messages are highly coupled. To expand the global reach of the BitCherry community, BitCherry has now officially launched the Recruitment Plan of Global Community Ambassadors!
In the BitCherry global community, we will pick you, the most energetic one from thousands candidates, to take charge of the Central 'C' position of the community's future development, to make continuous and positive contributions to the project, to help the growth of the technology community, and to build the best community more efficiently with BitCherry!
Requirement:
Identify with BitCherry's vision and values and understand BitCherry's core technologies and project progress;

Be prepared, capable and motivated to deepen your understanding of BitCherry and expand its influence in the global BlockChain industry;

Have a number of active community or self-media followers;

Good at running Telegram, Facebook, WhatsApp and other communities;

Have a certain understanding and thinking about the BlockChain industry;

Make sure you are available and keeping active for at least one quarter before you apply (exit, missing, or failure to complete your job will not be unrewarded);

Good English and experience in operating BlockChain or communities.
Responsibilities:
Assist in the

management of BitCherry's official telegram group

(answering user questions, keeping an active atmosphere within the group, maintaining group chat contents, etc.);

Create topics and participate in discussions

within BitCherry's official telegram group;

Construct flow ecology with BitCherry;

Follow, forward, like and comment

on BitCherry's social media materials and content;

Share

the progress, planning, news and other content of the BitCherry project to social media platforms and communities in time;
Submit a monthly administrator work summary to the community and share your feelings and experiences.
Bonus advantages:
Translate

official BitCherry content into different languages and share them to the community;

Produce original contents

about BitCherry (articles, videos, stickers, etc.);

Establish and manage multilingual

online communities

of 200-300 people (depending on the needs of specific community development);

Provide valuable ideas and advice for BitCherry's global community development;

Have access to abundant market resources, including local mainstream exchanges, well-known media platforms, and offline retail consumption scenario applying resources.
Rewards and benefits:
Plenty of tokens and other rewards;

BitCherry's exclusive gifts;

Being the first to know the latest project information and technological progress;

The opportunity to communicate online with BitCherry core technical members about technology;

Opportunities to participate in BitCherry's global offline meetings with priority;

More mystery benefits.
Application:http://fw3nuu919ozea7cr.mikecrm.com/GyEIAFz
Due to legal constraints, users in the following regions will not be able to participate in BitCherry Community Ambassador Plan this time:
China, The Balkans, Myanmar, Côte d'Ivoire, Cuba, Iran, Iraq, Liberia, North Korea, Sudan, Syria, Zimbabwe, Central African Republic, Crimea, Lebanon, Libya, Somalia, South Sudan, Venezuela, Yemen, Albania, Bosnia and Herzegovina, Kosovo, Macedonia, Moldova, Serbia, Burundi, Ethiopia, Guinea-Bissau, Afghanistan, Kyrgyzstan, Laos, Malawi, Mali, Mozambique, Sri Lanka, Tanzania, Timor-Leste, Trinidad and Tobago, Turkmenistan, Uganda and Uzbekistan.
Disclaimer:
BitCherry reserves the right to make unilateral adjustments to the rules of the event, including award settings, selection criteria, awards, etc.;

Any violation of laws and regulations, rules of activity, infringement of the interests of others, etc. will lead to being disqualified from participating;

Please pay close attention to the relevant announcements issued by BitCherry, pay attention to fake news, phishing websites, phishing emails, clone accounts, etc. BitCherry is exempt from all losses incurred by the user as a result of personal credulity of false news;

BitCherry reserves the final right to interpret this activity;

Please contact

[email protected]

if you have any question about this event.

This recruitment will commence on 1 January 2020 and will be effective for a long period of time;
* The BitCherry team has the right to revoke its authority and rewards if the candidate has a negative impact on the BitCherry brand during his or her tenure (posting spam, spreading false statements, and even other illegal statements.)
Contact us:
Website: https://www.bitcherry.io/
Telegram:https://t.me/BitCherryGlobal
WhatsApp:https://chat.whatsapp.com/J9uHDZ0vJ9t1YyyHpgYfP4
FaceBook:https://www.facebook.com/BCHCGlobal/

Twitter:https://twitter.com/BitCherryGlobal
Email:[email protected]
Disclosure: This is a sponsored article