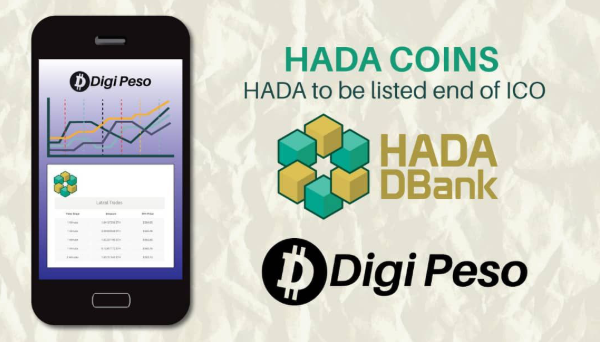 Islamic banking is a trillion dollar industry worldwide particularly popular in the Middle East and North African regions. Based on lower interest rates and increased investment-based culture, it is becoming popular for religious and political reasons among the communities in these countries.
Disclosure: This is a Sponsored Article
But, the problem with the current banks is that they are still overall based in an interest-based economy. Hada DBank is the first global Islamic bank based on Blockchain Technology. Using transparency and Blockchain's decentralization capability, the bank aims to increase investment opportunities and offer the Islamic banking demographic a viable alternative.
For this purpose, Hada DBank has launched its native token that was undergoing a token event whose stage 1 lasted till May 31, 2018. Now that the token event's first main stage is over, Hada DBank is acting quickly to get the native token registered in a crypto exchange so that the buyers can start trading in them and thus lending legitimacy to the coin. Hada DBank has now announced that DigiPeso, a popular cryptocurrency exchange has approached the bank to get its coin listed on their exchange.
Digi Peso-Hada DBank Partnership
As an exchange, DigiPerso is one of the most innovative exchanges in the world that provides a range of crypto features including mobile apps, wallets and liquidity solutions. Apart from being an exchange, Digi Peso also provides custom technology development and other professional services for other crypto startups especially those looking to enter the fintech space.
Danny Wirkin, the spokesperson for DigiPeso said regarding the partnership:

"We are extremely particular about working with crypto coins. Only those that hold the potential to grow and sustain in today's marketplace will be of interest and listed on our exchange. We found all such prospects with the new HADA Coin and we didn't delay to approach Hada DBank with the proposal to list the new coin on our exchange. We are confident HADA Coin is soon to be a favourite of smart crypto traders on our exchange",
While Hisyam Mokhtar, CEO and Chairman of Hada DBank said regarding the partnership:
"It's a very proud moment for us to share that the DigiPeso wished to list us on its exchange and we didn't hesitate to accept the proposal. Both of us share the same vision for blockchain technology and are confident of its bright future in the next few years. We are glad that the cryptocurrency exchange showed faith in us and believed in our coin's trading potential",
The coin is already listed on F1 Cryptos exchange so this is the second cryptocurrency exchange that has announced successful listing of the token.
HADA Coin
The HADA coin will be used for a number of useful functions within the Hada Ecosystem. They include provision of financial services, receiving dividends and profits from investments, payment of local services and trading.
More than 2.5 million tokens were claimed by backers in the first round of the coin event following 3 million tokens sold in pre-sale including significant investments from other fintech businesses. Stage 2 will be announced shortly.
Learn more on the Hada DBank website – https://www.hada-dbank.com/
Image(s): Shutterstock.com