As a company that strives to always stay on the cutting edge of advancements in the cryptocurrency world, Bitcoin of America has recently launched two new exciting changes to their website. Aside from providing an exchange that allows users to buy Bitcoin, sell Bitcoin, and find Bitcoin ATMs near them, Bitcoin of America has continued to revolutionize cryptocurrency transactions by offering a buy Bitcoin with Credit Card option and sell Bitcoin to a prepaid card option.
Disclosure: This is a Sponsored Article
Bitcoin and other cryptocurrencies that have rose in popularity over the past few years, while still in their introductory market stage, have already begun to set themselves in rooted practices. One of these practices that has frustrated many potential investors is the inelastic nature in which one can buy Bitcoin. Typically, users are required to tie their banking information via a checking account to their desired cryptocurrency exchange and then disperse funds from their bank. This process not only takes time to complete, but it isolates a large part of the market that does not have access to traditional means of banking.
Bitcoin of America, a leader in buying and selling bitcoin and a provider of resources to educate users on the cryptocurrency industry has continued their charge to challenge the norms set by others within the industry. As previously stated, most exchanges that allow users to buy Bitcoin have a closed system in which they allow transactions to be processed. These systems, while beneficial from a financial security standpoint to the exchanges' owners, leads to potential investors to be left in the dark if they don't meet their predefined criteria to trade.
One of the most notable benefits that cryptocurrencies provide is the means for people to invest and save money in areas where there is a lacking of banking infrastructure. While one might be inclined to view these not-so-well off users as simply those that live in third-world countries or areas that do not have a central currency; the reality of the matter is that in the United States has a large percentage of the population who for one reason or another simply cannot use traditional banking.
According to a study published by The Wall Street Journal, nearly 8% of Americans can be classified as "unbanked". Unbanked refers to households in which no members have an account with a federally insured financial institution. The study goes on to shed light on another group of Americans who are referred to as the "underbanked", or those households which have a bank account but still elect to use services like payday loans, money transfers, and pawnshops. The percentage of underbanked households in the United States had reached 19.9% at the time the study was published, noting a serious portion of Americans that for one reason or another cannot rely on traditional banking.
Bitcoin of America understands that one of the major draws to Bitcoin and cryptocurrency in general is that it allows people who might not otherwise have access to traditional banking means to save and invest their money. Buying Bitcoin with credit card and selling Bitcoin to a prepaid card continues to provide resources to those who do not have reliable access to banks.
Credit Cards
Bitcoin and other cryptocurrencies have been a beacon for investors who may not enjoy the low-return nature of traditional stock market investment, but still want to see their money work for them in investments. To compensate for these users who have ran into the barrier of needing a bank account to begin their foray into buying Bitcoin, Bitcoin of America has recently gone live with their credit card payment options by allowing users to buy Bitcoin with credit cards up to $599. The method is simple, fast, safe and reliable. Please see below for a quick step-by-step tutorial on buying Bitcoin with credit card.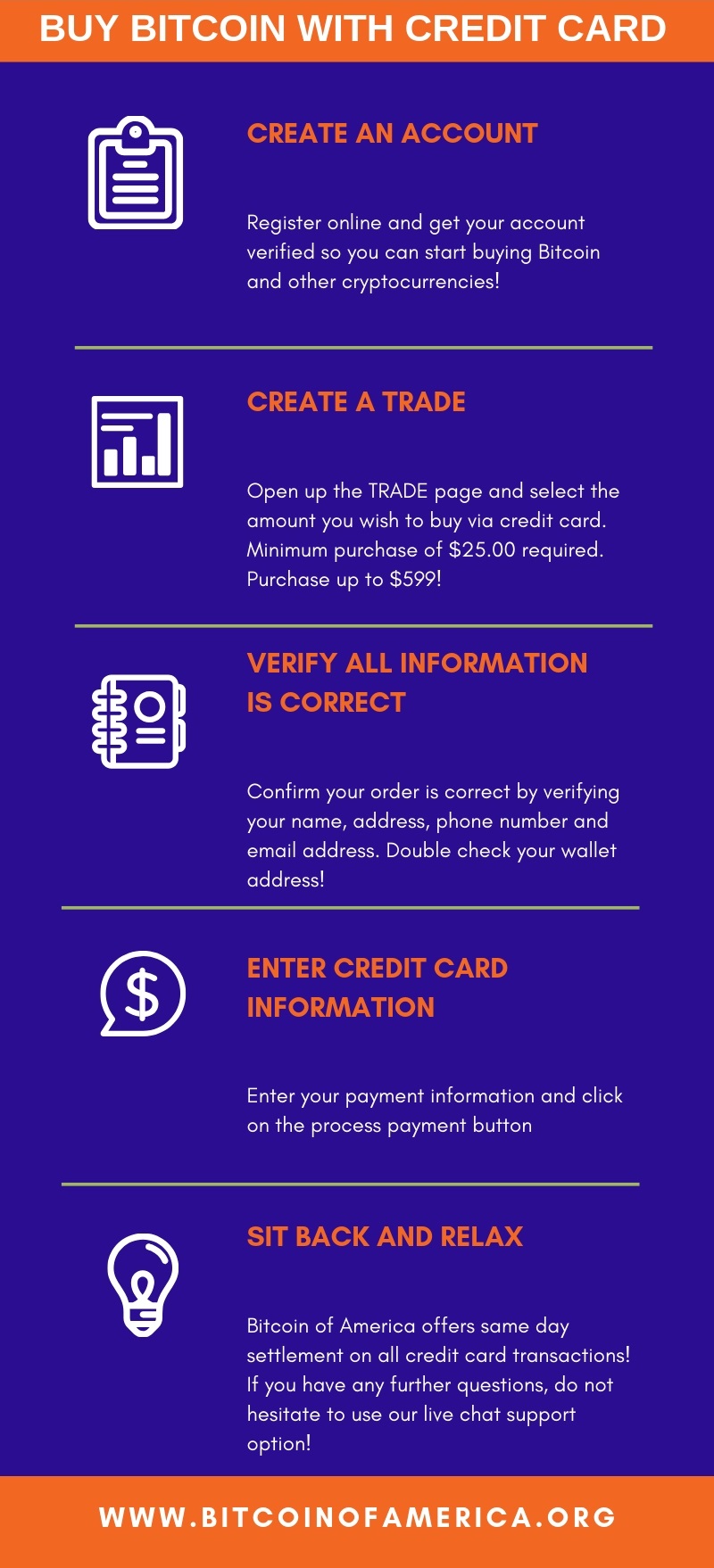 Prepaid Cards
How Does it Work?
Think of our new system of prepaid cards in the same light as a prepaid credit card you received as a Christmas gift! When you sell your Bitcoin through Bitcoin of America's online exchange, you now have the option to receive that sum loaded onto a prepaid credit card. This prepaid card can be spent as a virtual credit card or you can receive a physical card in the mail. Customers who decide to receive their money via a prepaid Visa card can load up to $1999 per card.
Where Can I Use My Prepaid Card?
The prepaid card option provided by Bitcoin of America can be used anywhere! Bitcoin of America uses prepaid credit cards which be loaded up to $1999 and can be used for transactions in any store or for online purchases around the world. Users can also treat these cards as a means to continue their investments in cryptocurrency. For example, a customer can sell $1999 worth of Bitcoin and elect to receive the funds in the form of a prepaid card and later on reinvest in Bitcoin for either all ($1999) or a partial amount that has been loaded into the card! Simply use this prepaid card and go to the buy Bitcoin with credit card option on the Trade page.
How Do I Receive My Prepaid Card?
The main benefit to users who decide to receive their payments via a prepaid card after selling Bitcoin is that they are receiving instant money. While Bitcoin of America provides same-day transactions, using a prepaid card allows users to get their money from selling Bitcoin within 3 minutes. When completing a sale of BTC on Bitcoin of America's exchange, users can click on the option to receive their sold Bitcoin in the form of a prepaid Visa card. Once the transaction is complete, users will receive an email that directs them to their virtual card. Simply click on the link, enter in the requested information and register your prepaid card! Once your card is registered, you can decide the form in which you want to receive your prepaid card. Users have the option between receiving the card in a digital form or mailed to them in a physical form, receiving a traditional Visa prepaid card. Users can take their prepaid cards and use them for payments immediately and these payments are accepted around the world. No other exchange provides the flexibility and user-friendly accommodations that Bitcoin of America does with their prepaid card program. Why waste days, even weeks, waiting for your sold Bitcoin to become available to you to reinvest?
Bitcoin of America understands that no two users are exactly the same, and because of that we strive to constantly make the process of purchasing bitcoin as easy as possible for everyone. Visit our website and experience the difference of an exchange that places clients first.
---
This is a sponsored article and does not necessarily reflect the opinions or views held by any employees of NullTX. This is not investment, trading, or gambling advice. Always conduct your own independent research.
Image(s): Shutterstock.com