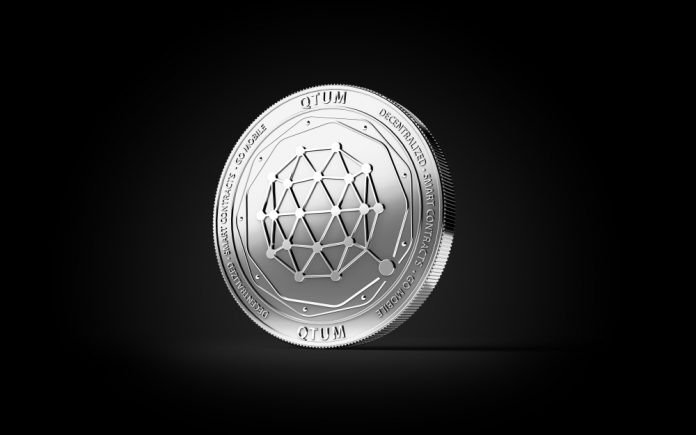 There is still a lot of uneasy momentum in the world of cryptocurrency. Most of the top currencies are still in the red, although some others are noting interesting gains. The Qtum price, for example, is enjoying some upward momentum right now, courtesy of a very high trading volume.
Qtum Price is Rising Nicely
It has been a very interesting year for the Qtum project. Finding a market in this ever competitive ecosystem of blockchain projects and cryptocurrencies is anything but easy. So far, the project is still flying under the radar, even though its market cap has grown to over $350m in the past few weeks. A very positive trend which will seemingly not relent anytime soon.
Over the past 24 hours, there has been a solid 5% increase in Qtum's value. This is primarily because of the 5.4% increase in the QTUM/BTC ratio, which further confirms speculators are diversifying their portfolios once again. This may very well usher in an exciting Q4 for all of the altcoins, even though some of them are also very deep in the red right now.
A lot of traders and speculators are quite keen on this current trend. CryptoBullSignals17 shows how the purchased Qtum at the right time and now note a strong 7% growth. Although signals and pump groups should always be avoided, there is good money to be made when taking a gamble now and then. The target for Qtum has seemingly been hit, although it remains to be seen if future gains are on the horizon.
#QTUM, 7% growth from our entry 🚀$btc $eth $xrp $neo $icn $data $icx $bnb $kmd $npxs $aion $wax $vee $enj $rvn $hot $bnt $grs $cmt $gup $rlc $powr $poly $gnt $xtz $qtum $xvg $dgb $sc $nbt $ebst #Altseason #Bitcoin #BTFD #Christmas gift 🌲

Telegram : https://t.co/opWLB0ycF4 🏡 pic.twitter.com/5eKQxzXh1t

— CryptoBullSignals17 (@BullSignals17) October 10, 2018
Behind the scenes, it would appear the technology brought to market by Qtum is getting a lot of positive attention as well. Jordan Earls is a developer with a strong affinity for blockchain and cryptocurrency. As such, building applications on top of Qtum is becoming a lot more viable, albeit one has to wonder what the code will be used for exactly.
Neat. First is result, second is code used for it #qtum #x86 pic.twitter.com/DXCiK93Skz

— Jordan Earls / 厄儿斯 (@earlzdotnet) October 9, 2018
Forecast City is another cryptocurrency speculator, albeit they try to target Qtum through its ETH pairing on the Binance exchange. In their opinion, the altcoin will see significant growth over the coming months, albeit it remains to be seen if such a prediction can even come true. This is not the altcoin season, regardless of how things may look at this time.
A trading opportunity to buy in #QTUMETH#Business #Money #Investing #Investment #QTUM #Bitcoin #IOST #ETH #DASH #USD #Dollar #EOS #BlockChain #Stocks #Trading #CryptoCurrency #Crypto #StockMarket #Bitcoins #Iota #Altcoin @Ethereum @QtumOfficialhttps://t.co/Nx7kTxU73l

— Forecast City (@ForecastCity) October 9, 2018
Based on the current trading volume, there is a very good chance the Qtum price will continue to rise for a few more hours. Most of the volume comes from EXX, even though that pair is discounted on CoinmarketCap. An interesting altcoin to keep an eye on for some profit prior to the weekend, by the look of things.
Image(s): Shutterstock.com