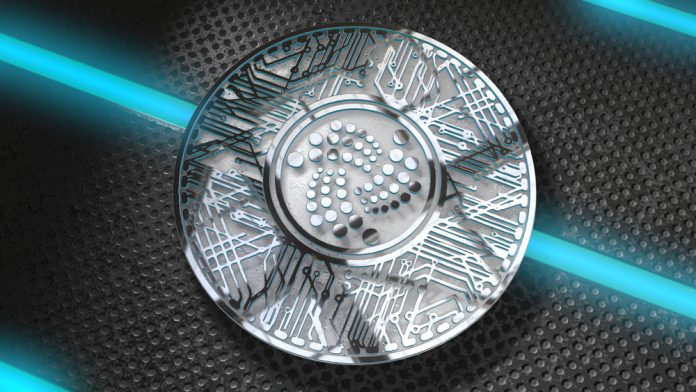 It remains a bit unclear if and when all of the top cryptocurrency markets will effectively recover. Some positive momentum has been brewing around noon, but it appears those gains are being eroded once again. For IOTA, things are still looking good, as the altcoin notes the biggest uptrend of the top 15 today.
IOTA Price Momentum Isn't Over
As is usually the case when the weekend comes around, it is difficult to make sense of the current cryptocurrency price momentum. Most of the top coins are either barely in the green or still in the red. No major gains or losses are recorded within the top 10, albeit interesting things happen outside of it. IOTA, for example, shows some healthy growth and the potential to retake $0.5 in a few hours.
The IOTA price has noted a small 3% gain in USD value and a 2.3% gain on Bitcoin over the past 24 hours. That in itself is relatively promising, primarily because there isn't much else to be excited about today. As such, traders who want some quick profits will undoubtedly keep an eye on IOTA moving forward, as the price should surpass $0.5 fairly quickly.
Looking across social media, two key developments have taken place for IOTA this week. First of all, Pierre Hoffmann has decided to join the IOTA Foundation. His experience as an employee of TOTAL and Microsoft will certainly be of great use for this cryptocurrency project, although it remains a bit unclear how this will affect the project exactly.
Welcome Pierre Hoffmann to the IOTA Foundationhttps://t.co/AdkFHDFDmm#IOTA

— IOTA (@iotatoken) November 10, 2018
Secondly, a new project on GitHub indicates a mixing service for IOTA is currently being developed. Although there isn't necessarily a demand for such a service, hardly anyone will complain it exists. Users still make up their own mind as to whether or not they desire to use a mixing service for whatever purpose they see fit. Giving users more choice is never a bad thing.
GitHub – tanglemixer/tanglemixer: An IOTA mixing service https://t.co/WtmHsvcogm #IOTA #IOT #Tech #m2m

— /r/IOTA (@Reddit_IOTA) November 10, 2018
Those who speculate on IOTA seem confident a future change is merely a matter of time. For DacoMax, the future looks grim, as he expects IOTA to hit $0.01 based on the current course of action by the IOTA Foundation. A bit of an odd statement given how things are progressing, albeit everyone is entitled to their own opinion.
#IOTA will reach $0.01 soon if the chimpos in IF don't figure out what to do with it. And what Cryptography in general can do for internet, industries, economies, societies.
I doubt they can, it's a mixed bunch of grown up children home alone and failed or frustrated engineers.

— DacoMax (@DacoMax) November 10, 2018
With this current uptrend in place, one would expect things to continually improve for IOTA. Its trading volume is pretty weak at this time, though, which can easily cause this price trend to falter in quick succession. Retaking $0.5 will be the first order of business, yet turning it into a stable support level may prove to be a bridge too far under the current circumstances.
---
Disclaimer: This is not trading or investment advice. The above article is for entertainment and education purposes only. Please do your own research before purchasing or investing into any cryptocurrency.
Image(s): Shutterstock.com