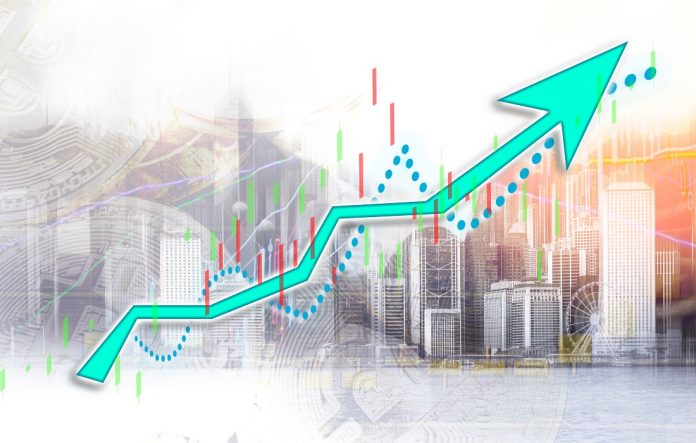 After a relatively slow weekend the cryptocurrency markets are pumping quite a bit. Most coins are sustaining double digit gains with EOS increasing over 24% in the past 24 hours. Is this finally a sign of recovery? Is this the beginning of the altseason?
After a relatively slow weekend where the prices didn't move much, Monday morning kicked off with substantial gains. The overall cryptocurrency market cap increased by over 10 billion, bringing it to a current total of 115 billion at the time of writing. The past few months traders have been trying to call the bottom for Bitcoin. Many thought the $5000-$6000 level would not be breached, but when Bitcoin fell to $3,000 traders weren't as confident.
What is interesting to see is how altcoins are outperforming Bitcoin in terms of percentage price increase as of right now. While it does seem that Bitcoin is still leading all cryptocurrency price movements, the fact that other coins are increasing more than Bitcoin might be a sign that the altseason is upon us.
If you aren't familiar with the altcoin season, that is a time in the market where other cryptocurrencies outperform BTC in terms of price gains. In our previous crypto price analysis article, we mentioned how CryptoBull from twitter believes altcoin season is about to start regardless of how Bitcoin performs.
The three most likely scenarios now imo:

1. Bitcoin bounces, altseason starts.
2. Bitcoin stays flat, altseason starts.
3. Bitcoin drops further, altseason starts.

— Crypto฿ull (@CryptoBull) December 13, 2018
Speaking of altseason, EOS is up over 25% overtaking Stellar and putting it in the top 4 cryptocurrencies by market cap. It was only last month that XRP overtook Ethereum for the number 2 spot, and it was only 2 days ago where Litecoin overtook Bitcoin Cash and Bitcoin SV. It seems that the market "status-quo" is now being threatened with different cryptocurrencies surpassing their competitors.
Skeptics Aren't Really That Confident
With the bear market trend all year, many skeptics weren't shy of sharing their doubts of crypto, calling it a scam, a fraud, a ponzi scheme, vaporware etc. However, when Anthony Pompliano – Founder & Partner at Morgan Creek Digital – offered a $1 million to the naysayers if stocks outperform crypto in the next 10 years, nobody accepted the challenge.
Crypto is a Scam Fraud Going To Zero Ponzi Scheme Worthless Bubble Rat Poison but not one of the naysayers would accept the @APompliano $1 Million Bet That Crypto will outperform stocks over the next decade. Hodl

— Digital Asset Investor (@digitalassetbuy) December 16, 2018
This shows that even the skeptics don't really believe what they are saying. Any market is cyclical, it is unfortunate that the bear market has dragged out for so long, but this is nothing new for crypto. The good news is the next cycle after a bear market is a bull market, so one has to simply be patient. If altseason is truly upon us, that is a great indicator that bullish momentum will come in the near future.
---
Disclaimer: This is not trading or investment advice. The above article is for entertainment and education purposes only. Please do your own research before purchasing or investing into any cryptocurrency.
Image(s): Shutterstock.com