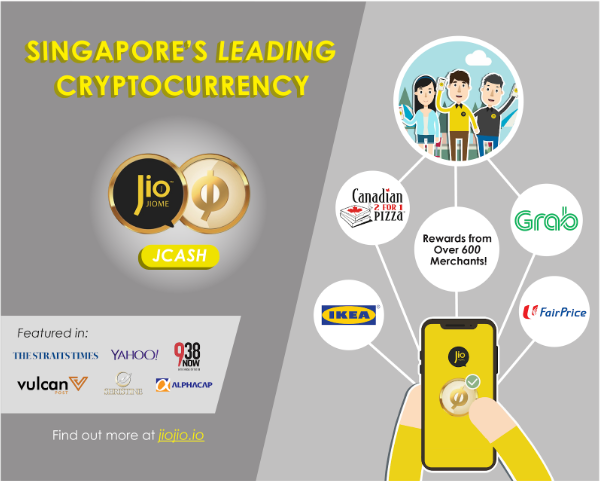 Mobile advertising marketplace, JiojioMe, is fueling a new, vibrant ecosystem for the digital ad industry through the platform's pioneering currency, JCASH. JCASH is an innovative value exchange solution that enables users of JiojioMe's social network app to seamlessly make in-app purchases, engage services, purchase goods from merchants, and access discounts and promotional offers while they do the things they love.
Disclosure: This is a Sponsored Article
JiojioMe is redefining how businesses and users interact with each other on social media platforms. The app makes it easy for users to curate ads based on their interest and earn from viewing these ads and referring other users to the products being offered by the ad. Advertisers can now directly leverage blockchain technology to deliver targeted ads based on the interest or hobbies of the viewers.
Jio (Invite) Me
''Jio'' is a Chinese word for ''invite'' and JiojioMe provides users with users with a myriad of opportunities to Jio each other based on interest, community, and hobbies.
Consumers behavioral patterns is crucial to the growth of any business. Distinguishing the needs of a targeted group, how to satisfy this need, and when best to do so is often the deciding factor between boom and bust. JiojioMe enables businesses and ad agencies to deliver solutions with unparalleled precision, helping them to identify the needs of consumers without compromising users privacy. Users who help advertisers promote their products are rewarded for their activities through the platform's unique Proof-of-Activity (POA) verification protocol. The protocol promotes a trustless ecosystem designed for transparency.
The JiojioMe app is designed to simplify how advertisements are delivered to users. Thus benefiting both parties of consumers and Advertisers.  Utilizing the app offers exciting benefits for advertisers, helping them to reduce the cost of retaining customers by incentivizing their engagement. Merchants and retailers get to promote their ads to meet users' specific interest, maximizing their resources and reach.
Consumers are enamored by JiojioMe's unobstructed and non-invasive method of bridging the divide between advertisement and users, based on hobbies or interests. JiojioMe certainly earns its ''Jio'' name by allowing users to earn  JCASH whenever they ''Jio'' other users to engage in promotional activities from advertisers or enjoy discounts. JCASH will also be awarded to active users for logins and other activities in Jio marketplace.
Breaking New Grounds
The app launched publically in December 2017, with over 40000 users, JiojioMe has come leaps and bounds with more than 100,000 users download and 600 merchants and retailers in Singapore and other countries. Using the blockchain, the platform is now set to transition the centralized JCASH  currency into a decentralized, ERC20 token for the global community. The new JCASH tokens will be offered to the public through a Token Generation event that ends on 9 November 2018.
The JiojioMe App is downloadable on Google Play and Apple App Store. Users are invited to download the app and join in the World Cup event for a chance to win iPhone on JiojioMe App today!
Image(s): Shutterstock.com