How about taking advantage of the full potential of the metaverse by playing one of the games that have been played in the physical world for generations. Join us in a game of "Hide and Seek" in Radio Caca's USM Metaverse. Best of all, it's all free.
That's right! In Radio Caca's USM Metaverse, you don't need to buy an avatar NFT or even connect a wallet to access the metaverse, just connect to the site and participate. All for free.
Access the USM metaverse here: https://www.usmverse.com/
The big game was organized by the Dutch Radio Caca community and will take place on Sunday afternoon, April 17, at 1:300 PM (AMS). This shows how the metaverse opens up new possibilities for people to interact. The USM metaverse is open, a place where everyone can exercise their freedom and be what they want to be, able to explore a new world with no limits to imagination.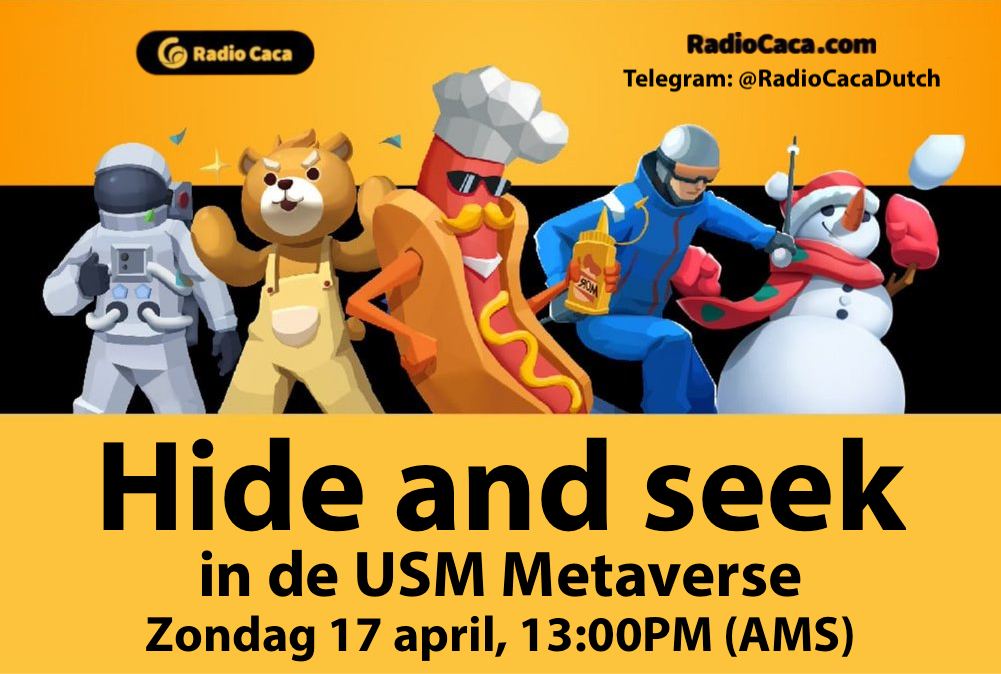 "Metaverse can be a place where you can create, succeed, win, enjoy, collaborate, experience new things for the first time and old things in a new way, learn, make new friends, and re-meet your old friends. That is beautiful, right? It's empowering. Like in real life, your options here are limitless", said Radio Caca's Head of Marketing, Vitaliy Tyan.
Radio Caca's USM Metaverse is already the scene of great interactions and parties organized by the community. Like the one carried out by Cankaya University, one of Turkey's top institutions, which was the first such party for an educational institution in the country.
"Thank you to everyone who attended our Dance in Metaverse event, the first of which was held at USM. We had a lot of fun," the university said on Twitter.
Radio Caca reported that its metaverse is open to all institutions wishing to hold events in the metaverse and invited all educational institutions to co-create the web 3.0 community, "Be there or be square (because you're not a-round)," declared Radio Caca.
French Montana Show
The rapper and music star French Montana performed a historic show at Radio Caca's USM Metaverse earlier this month. The rap star's presentation celebrated the partnership between French Montana and Radio Caca that is set to revolutionize the music industry by exploring the full potential of the interaction between the digital world and the physical world and includes several initiatives, one of which is the launch of the 2D Montenga Metaverse, or 2DMM, which is a 2D metaverse powered by blockchain and NFTs with play-to-earn style gameplay. His upcoming album, Montega, will be released as an NFT and include NFT characters usable in 2DMM.
In our #USM #Metaverse, users can join a concert, sing along and dance with popular stars. We are building an ecosystem of Web3 experiences for our #RACA community. 🚀#RACA #USM #Metaverse #Concerts pic.twitter.com/N6D23zHWOz

— RACA.bab (@RACA_3) April 7, 2022
In addition, Montana's show in the metaverse revealed how the USM Metaverse is a next-generation immersive web environment where users can participate in concerts and sing, perform, dance, or hang out and let go.
Users are free to live a unique and immersive experience. They can explore the diversity of their desires and uniquely expand their personality in a 3D ecosystem built by game engineers and the best experts in the market.
Disclosure: This is a sponsored press release. Please do your research before buying any cryptocurrency.