Litecoin's recent achievement of becoming the top cryptocurrency for payments on BitPay, the world's largest crypto payment processor, is a significant milestone for the digital asset. This accomplishment demonstrates Litecoin's potential as a practical and widely adopted means of conducting transactions in the crypto space.
Litecoin Overtakes Bitcoin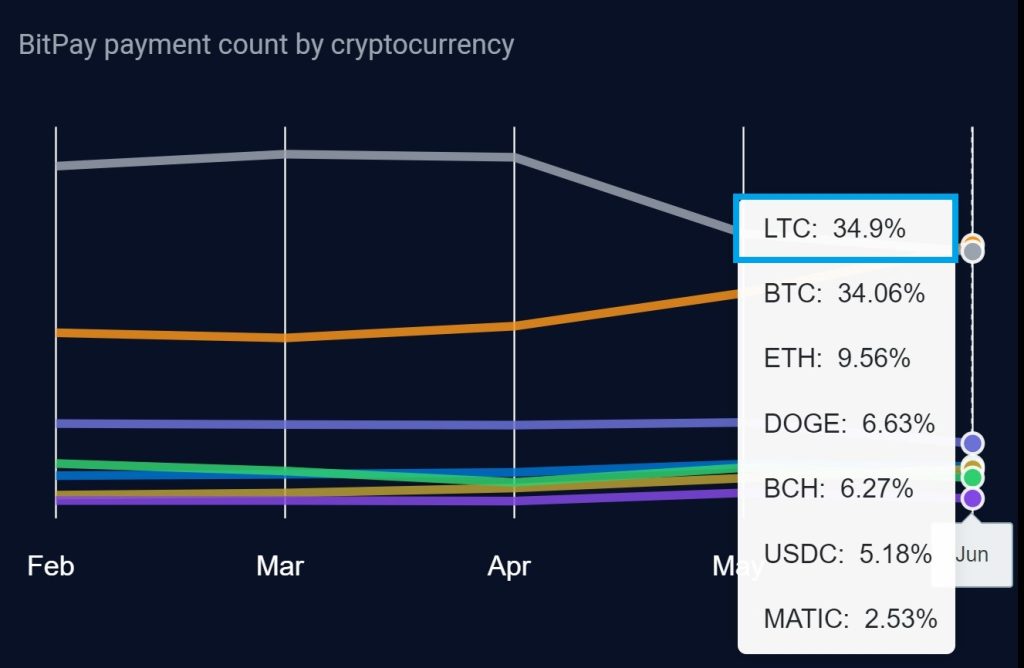 The fact that Litecoin surpassed Bitcoin in payment volume on BitPay indicates that it has gained traction as a preferred cryptocurrency for real-world use. This achievement highlights Litecoin's fundamental strengths, such as faster transaction times and lower fees compared to Bitcoin. These advantages make Litecoin more suitable for day-to-day transactions, where speed and cost-efficiency are crucial.
Litecoin Halving
The impending Litecoin halving, scheduled for August 2, adds further anticipation to its future performance. Halving events reduce the block reward for miners, which in turn affects the inflation rate of the cryptocurrency. This reduction in supply issuance often creates positive market sentiment and has historically led to price increases for cryptocurrencies, including Litecoin, in the months following the halving.
Implications
The implications of Litecoin's market leadership in real-world use are significant. It showcases the viability of cryptocurrencies beyond speculative investments and establishes Litecoin as a reliable medium of exchange. This development is crucial for wider adoption, as cryptocurrencies need to demonstrate their utility in everyday transactions to gain acceptance from businesses and consumers alike.
What Next For Litecoin?
Looking ahead, we can expect increased attention on Litecoin as the halving approaches. Traders and investors may view this event as an opportunity to capitalize on potential price surges. Additionally, merchants and businesses interested in accepting cryptocurrencies as payment may be more inclined to integrate Litecoin into their platforms, given its proven track record for payments.
Furthermore, Litecoin's success in real-world use may inspire other cryptocurrencies to focus on improving their payment capabilities. Competition in the crypto space can lead to innovation and the development of more efficient and user-friendly payment solutions. This, in turn, can benefit the overall cryptocurrency ecosystem by driving broader adoption and acceptance.
Disclosure: This is not trading or investment advice. Always do your research before buying any cryptocurrency or investing in any services.
Follow us on Twitter @nulltxnews to stay updated with the latest Crypto, NFT, AI, Cybersecurity, Distributed Computing, and Metaverse news!
Image Source: ipheung/123RF // Image Effects by Colorcinch