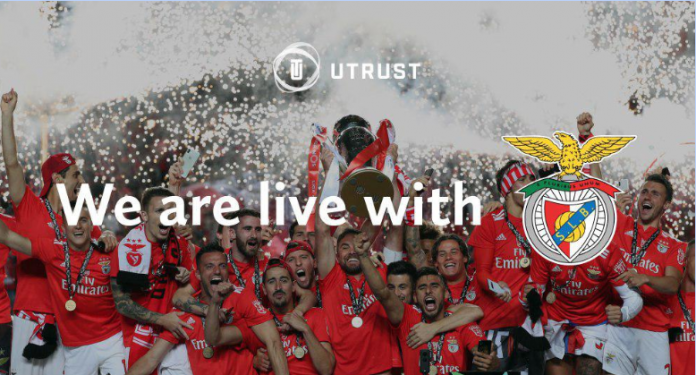 International crypto payment solution provider UTRUST has joined hands with the largest Portuguese football club, Benfica, to allow fans to pay for match tickets and official merchandise using cryptocurrency.
Trusting Crypto
Cryptocurrencies have made it possible for people to pay and transact faster, secure and more economical than ever. The ability to simply send coins and tokens from an electronic wallet to others' from the comfort of a few clicks is the reason why these digital currencies are so popular. Yet, even with all of the benefits cryptos provide, there are hindrances, especially for ecommerce merchants.
With thousands of cryptocurrencies active today, supporting even a fraction of them can be a practical issue. A dedicated payment gateway for accepting cryptocurrencies can be difficult to set up due to lack of necessary skills. Merchants and ecommerce stores still need to liquidate their digital assets and using crypto exchanges can be slow.
UTRUST and Benfica Partnership
Benfica is the largest Portuguese football club with a massive number of wins and records. It is the most decorated football team in Europe and they are the longest undefeated champions in their country's Premier League (Primeira Liga). With a fan base of 14,000,000 supporters worldwide, including more than 200,000 within Portugal, the club enjoys a fanbase from all over the world who not only watch their matches, but eagerly collect merchandise from their official website.
Partnering with UTRUST, Benfica opens its doors to USD 200,000,000,000+ crypto economy, allowing its fans to get their hands on tickets and official products using their digital tokens and coins. CEO of S.L. Benfica, Domingos Soares de Oliveira was happy that the club had stepped into the digital frontier that is the cryptocurrency realm:
"This is an exciting day in the history of S.L. Benfica as we announce our decision to accept cryptocurrency payments. Our benfiquistas make Benfica the unique and special club it is and we recognise that many of our supporters are now digital users first so we want to be ahead of the curve when it comes to adopting novel technologies and giving our supporters the best online experience. We are very excited about the possibilities that this partnership with UTRUST presents in the evolution of our e-commerce strategy and we look forward to accepting our first cryptocurrency payment."
CEO and co founder of UTRUST, Nuno Correia shared the enthusiasm,
"This partnership with Portugal's number one football club marks a major milestone for UTRUST and the blockchain ecosystem as a whole. Benfica is one of the biggest sporting clubs worldwide and we are delighted to be making cryptocurrency payments possible for their 14 million supporters around the world"
The partnership means that fans from around the world can now enjoy Benfica by easily getting their hands on match tickets and memorabilia.
About UTRUST
UTRUST is a crypto payment platform that allows businesses to start accepting crypto payments without the need to invest in an otherwise expensive system. The platform supports major cryptocurrencies, offers instant transaction, buyer protection and immediate crypto to fiat settlements.
UTRUST has been approved an SRO to operate as a financial intermediary by self regulated organization VQF, which is in turn an approved entity by the Swiss financial market regulator, FINMA
To get your official S.L Benfica merchandise, visit the S.L Benfica Store
Disclosure: This is a sponsored article