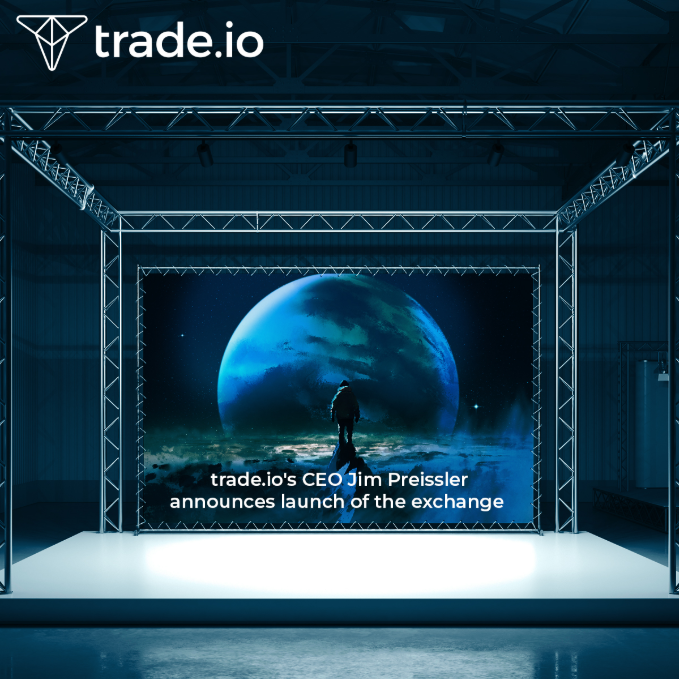 Today, Swiss-based trade.io took the stage at prestigious events in London to reveal the official launch date of July 17th, 2018, for its much-anticipated real-time, customizable cryptocurrency exchange, soon to be followed by its Liquidity Pool.
Disclosure: This is a Sponsored Article
In the announcement, trade.io revealed that all new registrants would benefit from commission-free trading for the first month of launch. All users wishing to pre-register with trade.io should now visit the website here.
The announcement was made by trade.io CEO Jim Preissler during his keynote speech at Bloomberg's "The Future of Cryptocurrencies" event. It was a doubly special occasion for those present — the event, sponsored by trade.io, is also Bloomberg's maiden event themed for cryptocurrency.
Broadcast live to Bloomberg Terminals and livestreamed on trade.io's website at https://trade.io/future-of-cryptocurrencies, the announcement was beamed to tens of thousands of daily Bloomberg users and visitors to trade.io. Viewers had the opportunity to see a common platform for some of the industry's finest talents and experts come together to discuss pressing matters related to cryptocurrency and blockchain.
Getting the trade.io brand out into the real world
To accompany the launch announcement, trade.io reached out to thousands of others via guerrilla marketing, using a coffee campaign at Canary Wharf station. The landmark hotspot is one of London's busiest commuter and financial centers, seeing over 350,000 people pass through it on a daily basis.
trade.io has made it a habit to exceed expectations, surprising its own community time and again, and the coffee campaign was no different. In all, more than 13,000 coffees were served freely, each cup bearing the trade.io brand and distributed in the London Underground station and in 20 independent cafes throughout the City of London.
Its native digital token, Trade Token (TIO), even made its public appearance in the form of chocolate coins designed in its form, distributed across many London venues.
Both the coffee cups and coins contained a chance for the receiver to register in trade.io's much sought after airdrop campaigns.
If that's not all, today will have another surprise in store for Londoners, with a "flash mob" of mock astronauts expected to surprise onlookers at the Canary Wharf Station – all live-streamed on trade.io's Facebook page.
Members of the international press were on scene to provide coverage and disseminate interview footage and news of other events on international television and other media channels.
Preissler expressed great excitement at the launch of trade.io's flagship exchange, explaining that the announcement had been greatly anticipated by the community. He believed the July 17th date would be much welcomed by the community, but would be launched in a staggered manner to an initial 1,000 people. These fortunate thousand will be emailed several days before the launch with further instructions.
Preissler continued:
"Following the beta version of our Exchange where select members tested the platform, we are confident that we will satisfy the specifications stipulated to us by our community, and look forward to sharing in the successes of our upcoming official Exchange."
Asset trading and investment banking are about to be transformed by the fintech revolution of blockchain technology, courtesy of trade.io. Through distributed ledger technology, the next generation of financial institutions can experience ultimate transparency, security and efficiency.
To learn more, visit the trade.io website. Connect with its active community on Telegram or follow them on Twitter and Facebook for the very latest developments.
Image(s): Shutterstock.com