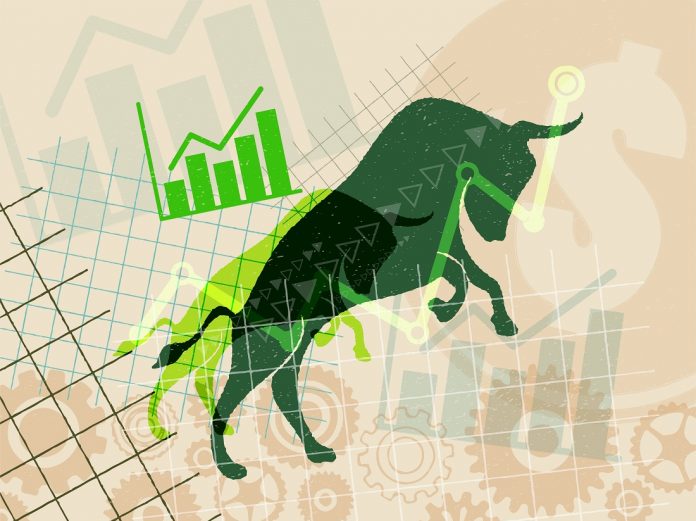 If you haven't heard of Maker, it is a token that is part of a stablecoin system composed of both MKR and DAI. Unlike Tether and other stablecoins, Maker does not rely on banks to provide stability, but instead relies on Collateral Debt Positions (CDPs). At the time of writing, a single MKR is worth $771 putting the Maker price up over 25% in the past 24 hours.
What Is MakerDAO?
With the current trend of regulation and the latest sideways market for cryptocurrency, it comes to no surprise that MKR is making some gains when it comes to its price. You might be confused as to why MKR has volatility if it is a stablecoin. The confusion arises because there are in fact 2 tokens in the MakerDAO platform. One is called DAI and the other is MKR.
DAI is the stablecoin which has minimal volatility, while MKR is a secondary token used for paying fees, voting for proposals, and governing the Maker platform. MKR has regular volatility just like any other cryptocurrency. If you would like an in-depth look at Maker, check out our interview with the MKR founder that explains what MakerDAO is exactly.
What Caused the Maker Price Spike?
There are two main factors that are causing the recent price spike for Maker. One is the purchase of 6% of MakerDAO by a16z crypto – a cryptocurrency fund created by Andreessen Horowitz. The other is news of Augur adding Maker to its platform.
Announced two weeks ago on September 24th, a16z crypto invested $15 million into Maker, effectively purchasing 6% of the total supply. This investment marks the first partnership of the fund with a stablecoin, signalling that there is huge potential for the Maker platform. According to the announcement, MakerDAO will receive support from a16z crypto for the next three years.
The second announcement by Augur, published four days ago on October 4th, mentions that Augur will provide integration for DAI – the stablecoin of the Maker platform. By adding DAI to the platform, it will be possible to use the stablecoin in Augur's prediction contracts.
Maker (MKR) Chart
The all time high for MKR was back in January – like most cryptocurrencies – where it hit a $1673. While the current price is nowhere near that level, the recent spike brings Maker to its May levels. It is hard to do trend analysis during a major spike like that, so we created a chart to highlight some support and resistance levels.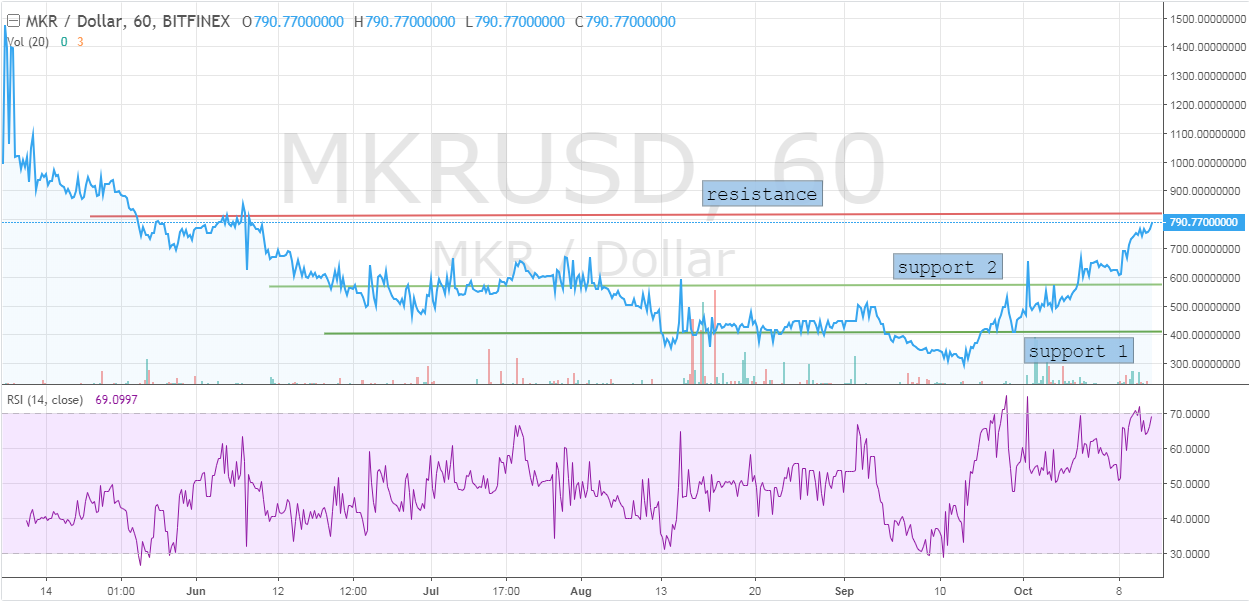 The support and resistance levels are currently at:
Support 1 – $417
Support 2 – $576
Resistance – $825
The RSI is also a bit high as of right now which is to be expected with such a massive price spike. However, the fact that is is staying around the 70 range means the market is not quite overbought and there is potential for further price gains.
If the current level doesn't hold, a drop to the $576-$600 range is not unlikely. It is important not to lose sight of reality and fall victim to FOMO because crypto markets can go down just as fast as they went up. The best example of such movements is the XRP market – which spiked by over 60% in the past month and had most of its gains erased by the bears in the aftermath.
Disclaimer: This is not trading or investment advice. The above article is for entertainment and education purposes only. Please do your own research before purchasing or investing into any cryptocurrency.
Maker (MKR) Charts by Tradingview
Image(s): Shutterstock.com