Maker ($MKR), a prominent cryptocurrency in the decentralized finance (DeFi) space, has been on a remarkable bull run, surging by an impressive 40% in just 16 days. This surge in price has coincided with a significant uptick in active addresses, reaching a 10-week high. However, amidst this excitement, caution is warranted as an inflow of $MKR to exchanges may signal the potential for a temporary local top.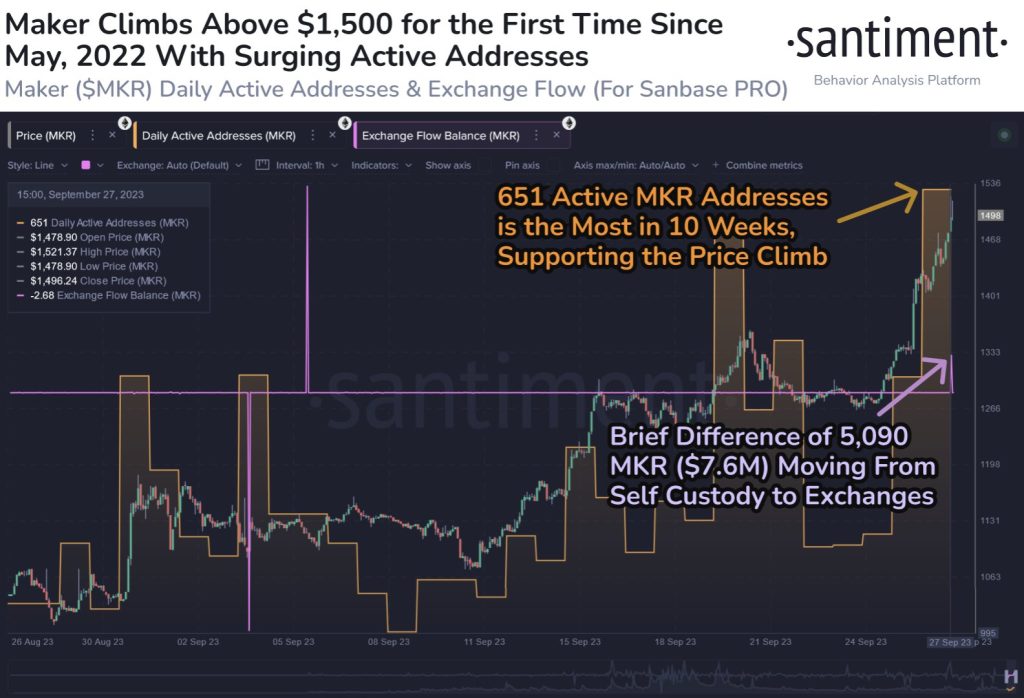 Maker Soars Despite The General Stagnant Market
Maker's recent price performance is turning heads in the crypto world. The asset has seen a rapid ascent, with its value crossing the $1,500 mark. This uptrend could be attributed to various factors, including increased adoption in DeFi applications and growing interest in decentralized stablecoins.
What makes this surge even more intriguing is the concurrent rise in the number of active addresses. A 10-week high in active addresses suggests that more participants are engaging with the Maker protocol, potentially indicating growing interest and utility.
Caution For Traders Looking To FOMO
However, there's a cautionary note to consider. An inflow of $MKR tokens onto cryptocurrency exchanges can be seen as a potential signal of profit-taking by holders or a move towards liquidity. While it doesn't necessarily indicate a market downturn, it does raise the possibility of a temporary local top in Maker's price.
The crypto market is known for its volatility, and rapid price movements can often be followed by corrections. Therefore, it's essential for investors and traders to approach such surges with a balanced perspective, considering both the positive momentum and the potential indicators of a pause or reversal.
Final Thoughts
In conclusion, Maker's recent impressive price surge and the spike in active addresses highlight the project's growing relevance in the DeFi space. However, investors should remain cautious, as the movement of $MKR tokens to exchanges suggests a need for vigilance and the importance of prudent risk management. As Maker continues to evolve, its performance in the DeFi sector will be closely watched by the crypto community.
Disclosure: This is not trading or investment advice. Always do your research before buying any cryptocurrency or investing in any services.
Follow us on Twitter @nulltxnews to stay updated with the latest Crypto, NFT, AI, Cybersecurity, Distributed Computing, and Metaverse news!