The cryptocurrency market has been marked by significant fluctuations since the mid-July local top, with many altcoins experiencing more declines than gains. Amidst this market turbulence, there has been an intriguing shift in trader interest, particularly concerning memecoins.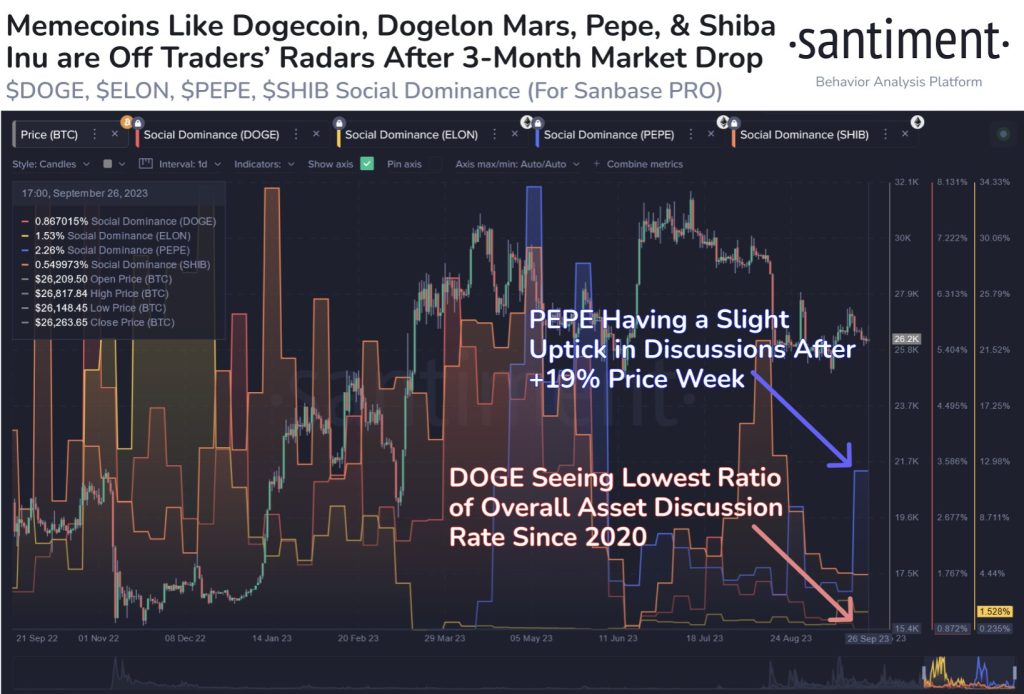 Traders Show Preference For $PEPE Over $Doge
One of the standout observations is the changing landscape of memecoins. Notably, Dogecoin ($DOGE), the original memecoin sensation, has seen its discussion rate hit the lowest point since 2020. This decline in chatter around DOGE may indicate a shift in sentiment, with investors and traders exploring alternative opportunities in the crypto space.
Conversely, PEPE, a lesser-known memecoin, has experienced a slight uptick in discussions, coinciding with a noteworthy +19% price increase over the past week. This demonstrates that traders are not just focused on the big-name memecoins; smaller players can also capture their attention when they show positive price movements.
Shift In Trader's Interest
However, some memecoins that once generated significant buzz have fallen off traders' radars after the three-month market downturn. Dogelon Mars and Shiba Inu, both of which garnered substantial attention during the meme coin craze earlier this year, have seen their prominence wane as market conditions shifted.
This shift in trader interest within the memecoin space reflects the dynamic nature of the crypto market. Traders are continually seeking new opportunities and adjusting their strategies based on market trends and sentiment. It also highlights the importance of staying informed and being adaptable in the ever-evolving world of cryptocurrencies.
Final Thoughts
In conclusion, the recent changes in memecoin dynamics illustrate how the crypto market can swiftly reshape itself. While some memecoins experience a decline in popularity, others seize the spotlight, demonstrating the need for traders to remain vigilant and responsive to emerging trends. As the crypto landscape evolves, memecoins, like other cryptocurrencies, continue to play a role in the broader ecosystem, albeit with their unique flair and characteristics.
Disclosure: This is not trading or investment advice. Always do your research before buying any cryptocurrency or investing in any services.
Follow us on Twitter @nulltxnews to stay updated with the latest Crypto, NFT, AI, Cybersecurity, Distributed Computing, and Metaverse news!