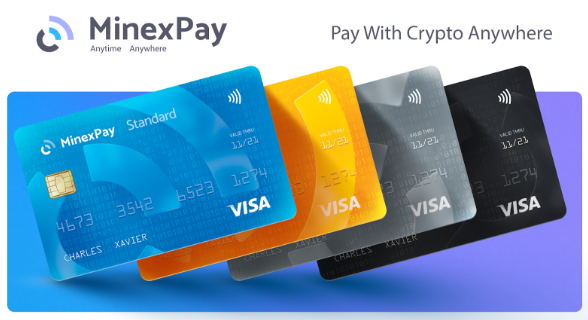 MinexSystems is now officially taking preorders for their crypto debit card, MinexPay debit card. While there are several crypto debit card solutions on the market, MInexPay differentiates itself from other offerings on the market through several advantages.
Disclosure: This is a Sponsored Article
The blockchain solutions company has previously developed the products Minexcoin and MinexBank, so connecting the crypto and traditional markets was the next logical development.
Card Advantages
The first is a massive amount of support for the card. Since the debit card is a VISA card, MinexPays debit card will be accepted anywhere and everywhere that that accepts VISA. VISA is currently supported in more than 200 countries, 40 million retail outlets, and 2.5 million ATMs. Users can even store their MNX in a brain wallet and with a MinexPay card be able to purchase things globally.
The other advantage is that transactions are processed in real time. Unlike other services that may require a waiting period for balances to reflect, deposits and withdrawals are handled in real time. This allows users to quickly check the balance in the card, which is constantly updated to the most current amount.
MinexPay Card Tiers
The card has several tiers, each offering more cashback and better perks. In order to access each tier, users must pay a higher price as well as have a higher balance of MNX. For example, the standard tier is only 2 MNX and requires no balance, while the INFINITE tier costs 100 MNX and requires users have at least 1000 MNX.
Continuing the differences, the standard tier has a 2% ATM withdrawal fee for converting MNX to fiat, and a 4% fee for other cryptos. There's a 1% POS terminal fee for MNX, which is 2% for other cryptocurrencies.
Users can only withdraw $200 daily, and monthly $2,000 with an 80% overdraft limit.
As you climb the tiers, your MNX card is able to withdraw more, save on ATM and POS fees, as well as have a higher overdraft limit. Consistent across all tiers is the 0% replenishment fee.
The infinite tier charges no fees on ATM withdrawals for MNX, and only a 1% fee for other cryptos. There is no POS fee for any cryptocurrency used, and withdrawal limits are increased to $20,000 daily and $600,000 monthly. To top things off, infinite tier users have a 98% overdraft limit.
Platinum and Infinite tier cards have cash back, with the former offering 0.5% cashback and the latter offering 1%.
Ordering will begin June 30th, with MinexPay expecting a sizeable demand in the first days. A crypto debit card to beat all others has yet to prove itself, but MinexPay's will be fighting to be the one.
For more information about Minexcoin, visit their website. To order your own Minex crypto debit card, purchase one here. To talk with the team members and community, chat on their Telegram channel. To discuss the project and all things crypto, visit their thread on BitcoinTalk. For updates regarding the source code, check out their repository on Github.
Image(s): Shutterstock.com