Transparency and accountability have been key pillars in developing the MIRIS Green  Finance Framework as foundation from which truly sustainable developments such as the ambitious Svart Hotel, set to be the world's first energy positive hotel in the arctic, can be achieved. Svart is joined with several other green MIRIS programs, such as MIRIS' Green  Compute that transforms Edge Data Centers into Green Energy Creators, that will provide  stakeholders with new transparency and liquidity options thanks to the EURxb stablecoin. 
---
Empowered by Decentralised Finance through the EURxb 
MIRIS AS, a Norwegian green and sustainable property developer, is transforming the capital  management process of its Green Finance Framework, by incorporating decentralised finance  mechanisms through a new Euro stablecoin, in partnership with EURxb.finance. 
Partnering with EURxb.finance completes the "Green Circle"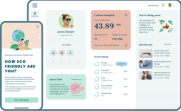 in our Green Finance Framework, further enhancing transparency and accountability, and democratises access to Miris's Green programs. This takes the thinking behind Aurora Sustainability even further, allowing anyone to vote for a greener, more sustainable future with their investments using the EURxb stablecoin.
The Green Finance framework is setting new standards in sustainable compliance through trust and verification. It enables MIRIS to issue Senior Secured Green Bonds and other green financial instruments, and in conjunction with the Miris X platform, empower the company to identify, select, manage and report on eligible projects and assets in line with International Capital Market Association Green Bond Principles. 
Because Green Finance promotes and supports the flow of financial instruments and related services  towards the development and implementation of far-reaching change, MIRIS has been committed to  the use of decentralised technologies such as blockchains that are known for enabling completely  new approaches in this sector. This promises great potential for the future, as the impact of such  change includes the creation of new and sustainable trade, business models, and investments, as  well as the associated economic, environmental and social projects and policies built around it. 
Cicero has certified the validity of our green financial framework via its second opinion. 
"The digitization of the entire project eco-system, from planning and design to transactions and  investments, is a REAL game changer that will set the precedent for how innovators conduct  business while caring for the planet."  
MIRIS is a green property and technology developer, committed to improving the efficiency, profitability and sustainability  in the real estate market. Our companies focus on individual areas supporting the industry; 
Svart: Energy positive hotel and testing ground for new technology 
Aurora Sustainability: Community and forum for sustainability metrics 
Green Compute: Green grid independent compute with energy generation from heat 
KeyChain: Software platform for building optimization: Energy, CO2, Climate, tracking and more MIRIS Exact: VDC, BIM and Digital Twin solutions 
MIRIS X: Smart Contract Platform for project and transactions tracking 
EURxb.finance is a decentralised finance platform committed to delivering transparency by tokenising stablecoin reserves  and rewarding holders with the time-value of their money through the protocol's use of tokenised securities as reserves. EURxb: a euro denominated, Ethereum ERC20 Stablecoin, that pays holders 7% per annum just by holding the token. Read more at https://eurxb.finance/position-paper, or visit https://eurxb.finance.