Monero Price Analysis (XMR/USD)
The weak market condition of the Monero coin has ravished its capability to record a bullish market performance.  On an intraday chart, XMR/USD pair has exhibited a bearish outlook. Notably, analysts anticipate further downside move.  According to them, the XMR/USD pair may continue to suffer as the unfavorable market condition may continue to affect its upcoming projects.
However, looking at the hourly chart, the trend is downtrend as the descending channels reflected it.  This also signaled further downside move.  The price failed to trade above the $81.9654 and dropped the support level from $81.1222 to $78.6000.  Increase in selling pressure later breaks the support level $78.6000 but gained momentum slightly to define the current price at $78.6748.
XMR/USD pair escalated from $81.7197 to $78.6748 that total's up to 3.7% decrease in the last 24hrs.  Additionally, the RSI indicator that is currently trading below level 50 showed that sellers are in control.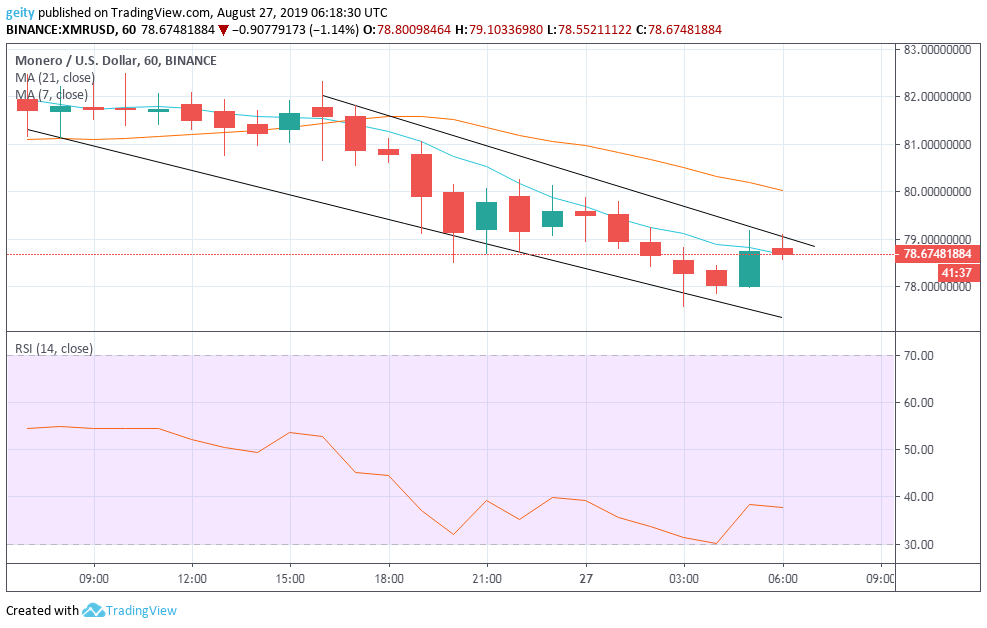 Monero Price Prediction (XMR/USD)
More bear run is likely since the 21 day MA is gravitating strongly above the 7 day MA.  However, a break above the upper channel may trigger an upward rally. If that happens, traders should go long and take profit at $81.0000.
Cardano Price Analysis (ADA/USD)
Cardano has experienced intense volatility with prices fluctuating up and down between $0.0503 and $0.0489 levels respectively.  ADA/USD pair escalated from $0.0495 to$0.0490 that showed a slow drop of about 1% over the last 24hrs.  However, the steep decline also showed that the coin had lacked enough support that may push its price upwards.
The intertwined moving averages, therefore, signaled a ragging market momentum.  In addition, the price dropped past the critical support at around 03:00 to 05:00 before it slightly corrected gains.  The RSI indicator that is currently heading north signals the gain that also shows an increase in buyouts.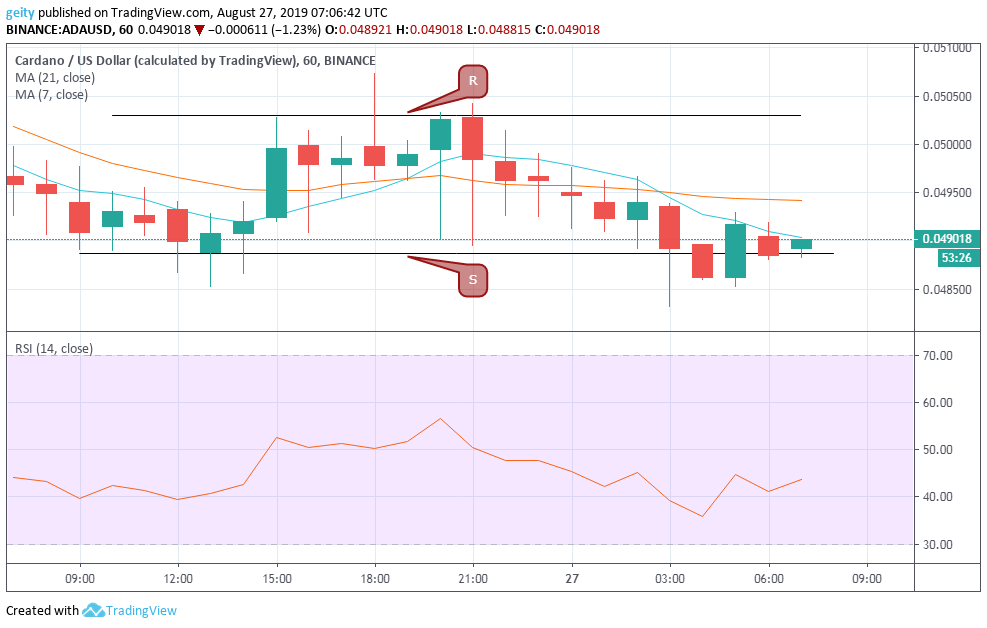 Cardano Price Prediction (ADA/USD)
Since the market is highly volatile, investors should not invest at this time.  Thus they should wait for volatility to end. Conversely, a break below $0.0485 may trigger a further decline.
Binance Coin Price Analysis (BNB/USD)
BNB/USD pair has also underperformed on an intraday chart.  The strong bearish pressure has been supported by the 21 day MA that is currently above the 7 day MA.  The descending channels have also reflected the downward move.  Additionally, the support level has been dropped from $25.7597 to $24.8700 that confirmed the intense selling pressure.  This also showed a failure of BNB/USD pair to break past $27.5000.
The price shifted from where it began the session at $27.0321 to now changing hands at $25.2117 that show a down surge by 6.7% over the intraday.  The pair's price is still unable to break past the upper descending channel that gives the bulls a negative sign. The RSI indicator is currently below level 50 that signal sellers still have the upper hand; thus, an increase in sellouts.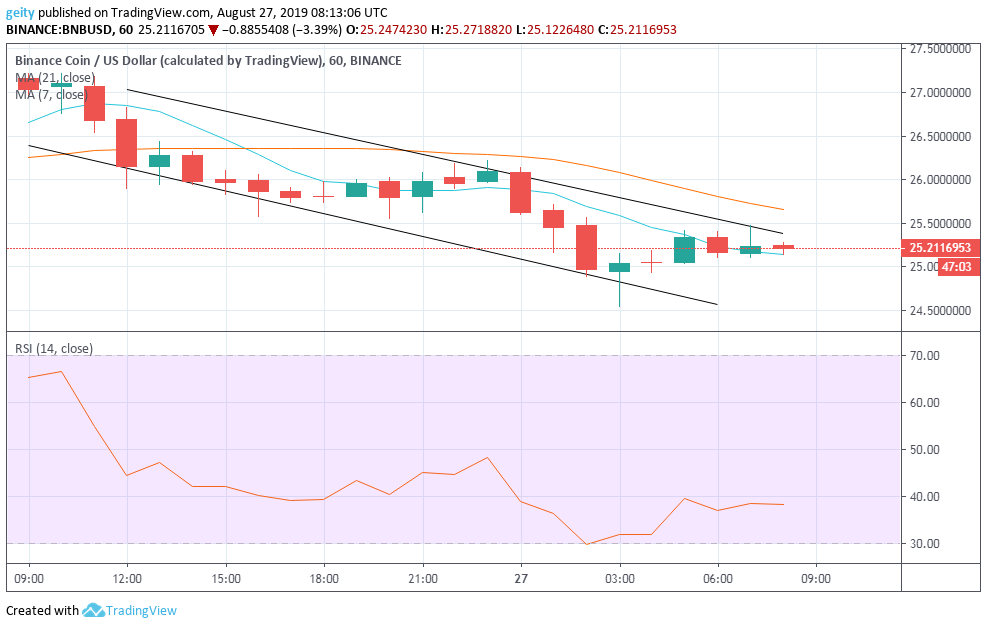 Binance Coin Price Prediction (BNB/USD)
A further downtrend is likely as reflected by the 21 day MA that is still trading above the 7 day MA.  New targets should be set at $23.0000.
Cryptocurrency Charts By Tradingview
Disclaimer: This is not trading or investment advice. The above article is for entertainment and education purposes only. Please do your own research before purchasing or investing into any cryptocurrency or digital currency.