The positive momentum across all cryptocurrency appears to be intensifying as more time progresses. That is always a good sign, especially when the weekend looms around the corner. For NEO price watchers, things are looking very promising right now, courtesy of a fresh 10% gain earlier today. This uptrend caps off a week-long attempt of maintaining strong gains.
NEO Price Eyes the $20 Target
The year 2018 hasn't been kind to NEO or any other cryptocurrency. Massive losses have been sustained, and there hasn't been any solid long-term uptrend to take note of. Slowly but surely, things appear to be changing in favor of the different cryptocurrencies on the market. The NEO price, for example, currently notes a strong 10% increase after dropping from $165 to $14.5 over the past eight months.
As of right now, the NEO price is looking to surpass the $20 level for the first time in a while. As the weekend is almost upon the crypto trading industry, surpassing such a level of resistance would lead to interesting developments in the cryptocurrency world moving forward. There are still a lot of opportunities in this industry, and the year 2018 is far from over.
Cryptocurrency traders and enthusiasts acknowledge this positive momentum comes at the most opportune time. More specifically, Crypto Canon confirms numerous altcoins show a sign of reversal, although ensuring these trends remain in place will be a different matter altogether. Bitcoin is looking stronger, which usually bodes well for all of the altcoins as well.
a lot of #alts are showing signs of reversals, this has happened way to many times, and too many times it ended in further selling, but now #bitcoin is looking a lot stronger, psychologically for the crowd, bad news doesn't seem to move it too much.#cryptotrading #crypto #neo

— Findrenaline (@Sherlockshares) September 28, 2018
Crypto_one_time is keeping a close eye on all of the cryptocurrency markets over the past week. The French cryptocurrency enthusiast confirms the NEO price rise was to be expected, as some positive momentum started brewing earlier in the week. The same applies to most other cryptocurrencies in the top 20 as well, although Dash, Tezos, and VeChain are suffering from small losses over the past seven days.
🏴󠁧󠁢󠁥󠁮󠁧󠁿Today 09/28/2018 🇫🇷Aujourd'hui 28/09/2018

Top 20 of #cryptocurrencies market capitalizations
Top 20 des capitalisations de marché des #cryptomonnaies #altcoin #token #crypto #ltc #neo #ada pic.twitter.com/Jf4MLIJ8yl

— Crypto_One_Time (@Crypto_One_Time) September 28, 2018
When looking at the charts on TradingView, it seems things are looking quite healthy for the NEO price as well. Crypto_Terminal_Chris is confident NEO is on the rise and will continue to see some positive momentum over the next few days. There may very well be a small pullback prior to surpassing $20, although it remains to be seen what the future will hold for this particular altcoin. Anything can happen in the world of cryptocurrency.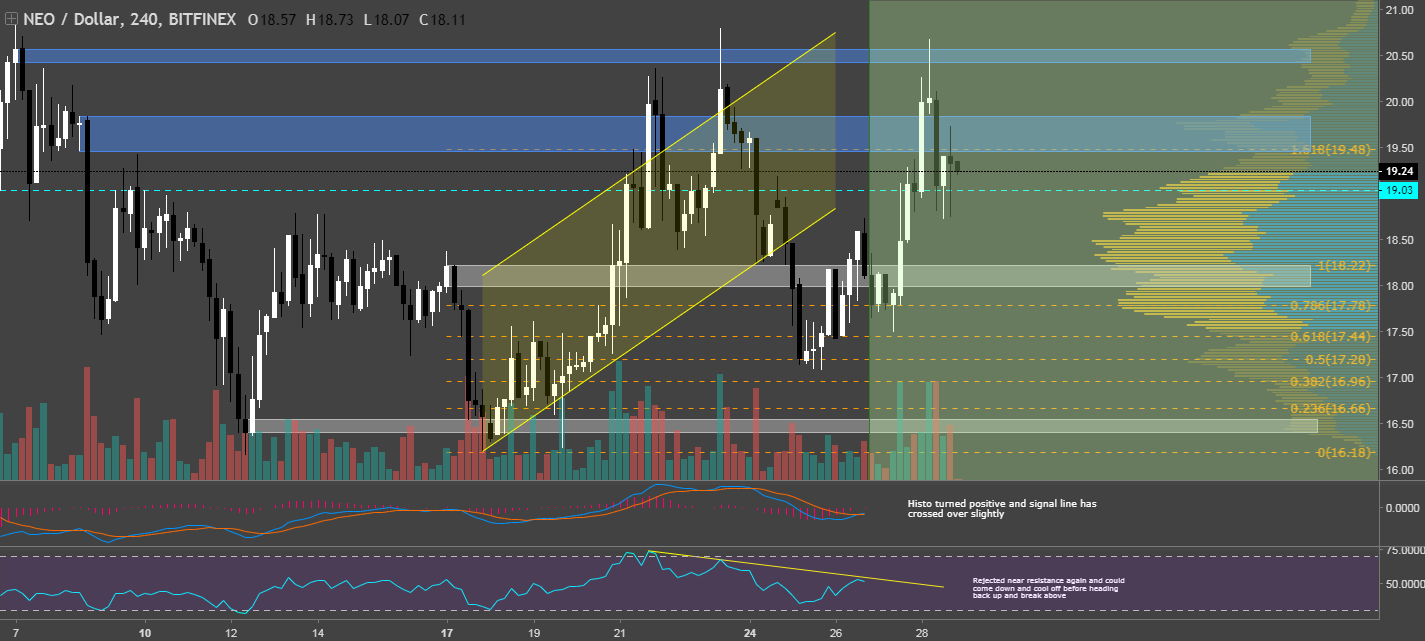 Depending on how the Bitcoin price evolves over the coming hours, there may be further positive momentum for NEO and other altcoins accordingly. The cryptocurrency industry needs a healthy nudge sooner rather than later, as the past few months have been too bearish to everyone's liking. Whether or not the NEO price can surpass $20 and find stability at that level, will be difficult to predict at this stage.
NEO charts by Tradingview
Image(s): Shutterstock.com