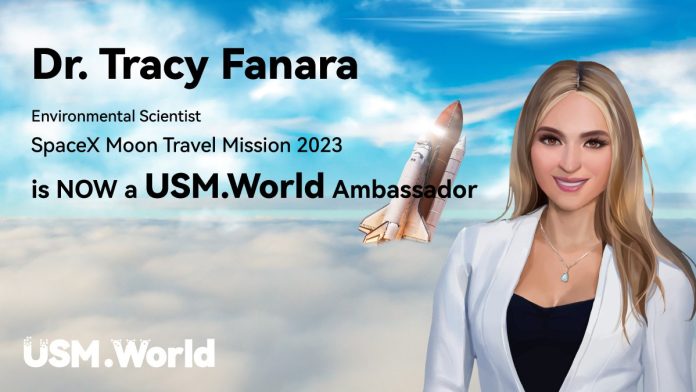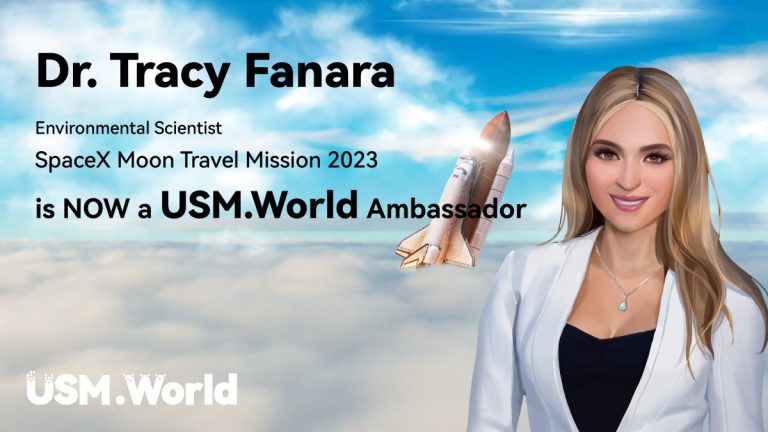 USM.world (Native Token: Radio Caca, $RACA) announced their researched trend conclusion that the crypto market continues to innovate, develop, and build more capabilities gradually, despite the current state of the crypto market. Therefore, Citizens of USM.world have many reasons to celebrate in 2022.
Dr. Tracy Fanara, the SpaceX Moon Travel Mission finalist, has joined RACA (Radiocaca) on a three-year exclusive ambassador program. They will join forces to co-create a mega sustainability long-term project to help the environment and climate change with blockchain, NFT, and Web3 innovative solutions.
Dr. Fanara, who was featured in Marvel's 'Unstoppable Wasp' comic series, is an environmental scientist at the National Ocean Service (NOS/NOAA) and the founder of Inspector Planet to investigate, communicate, and solve environmental problems with the help of worldwide scientists and the public. Tracy also works with NOAA to design aquaponics for space and algae-based systems for carbon fiber building materials production on Mars. Recently, Tracy has been featured on National Geographic, Science Channel, Weather Channel, ABC, and Fox concerning wildlife conservation and sustainability insights.
Tracy Fanara will establish her Inspector Planet HQ in the United States of Mars (USM), a metaverse developed by RACA and its global developer team. The Metaverse HQ has a laboratory, lecture hall, interactive exhibition, and computer modeling center. It will be opened to the public and serve as an education center on environmental issues and a series of sustainable workshops led by Dr. Fanara. She will also attend international panel discussions with RACA to examine the relationship between sustainability and Web3 in the upcoming months.
"Everything we develop at USM.world aims to push the frontiers of knowledge and imagination to the metaverse. If we can imagine it, we can achieve it. If we can dream it, we can become it, and within this objective, to count on the partner of Dr. Tracy Fanara, one of the great scientists on this planet, is incredible. Together we will develop amazing activities in the metaverse", said Jeff Watney, the visionary of USM.world.
Watney reveals that USM will build a metaverse with Dr. Fanara to foster and satisfy a community thirsty for science and knowledge. USM.World ecosystem already has thousands of active users trading and playing daily. The behavioral data provides USM.world developing team with requirement insights to support the metaverse Radio Caca community desires.
USM.World 3D metaverse United States of Mars (USM) has over 114k users, over 47k integrated wallets, and over 66k registered visitors. This data shows that USM.world is one of the biggest metaverses with more than 28k active users per month, surpassing metaverses like Decentraland and The Sandbox, according to reports from DappRadar.
USM is a massive Metaverse platform on BNB/ETH launched in early 2022, with a supply of 1 million lands that can support up to 1 billion residents. Each 'land' acts as an individual server capable of hosting its own metaverse with its own laws, economics, and activities. In addition to the USM Metaverse, USM.world is a vast ecosystem that also includes an NFT Marketplace, the Metamon World game, and its latest MMORPG release MMORPG MetaCasa. USM.World is also the exclusive NFT management of Maye Musk (Elon's mother) and her Matrix Plus Box NFT (MPB).