On June 19, Norwegian authorities, engineers, and scientists led by Transport Minister Ketil Solvik-Olsen and Avinor CEO Dag Falk-Petersen successfully tested a one-man plane run 100 percent by electricity.
Commercial Electric Aircraft in Seven Years
Avinor is a state-financed organization that oversees the operations of most of Norway's airports, including Oslo Airport, its main international airport. Earlier this week, in collaboration with Norwegian engineers and the Ministry of Transportation, Avinor tested a small plane run by electricity at Oslo Airport, taking a short flight around the area.
The Alpha Electro G2 airplane, built by an aircraft manufacturer based in Slovenia called Pipistrel, which has been manufacturing small-scale commercial aircraft for domestic flights since 1989, was tested by Avinor and authorities from the Norwegian Ministry of Transport. It was tested on the basis of its energy efficiency, performance, and most importantly, its ability to provide commercial flights in the future.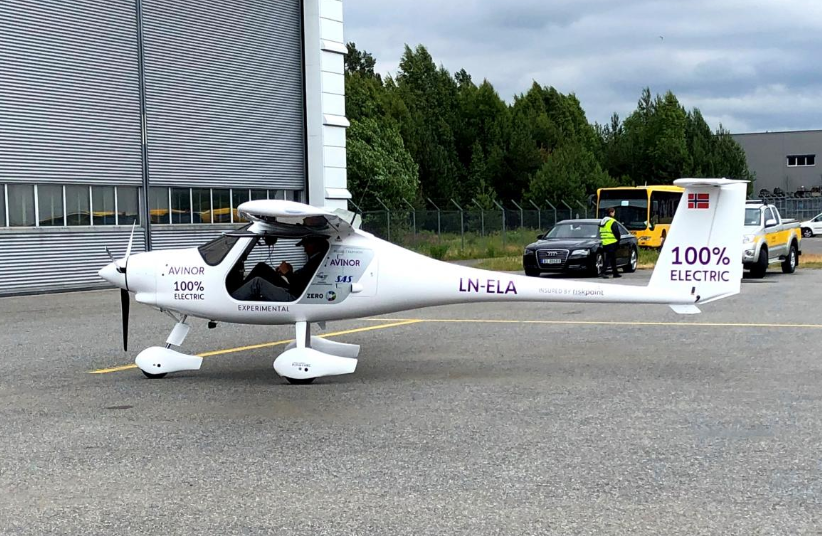 According to Solvik-Olsen, the government aggressively initiated the electric aircraft project because of its long-term strategy and vision to convert all of the country's domestic aircraft to electric planes by the end of 2040.
Only a small portion of Norway's domestic flights employ Pipistrel aircraft, as the vast majority of airlines still use planes from major aircraft manufacturers such as Boeing and Airbus. Those companies are capable of manufacturing large numbers of both large and small-scale aircraft in a short period of time due to their existing supply chains and factories.
But Solvik-Olsen noted that the world's largest aircraft manufacturers are also actively developing and testing electric airplanes, and he emphasized that the Ministry of Transport remains highly confident it will see commercial electric aircraft in the next seven years.
"This is … a first example that we are moving fast forward. We do have to make sure it is safe – people won't fly if they don't trust it," Solvik-Olsen said, explaining that consumer safety comes first, ahead of energy efficiency and greener aviation.
Falk-Petersen, who has overseen the project for many months at Oslo Airport, said he is convinced that electric passenger flights can be commercialized before 2025.
"My best guess is before 2025 … It should all be electrified by 2040," stated Falk-Petersen, adding that Norwegians have already begun to adopt electric vehicles at an exponential rate, and the same trend will be demonstrated with aircraft in the long term.
Already, Norway is the largest consumer of electric vehicles such as the Tesla Model X, Nissan Leaf, and Volkswagen Golf, due to the government's innovative and practical regulations regarding electric cars. Currently, drivers of electric vehicles are exempt from taxes and highway tolls, and are also provided with free parking.
Making Fuel More Expensive
The Norwegian government's pro-environment and electric vehicle legislation led the market share of electric vehicles to rise to 56 percent, while the market share of cars powered by non-renewable sources of energy dropped to 44 percent.
Arild Hermstad, the leader of Norway's Green Party, went as far as to say that the government is prepared to make jet fuel a lot more expensive in order to force airlines to switch to electric aircraft.
"This is a start … but we have to make jet fuel a lot more expensive," said Hermstad, suggesting the implementation of similar regulations in the airline industry to those imposed in the automotive industry.
Image(s): Shutterstock.com