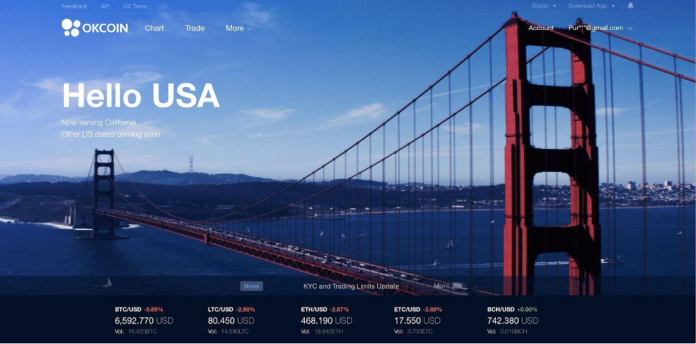 Digital Asset Trading Platform will be open for trading on July 09
OKCoin, one of the world's largest digital asset exchanges, officially announces its presence in the United States. US Customers, starting with California individuals and entities, will be able to sign up at okcoin.com on July 09, 2018, 03:40 AM Pacific Time (July 08, 2018, 06:40 PM, Hong Kong time). OKCoin supports US dollar deposits and withdrawals, and is fully compliant with applicable US regulations. This is an important milestone in OKCoin's global expansion; and to celebrate, OKCoin is launching with reduced trading fees and an industry-leading referral bonus program.
Disclosure: This is a Sponsored Article
Secure and Friendly Digital Asset Trading Platform
OKCoin is one of the world's most established and secure digital asset trading platforms, with millions of users in more than 100 countries around the world. Since 2013, users have enjoyed OKCoin's innovative products and services, 24/7 customer service, and sound track record for security. The digital asset / fiat pairs initially supported are: BTC/USD, LTC/USD, ETH/USD, BCH/USD, and ETC/USD, with more to come.
Launch Promotion
All OKCoin users will enjoy a weekly rebate of 70% of regular trading fees paid. In addition, all users will be able to earn an unlimited amount of referral fees by inviting their friends to trade on OKCoin. Specifically, users will earn 30% of their referred traders' regular trading fees paid.
Please visit our website for more details.
About OKCoin
OKCoin will operate in the US under OKCoin USA Inc. and its office is located in San Francisco as of June 1, 2018, after moving from its Mountain View office which opened on September 1, 2017. The team is rapidly growing, if you're interested in joining us follow our AngelList and LinkedIn.
Working diligently to obtain digital asset trading licenses, OKCoin has established joint ventures, branches and operation centers in more than ten countries and regions, including Beijing, San Francisco, Tokyo, Seoul, Luxembourg, Hong Kong, and Malta.  The launch of the services in the United States is an important milestone in OKCoin's globalization journey. OKCoin is a proud member of the OK Group, which also includes OKLink and OK Blockchain Research Center.
For any press inquiries, please email [email protected].
Image(s): Shutterstock.com