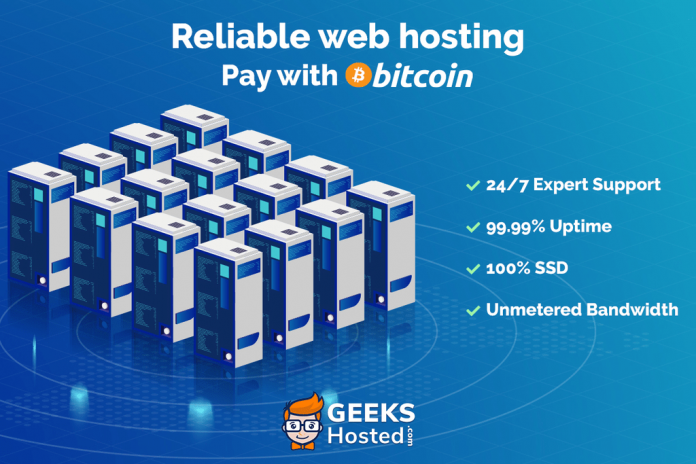 Designed for Geeks!
GeeksHosted, the web hosting ecosystem built "for geeks, by geeks," has recently announced that it will be accepting crypto payments on its platform when clients opt to pay in either Bitcoin or a host of other 50 alternate cryptocurrencies. This allows the web host, whose range of services is well patronized by the tech community, to now include others who find online payments through cryptocurrencies more appealing.
GeeksHosted has a reputation of being one of the sought-out platforms for hosting web platforms thanks to top-notch web hosting services among the cheapest the industry has to offer. And now with their sights set on cryptocurrency payments, they are set for even further expansion in the competitive business of web hosting.
Having built their business over the course of 6 years, the company now counts itself as one of the few successful ones in the industry, recording achievements that far surpass their own expectations. At some point, the team disclosed that overwhelming demand for their services resulted in them almost running out of server space for client file storage — a headache most web hosts would kill to have! A member of the team, Catalin Florica commented on this:
"We didn't expect it. Our customers are buying our cheap dedicated servers in large numbers. We can hardly keep up with the orders. It was actually quite a nice surprise."
Matchmaking Crypto and Web Hosting
As they pursue new payment frontiers such as cryptocurrency technology, GeeksHosted targets an inclusive market of those who have a preference for privacy and control over their own money — the premise of Bitcoin. As such, by accepting Bitcoin and other cryptocurrencies, Catalin explained: "That's a plus for us because not many hosting companies accept for clients to pay with Bitcoin ." 
Cryptocurrencies are known for speedy transactions at a relatively lower cost. More so, certain other options in crypto payments can provide more privacy to users.
This new line of action was pushed by client sentiments which led the hosting company to opt for accepting payments in Bitcoin and a bunch of other altcoins to include ETH, LTC, BCH, DASH among others. Prior to this, the company had been accepting payments in PayPal, Visa, MasterCard, Perfect Money, and Paysafecard.
The company hopes to race ahead of its competition in offering value and broad service options to its clientele.
Unbeatable Service Offers
Three plans are currently available, kicking off with a GEEK plan that offers small enterprises hosting for as low as $1.95 per month. The next is the NERD plan that offers medium-sized companies hosting from $3.95 per month. The last tier, dubbed FREEK, offers $5.95 per month and is ideal for well-established businesses.
Clients who opt for a dedicated IP address for an SSL-based website can get it for as low as $3.00 per month. More details on web hosting offers can be found here.
Resellers can opt-in for packages that start from as low as $3.95 per month to as high as $9.95 per month. More details can be found here.
To learn more about the platform, visit the website https://www.geekshosted.com/
Disclosure: This is a sponsored article