Polkastarter is one of the new hot projects in the cryptocurrency space today. At its core, it allows for interoperable token pools on the Polkadot network. Its native POLS token is surging in value, partially thanks to the help of MXC. 
A Brief Polkastarter Overview
Expanding the Polkadot ecosystem requires innovative and accessible projects. Polkastarter is one solution, with a strong focus on interoperable token pools. Allowing for cross-chain swaps to occur naturally, combined with KYC integration, cheap transactions, and permissionless listing make this offering very appealing for a wide variety of reasons. 
The native token of Polkastarter, called POLS, is currently making its way to various exchanges. Trading the token is possible on Uniswap and Poloniex already, with MXC adding the token later today. Speaking of MXC, the platform has integrated an interesting way to let users "generate" POLS before the trading goes live. 
MXC Yield Mining for POLS
Following the launch – and unexpected success – of POLS mining, the limit for MX staking was reached almost immediately. This has yielded some feedback from users, and there are no longer hard caps for MX token to mine POLS. Starting later today, users with at least 100 MX can engage in yield mining.
Users who participated in yield mining on September 30th will receive their first-day yield today. The rest will be calculated based on the new system.
Looking at the project annual yield, MX token holders can earn up to 950% through this method. There is a locking period of two days in place. Yields will begin accumulating the day after the MX token deposit was made, with distribution occurring the day after. Once the staking maturity has been met, tokens will unlock automatically. 
POLS Token Skyrockets
There is often a lot of excitement regarding new DeFi tokens. Polkastarter's asset has seen its value shoot up from $0.237 to $0.914 in quick succession. The market remains bullish, especially since the news by MXC broke. A lot of people want to earn POLS in one way or another, as it may be the next big thing.
It is also worth noting POLS has ample trading liquidity already.  Over $20 million worth of tokens has changed hands in the past 24 hours. Considering how this token is yet to be listed on MXC and other platforms, there is ample room for growth.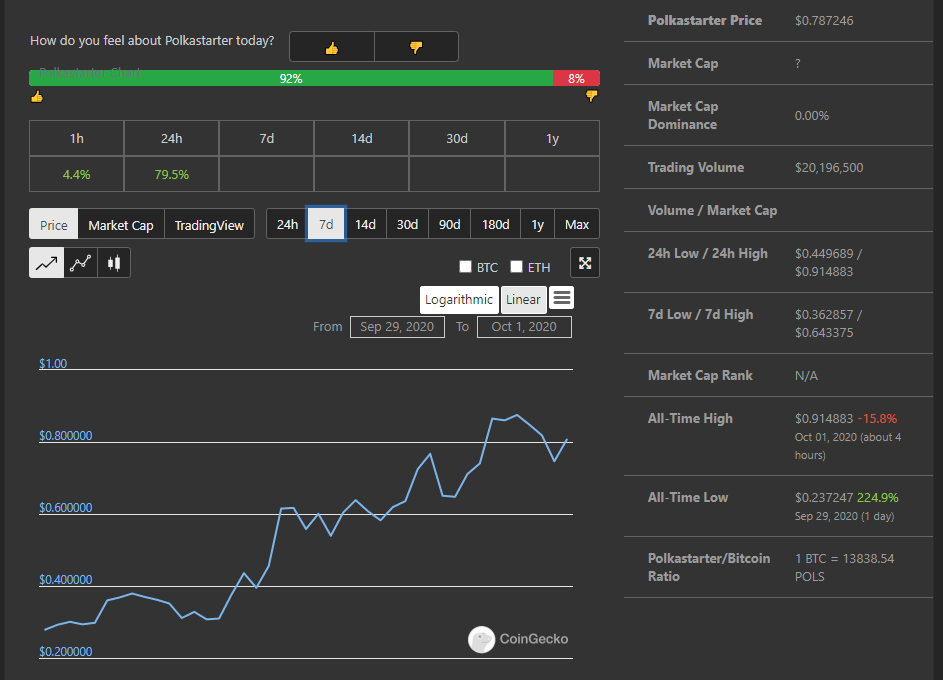 The POLS token supply is hard capped at 1 million tokens. That is extremely low, creating a degree of scarcity from day one. With yield mining active on MXC, and trading heating up on Uniswap, purchasing the token below $1 will seemingly become a challenge.