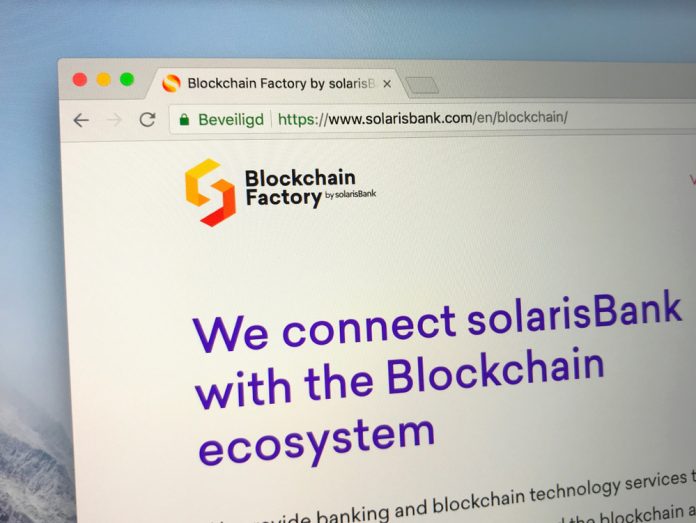 Financial institutions around the world have shown an appetite for cryptocurrency services, though launching those features has been delayed somewhat. SolarisBank, one of Germany's fintech firms with a banking license, is planning to introduce cryptocurrency banking solutions. Clients will be able to create a custom retail banking experience.
SolarisBank and Cryptocurrency Services
Fintech firms with a banking license have shown a growing desire to offer innovative banking services. In the case of Germany's SolarisBank, the fintech firm is taking a very close look at cryptocurrency these days. That is not surprising, as Bitcoin and similar currencies remain in high demand despite the falling prices throughout early 2018.
According to the most recent information, SolarisBank will expand its services to encompass cryptocurrency. More specifically, the bank hopes to attract more cryptocurrency companies as core clients. Over the past few years, these cryptocurrency companies have often struggled to find the right banking partners. Financial institutions often reject such firms because of regulatory and money laundering concerns.
The new service will be known as Blockchain Factory. It is a way for cryptocurrency and blockchain firms to create personalized retail banking experiences. As such, companies can have access to a more tailored financial experience, rather than features they may not need or which are not suitable for their businesses. Moreover, this approach will reduce the risk for end customers, as they will benefit from the 'failsafe' of SolarisBank's banking license.
This is only the first step toward a broader focus on cryptocurrency for the German firm. In the coming months, SolarisBank will connect its digital banking and debit cards with cryptocurrency exchanges and wallets. While that has been tried before, there are still some concerns as to whether or not this approach is actually viable.
SolarisBank's CTO, Peter Grosskopf, noted:
While we at SolarisBank are still part of the traditional paradigm, since we have a German banking license and are regulated by BaFin, we are still a tech company at our core. That means we are actively exploring options to help shape and support the emerging decentralized paradigm by enabling the pioneers that are building it.
SolarisBank has a history of dabbling with cryptocurrencies. Its partnership with VPE facilitates the trading of cryptocurrencies for institutional investors. It is evident cryptocurrencies are still extremely popular in Germany as of right now. Given the country's uneasy history with Bitcoin – including the shutdown of LocalBitcoins Germany – this turn of events is surprising and more than welcome.
Image(s): Shutterstock.com