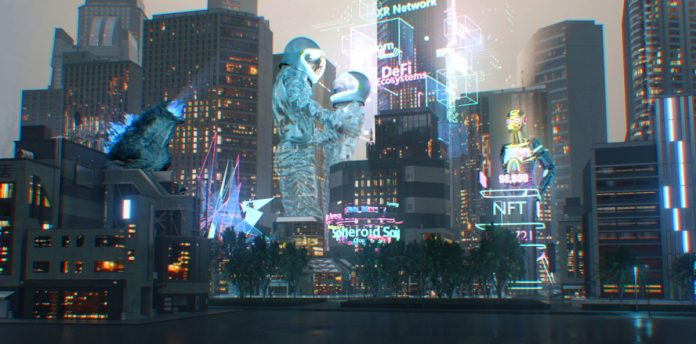 Spheroid Universe (SPH) price is up over 90% today, setting it as the top Metaverse crypto coin gaining the most price today on CoinMarketCap. We last reported on SPH in our Top 5 Metaverse Crypto Coins Below $0.05 to Watch in 2022 article two days ago. Let's take a closer look at Spheroid Universe and its token SPH and see why the price is rising so much today?
What Is Spheroid Universe (SPH)?
Launched in March 2021, Spheroid Universe (SPH) is a platform for developing extended reality projects. It features the Spheroid XR Cloud and the Spheroid Script programing language enabling users and developers to create AR/XR applications easily.
The platform includes Spaces, which are plots of land presented as NFTs. Spaces allow users to receive advertising revenue from selected areas worldwide, incentivizing users to participate in the Spheroid Universe ecosystem.
Spheroid Universe is the top XR (extended reality) Metaverse project featuring a unique Land/NFT marketplace enabling users to browse through various 3D plots of land. After users purchase a specific Land, they can place advertisements on it, earning a passive income.
At the time of writing, over 300k spaces have been sold, showing the high demand and robust community support the project has.
Another selling point for Spheroid Universe is its XR/AR scripting language called Spheroid Scripts. The scripting language makes it easy for users to create extended reality applications with cross-platform support. It allows developers to implement XR products with less code and to run applications written on different platforms like iOS and Android.
Last but not least, Spheroid Universe provides a cloud-based development environment called Demiurge IDE. Demiurge allows you to create digital worlds and animate them. It also offers real-time log streaming and debugging data from the device to the IDE, making it intuitive and easy to develop AR apps.
SPH is the native token on the platform, enabling users to interact with the Spheroid Universe ecosystem and utilized as the primary utility asset.
Why Is Spheroid Universe Price Rising?
In recent news, Mark Zuckerberg announced that AI is "the key to unlocking the Metaverse." This means that applications utilizing AI and AR are poised to take the lead in building the future Metaverse.
Spheroid Universe fits the bill precisely, given that their XR Hub applications utilized AI to create reconstructions of existing structures by video footage that anyone can upload to the Spheroid Cloud.
#Spheroid.Earth reconstruction

Catholic church, Paroisse du Precieux Sang
Winnipeg, Manitoba, Canada
49.877518, -97.119439

Digitize an architectural structure using the XR Hub application.https://t.co/gv1vhErf3V#SpheroidUniverse #MetaVerse #XR #AR pic.twitter.com/tYWLtrS6yj

— Spheroid Universe (@Spheroid_io) March 1, 2022
You can now digitize an architectural structure by launching Spheroid Earth in the XR Hub App. Tap the "Start reconstruction" button and start capturing data.
Follow the simple instructions on the app to get the best reconstruction results and earn rewards for doing so!
Spheroid Universe is one of the most underrated Metaverse crypto coins on the market right now. Given that they have a fully functional product along with an exponentially-growing ecosystem, the current market cap of $3.8 million means this project is highly undervalued at this time.
Most of the trading volume for SPH is currently coming from LATOKEN and Uniswap, and you can purchase the token from either of those exchanges. SPH is also available on ShibaSwap and if you're looking for the lowest prices, check out SPH on the 1inch Liquidity Protocol.
Disclosure: This is not trading or investment advice. Always do your research before buying any Metaverse crypto coins.
Follow us on Twitter @nulltxnews to stay updated with the latest Metaverse news!