Oh what a week! Filled with excitement, FOMO, and most importantly profits. At this point, you are either greedily looking at the charts counting your profits, or kicking yourself for not investing more into crypto or selling too early. To help calm you, let me tell you that regardless of how much profits you made or didn't make these past couple weeks, when crypto goes up we all win.
That's right, a bullish market means that there is more opportunity whether you own a crypto business, whether you are a crypto trader or even a crypto influencer. At the end of the day if the industry overall is doing well, as long as your are involved in it you will see the benefit one way or another.
The reason I started this article talking about FOMO is because Stellar is up almost 30% in the past 24 hours! XLM is the highest gainer out of the top 10 coins on CoinMarketCap, followed by Ethereum that's up over 18% and Litecoin that's up over 14%.
When it comes to identifying specific reasons as to why Stellar in particular is rising so much in value, the only speculation I can think of is the alignment of the current trend of institutional money flowing into crypto. There is somewhat of a consensus that the reason for the current price rally is retail investors pouring cash into crypto projects, we have seen evidence of that with Bitfinex raising $1 billion during their 10 day IEO which is an insane feat if you really think about.
Guess what, Stellar is one of those cryptocurrencies tailored towards institutional investors. Hell, they have a Security Token Issuance platform called TokenIQ that's based on the stellar blockchain and have already launched a number of STOs. During our interview we asked Ben Wilkening, director of strategic relationship at Token IQ why they chose Stellar as their underlying platform, in response he said:
"Stellar was almost a pre-fabricated solution for what Token IQ wanted to build. It had all the components and pieces required to make securities vehicles operate as they need to. Stellar also provides a way to scale the platform in case new regulation goes into play. It's easy to write new code and be compliant within the day.

Stellar allows an easy way to implement recoverability and 1:1 representation of tokens to dollars. Furthermore, the true features that allow Token IQ to reach SEC compliance exist within the Stellar network."
Put two and two together and you can see why retail investors are serious about Stellar. Having a platform designed to reach SEC compliance and issuance of securities is a match made in heaven for those investors looking to hop on the blockchain wagon and invest in the technology.
Also Read: What The Hell Is Stellar?
Stellar Price Technical Analysis
As always, this article wouldn't be complete without looking at some technical signals and setting some short term targets, let's see what the Stellar charts have in store for us.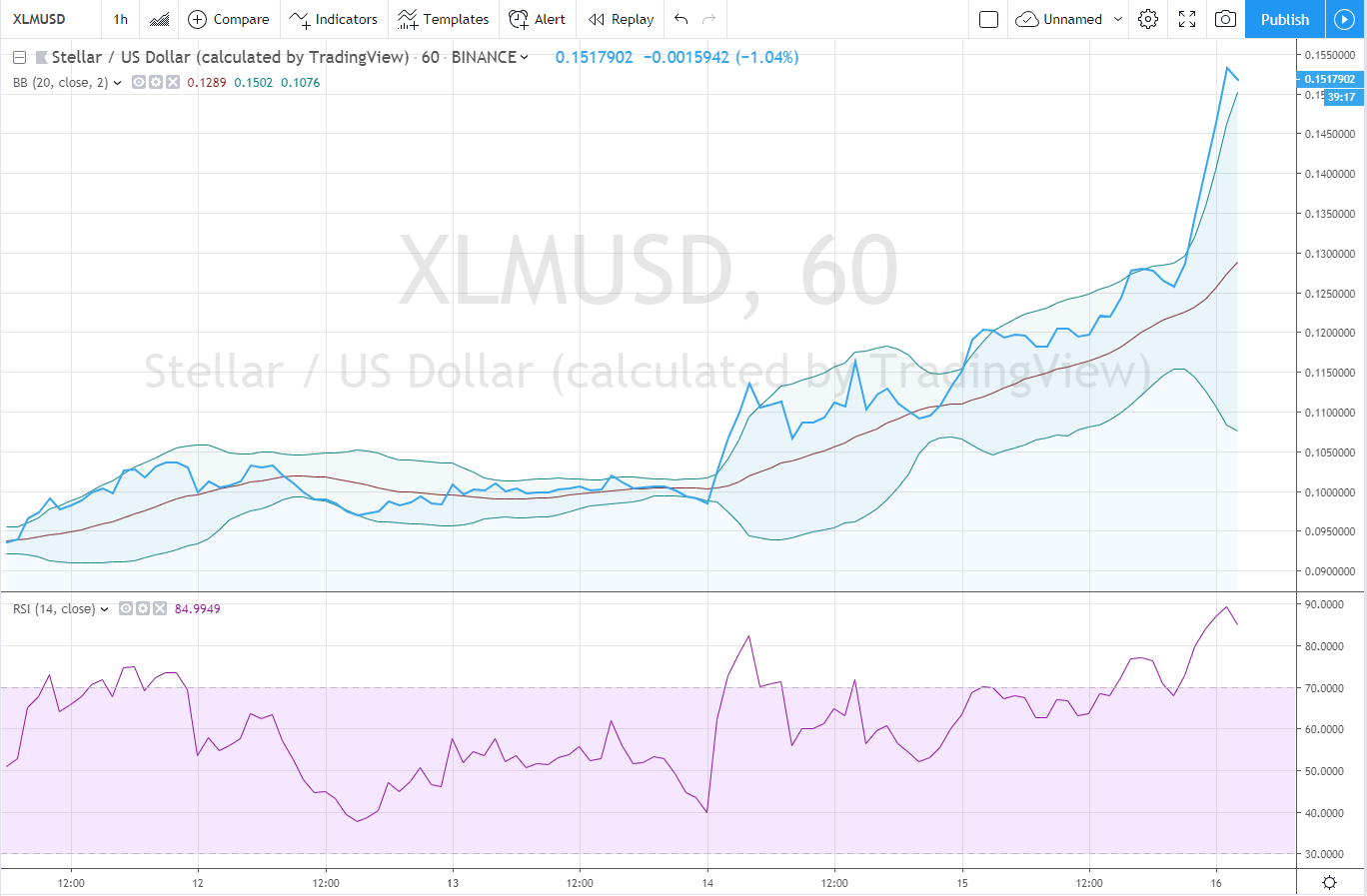 Relative Strength Index: The RSI is at a disgusting 84 points, it peaked at a whopping 90 points an hour ago which sets a new all time high for 2019. According to this indicator, the market is clearly overbought but the current market couldn't care less.
Bollinger Bands: Same thing is happening with BBs, the current price is above the upper band and has been for some time. We are currently seeing a slight retracement back to reality which is at $0.15.
Compared to the Ethereum market, Stellar is definitely much more aggressive in its push upwards. However, as we have seen with similar price run ups in the past few days, after every such move comes a short period of stability. It looks like that is beginning now as we can see the price bouncing off the $0.153 resistance.
My personal prediction is a slight retracement to $0.15 before any further market action can be taken. In the context of the current bull market its likely we will see more further momentum upwards as traders are still suffering from FOMO.
---
Disclaimer: This is not trading or investment advice. The above article is for entertainment and education purposes only. Please do your own research before purchasing or investing into any cryptocurrency.