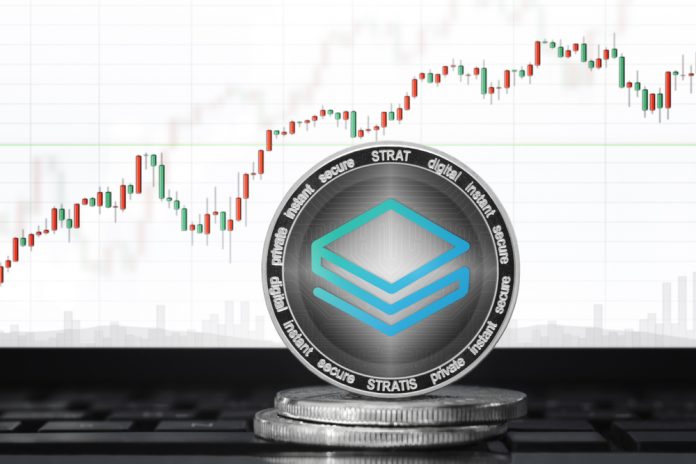 It still remains unclear which direction most cryptocurrency markets will head in over the coming weekend. Yesterday afternoon saw some minor positive momentum, yet nearly all gains are nullified once again. For Stratis, the current uptrend remains intact, albeit ever so slightly. Its current value of $0.65 may very well be a pivotal point over the coming days.
Stratis Price Tries to Break the Downtrend
When looking at the cryptocurrency price charts for the past month, it is evident a continual downtrend remains in effect. Despite some minor bounces along the way, little to no upward momentum has been sustained in the end. For Stratis, this situation is identical, as its attempt to remain above $0.75 has not worked out as of yet. Instead, it seemed to head toward $0.5, albeit that downtrend is now temporarily broken.
Over the past 24 hours, there has been a minor gain for Stratis in both the USD and BTC department. A minor 0.3% gain in USD value keeps the current Stratis price at $0.65, whereas the 1.6% STRAT/BTC ratio keeps the value close to the 19,000 Satoshi level. Both trends look very promising, although it remains to be seen if they can be sustained. The overall trading volume of just under $567,000 isn't necessarily a positive sign.
The big news of this week has been how Stratis released its C# Full Node. This is a pretty big development for the project as a whole, considering how this has been in the works for a while now. This new upgrade also brings the project one step closer to its massive enterprise adoption level, though there is still plenty of work to be done. It also remains to be seen how this will affect the STRAT price over the coming weeks.
Speaking of the future of Stratis, there are still a lot of people who have tremendous expectations for this project. CryptoPiper, for example, feels it is a matter of time until STRAT hits its all-time high again. That ATH value sits at over $16.35, which is well-off from the current value. A massive price increase like that would require Bitcoin and all other major markets to move up alongside.
$STRAT is coming back to ATH. Just be patient.#stratis $crypto #bitcoin $BTC https://t.co/SRuzQh4bmH

— CryptoPiper (@piper_crypto) December 12, 2018
It would appear such an uptrend might not necessarily be something one has to wait for either. BlockchainBuster is confident the Stratis price chart is forming a bullflag right now, although it remains to be seen if there will be sufficient trading volume to make anything happen. Without trading volume, few people will be either buying or selling STRAT. An interesting situation to keep an eye on over the weekend.
Bullflag breakout incoming #stratis $STRAT pic.twitter.com/VObnugrhDG

— BlockChainBuster (@buster_chain) December 12, 2018
Cryptocurrency projects should, in theory, appreciate in value when major developments come to fruition. In the case of Stratis, it remains unclear if there will be a "dump on the news", as that has become somewhat of a common trend in this industry throughout 2018. For the project as a whole, these developments are paving the way for a bright future, but the market may not necessarily respond in kind right away.
---
Disclaimer: This is not trading or investment advice. The above article is for entertainment and education purposes only. Please do your own research before purchasing or investing into any cryptocurrency.
Image(s): Shutterstock.com